Basic Britain: Fish fingers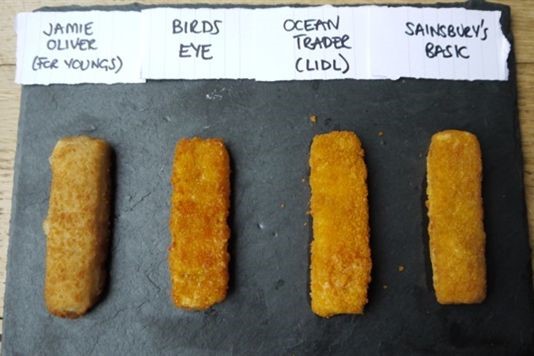 They've been part of our diet for the past seven decades and we eat 20 of them every second. But what does the modern day fish finger look and taste like? Laura Rowe tests two top brands, and two supermarket alternatives.
Misunderstood?
Although they haven't suffered quite the same negative press as the ill-fated turkey twizzler, fish fingers have still got a bad rep. We all think that because they are ready made and in the frozen foods aisle, fish fingers must be a lesser food stuff. But, given that three quarters of the UK population apparently have their first taste of fish in the form of a finger, it's important that we know what they're all about.
A common misconception is that fish fingers, especially at the lower end, use poorly sourced scraps of fish, which are then minced and coated in glow-in-the-dark breadcrumbs. But this isn't always the case.
Birds Eye, which launched the original 'fish finger' in 1955, first trialled the product with herring and cod, finding that British consumers preferred the latter. Fast forward nearly 60 years, and the firm still sells more fish fingers than any other brand – around 570 million every year. But, as we know, cod is seriously over fished. Look here for some good alternatives and here if you just can't live without the stuff.
Are they sustainable?
In 2007 Birds Eye launched its pollock Fish Finger (£2.99/14 – although I bought mine on offer at £1.49) "in order to ease pressures on cod stocks and offer consumers an additional choice". Rather admirably – we do care about the planet after all! – this has resulted in 78% of customers switching from cod to pollock, which in turn resulted in a 3,000 ton reduction in Birds Eye's yearly cod catch. Not bad, and in May of this year, the brand also announced that it had achieved MSC (Marine Stewardship Council) certification across its entire cod and haddock fish finger range.
So, what does all of this labeling mean? James Simpson, of the MSC explains:
"The MSC label on packs means that the seafood content can be traced back to an independently certified, sustainable source. In order to bear the MSC ecolabel, a fishery has to pass an independent audit against the MSC standard. The results are published online and go through stages of peer-review and stakeholder review before a fishery is certified.
"There are many sustainable fisheries around the world that don't hold MSC certificates – examples will include some of the 114 fisheries currently going through assessments. The challenge for a shopper is knowing which ones are sustainable. MSC takes the guesswork out of choosing. Where you see the label, that's your assurance that the fish was sustainably sourced."
So, you might think that the 60p packet of Sainsbury's Basic fish fingers wouldn't bear this label. You'd be wrong. Both it and Jamie Oliver's hold the MSC badge, although all of my sample fingers – Birds Eye, Sainsbury's Basic, Jamie Oliver for Young's, and Lidl's Ocean Trader – used Alaskan pollock, which is widely considered as a sustainable alternative.
Lidl was one of the first retailers to offer sustainable, MSC-certified fish and seafood in its stores back in 2006. Its fish fingers (£1.49/15) are made in Germany. Jamie Oliver started selling his Alaskan pollock fish fingers (which have an RRP of £1.99/10 although they cost me £2.49 on my shopping trip) in 2011 and they are made in Grimsby. Sainsbury's Basic fish fingers cost only 60p/10 and yet surprisingly still tick the sustainable box with its choice of wild-caught Alaskan pollock. Sainsbury's was also keen to tell me how their pollock is "single frozen", which helps the fish "retain texture and colour better than fish which is double frozen". It is manufactured in the UK but not with solely British ingredients.
What do they taste like?
Jamie's, which proudly proclaims "not an orange breadcrumb in sight!" on its packaging, is certainly the palest out of the bunch and looks more like a goujon – although it is still rectangular. They held their shape the best, and tasted the most natural. Birds Eye's fingers were the brightest orange but are without artificial flavourings, colourings or preservatives. Its distinctive shade, and slightly spiced crumb, is down to a mixture of paprika, salt and turmeric. Ocean Trader and Sainsbury's Basic fall somewhere in the middle but again are both free from nasty artificial additives. Ocean Trader, which tasted perfectly nice but had a slightly chewy crumb, again uses paprika, turmeric and pepper, while Sainsbury's, which were surprisingly good, gets their colour from turmeric and capsanthin, which derives from red chillies. The main difference we could tell is the amount of fish per finger: Jamie's and Ocean Trader are 30g each, while Sainsbury's and Birds Eye are 25g each. Neither Lidl or Sainsbury's could tell me how they produce their products for such a reduced price. All of them though, believe it or not, are made using fillets of fish, rather than minced fish.
So, they all taste good, they all use pollock fish fillets, they all look pretty much the same, and they are all sourced responsibly.
Are you still going to stick with your favourite, or perhaps try something new for your fish supper this week? Talk to us in the comments box below.
You might also like
Be the first to comment
Do you want to comment on this article? You need to be signed in for this feature