Best of three: Smoked salmon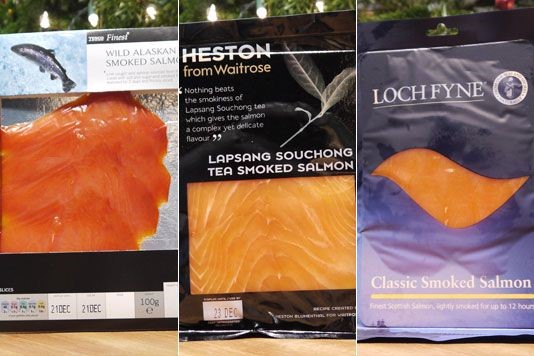 Thought smoked salmon was just smoked salmon? Think again.
Heston's Lapsang Souchong Tea Smoked Salmon
Heston's salmon has a really strong and distinctive lapsang smell. The taste doesn't disappoint either – this is a smoked salmon which truly lives up to its name. The slice is a medium thickness cut and it's the palest out of the three we tested.
Best for? Those who like their smoke strong and their cut thick. As is standard with Heston, it's sure to provoke discussion.
How much? A 100g packet will set you back £4.49 from Waitrose.
Tesco Finest Wild Alaskan Smoked Salmon
This salmon was the darkest pink of our bunch and you could see the oak and beech smoke mark on the cut. It is thickly sliced – think eaten with buttered brown bread rather than rolled into a delicate parcel with cream cheese – and quite a dry cure. Unsurprisingly, as this fish has been swimming wild and free, it is really lean so there is none of that marbling of fat that you'd normally see in your smoked fish. A medium smoke.
Best for? Eating whole rather than in canapés.
How much? For 100g of this salmon, Tesco will charge you £4.
Loch Fyne Classic Smoked Salmon
This is a classic smoked salmon in every sense. Peachy pink, thinly sliced so it's almost translucent, and with a delicate marbling. Oak chips from retired whiskey barrels are used to smoke the fish, which gives a "just right" smokiness. The texture is delicate and the natural sweetness of the fish still shines through. Our favourite, by far (shh).
Best for? Pleasing the crowd. This is the sort of smoked salmon that even fish haters will enjoy. It comes from Freedom Food approved farms. Eat on its own or with your scrambled eggs on Christmas morning.
How much? A 100g packet will cost £5.45 available direct from Loch Fyne.
www.lochfyne.com
Lovefood.com tip
If you really do like your smoked fish and fancy something different how about trying something new this Christmas? Forman and Field do a smoked halibut for example, and a smoked swordfish. Inverawe do smoked trout: don't tell your guests that it's not smoked salmon and see if they spot the difference.
You may also like
Christmas recipes and features

The Hairy Bikers' potted salmon
Gizzi Erksine's smoked salmon omelette
This is a classic lovefood article which we've updated
Be the first to comment
Do you want to comment on this article? You need to be signed in for this feature