The best and worst kitchen gadgets
There's a whole world of kitchen gizmos out there, just waiting to clutter up your worktop surface. Some are genius, others are useless… we've picked the best and worst below.
The best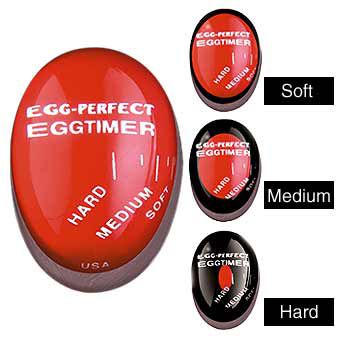 Lovefood editor Andrew Webb has one of these, and always eats eggscellent eggs as a result. Instead of standing over a boiling pan counting the seconds down, pop Lakeland's Egg-Perfect into the saucepan along with the eggs, and watch it change colour as the egg cooks.
The clever contraption senses the amount of heat that each egg is taking up and changes colour accordingly. So you can have perfect soft-, medium- or hard-boiled eggs every time. It gets cracking reviews on the Lakeland website, too.
Price: £6.49
If your family is anything like mine, one person loves meat, another two are veggie, and the last tries to get as much fish in their diet as possible. That means a lot of washing up the same chopping board to avoid cross-contamination… instead, wouldn't it be nice to have a chopping board for each food type? Better still, colour co-ordinated boards, so you always know which one has been used for what?
Thank goodness for Joseph Joseph and their funky Index Advance non-slip chopping board sets. These four colour-coded chopping boards sport non-slip feet on both sides (they're the only boards I've used so far which never, ever slip) and 'index-style tabs with contrasting, soft-grip illustrations', both to make it easy to identify which one is which, and to add a splash of colour to your worktop. My set is the focal point of the kitchen!
Price: £46
You're making a Bolognese, and there's nowhere to put your cooking spoon down. Mine usually ends up plonked on the worktop surface; but that leaves a mess, and isn't the most hygienic option. We love these colourful 'pot clips', which cleanly grip onto the side of any pan, allowing you to keep track of spoons, spatulas and fish slices whilst your Bolognese bubbles away.
Pick from red, green, orange or blue – all dishwasher safe, heat resistant, and a bargain at £6-ish. My brother has one in his kitchen, and I never see his pots without it.
Price: £5.95
A food processor is a must-have for any budding chef, but they can be so expensive and bulky too. If there are only one or two of you to feed, then the Cuisinart 2 in 1 Prep & Blend is your best bet in our opinion. For a very reasonable £125, you get a smart, stylish and compact machine, which looks like an ordinary blender upon first sight. Indeed, it does blend anything and everything (including ice) within its robust glass jar (1.75L capacity), but swop to the easy-to-fit 'food processor attachment' and you can also beat cake batters, whisk eggs, slice vegetables, and grate cheese. Plus because it's so compact, you don't need a lot of storage room for the attachments that you're not using.
Bascially, there's very little that a high-end food processor can do that the Prep & Blend can't - it's just smaller, is all.
Price: £125
Our friends at Wholefood Heaven, who sell their delicious 'Buddah Bowls' down the road from lovefood HQ at Whitecross Street Market, said that the one gadget they couldn't live without is a 'speed peeler'. A speed peeler consists of a handle and a loosely attached piece of curved metal, which has had the centre of the curve ground away to leave a slot with very sharp edges or blades. It makes peeling vegetables very easy indeed.
You can buy a speed peeler from all sorts of places – Jamie Oliver does his own version (it's 'one of Jamie's all-time favourite gadgets'), but you can get pretty much the same thing from Viking Direct for a quarter of the price.
Price: between £1 and £7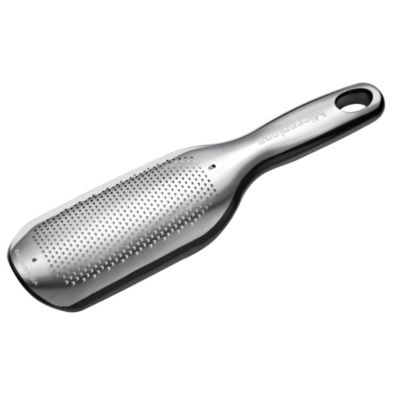 Mention a 'Microplane' to a budding chef, and they go a bit giddy. It's the tool to have in the kitchen, seeing as it makes grating even a hardy lump of Cheddar cheese incredibly easy. It's the 'acid-etched blade' which makes a Microplane glide over cheese, vegetables and fruits as if by magic; what's more, a new curved blade also gives increased contact with food for easier grating. It comes with a non-slip base and ergonomic handle, too.
Personally, I think grating with a Microplane is really good fun, and would jump at the opportunity to prepare the Parmesan now that I have one.
Price: £19.99 for a Microplane Elite Fine Grater
Fingerprints in the kitchen is one of our biggest bugbears - you'll find them on the microwave, around the bin, on the oven... but with Brabantia's swish technology, that needn't be a problem for the bread bin at least. They specialise in 'fingerprint proof' bread bins, which means you don't get mucky marks all over it. It's a roll top bread bin which has a flat top, so you can store canisters and the like on top of it - very much appreciated, if you're short of room in the kitchen. It's pricey though, so maybe put it on your birthday wishlist.
Price: £38.50
The worst
Try as I might, I just can't get my Garlic Card to work. You're supposed to rub a clove of garlic on the bobbly surface of the plastic rectangle, and watch as it transforms into garlic pulp. But my clove always slips straight off, and I end up with great big chunks of it under my fingernails. I don't like garlic preparation tools as a general rule – it's so much easier to squish it with the flat bit of your knife against some rock salt for friction.
Who has time to store their banana in a 'Banana Guard'? Or more to the point, why would you even want to? According to the folk at bananaguard.com, it allows 'the safe transport and storage of individual bananas letting you enjoy perfect bananas anytime, anywhere'.
OK, it does have little holes in it to facilitate ventilation, thereby preventing premature ripening, but most families get through a bunch of bananas pretty quick anyway. And besides, I cherish browning bananas – they make excellent banana bread!
There's also 'a sturdy locking mechanism' on a banana guard, so fruit thieves can't get at it.
The Roll n Pour – 'the answer to spills and awkward kitchen containers' – is basically a massive rocking horse type thing, designed for giant bottles of juice. You nestle your container in the contraption, then rock it forward to pour juice into a glass. Confused? Watch the video of how it works here.
It's supposed to 'take the worry' out of pouring liquids from large bottles – something which I've never even thought about. But it's an American product, and their juice/soda/milk containers are much bigger over there – maybe you do need a small metal rocking horse to pour them?
Egg separators actually prolong the cooking process, if anything, in my opinion. You can buy really fancy ones like this 'master class stainless steel deluxe egg separator', but it would no doubt end up forgotten in a kitchen drawer. Our hands are the best kitchen gadgets we could hope for – and they're free!
Check out our video on how to separate an egg three ways – none of the options involves buying anything, although you might need an old water bottle.
Most of us use a knife. Or if we're lucky, a proper pizza wheel cutter. But never have I ever seen someone resort to using 'Pizza Scissors' on a Margherita. The 'Scizza' is 'an alternative to the traditional pizza wheel' and is made from tough German stainless steel. With a unique spatula on the bottom blade, simply slide under the pizza and cut.
But what if you order one of Domino's extra large pizzas, which is too big for the 12cm blades to reach the middle? It does sound quite fun to use though. Although I think I'd buy pizza too often if I had them.
Which kitchen gadgets do you love? And which did you use once but then never again? Let us know in the Comments box below.
You might also like
Be the first to comment
Do you want to comment on this article? You need to be signed in for this feature