How the Garden Cider Company makes money from unloved apples and pears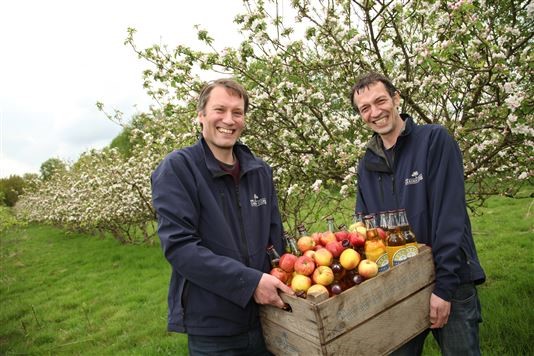 A pair of ingenious brothers are tackling food waste and making a living by turning unwanted fruit into artisan cider.
Everyone's a winner
What would you do if several busloads of apples suddenly appeared on your doorstep? It's the situation Surrey-based brothers Ben and Will Filby found themselves in last year, but it was all of their own doing.
Around 172 tonnes of fallen apples and pears (the equivalent weight of seven London double decker buses) turned up one day after the brothers asked the public for fruit donations in return for homemade cider.
"It's a simple concept," explains Ben Filby, co-founder of the Garden Cider Company. "People drop off their unwanted apples and pears, then we weigh them and work out the return in cider, which will be ready the following spring. We take all types of apples and pears, except the ones that are rotten. In our eyes, there's no such thing as a bad apple."
For the love of apples
The Garden Cider Company was born from the brothers' passion for home cider brewing, and the fact that they couldn't stand seeing so much garden fruit go to waste – especially apples.
"I've always made cider from the tree in my mum's garden, but wanted to make more," says Ben. "The idea for the Garden Cider Company came together while I was self-employed and wanted something to do in my downtime."
With premises in Surrey and a perfected recipe, there was just one thing missing to commence production – apples. And lots of them!
"To fill the void, Will and I decided to embark on a unique community-centric business proposition that would address hot topics such as food waste and food origins. It's about using a natural, abundant and largely wasted resource and turning it into a crafted and sustainable product. We also donate the apple pulp produced from the cider to the local pig farmer for feed."
'Real' cider
Ben adds: "Our motto at the Garden Cider Company is the more you give, the more you get. For every 24 kilos in weight, donors get a six-litre crate of cider in return. The cider retained by the Garden Cider Company becomes Surrey Cider or Vintage Cider [served bag-in-box style], the latter being a 'real' cider that is unfiltered and unpasteurised.
"Each of the ciders is a delicious and refreshing blend of all the fruit grown locally and every bottle is unique. That's because we use around 40 different types of apples instead of just one, so every year the flavour of our ciders will change slightly depending on the types of apples donated. But it always results in a crisp, refreshing cider."
Coming to a Co-op near you...
It's been a busy year for the brothers what with the launch of Vintage Cider, and the fact that they're now being stocked in nearby shops, delicatessens, and even local branches of Asda, Majestic Wine, Budgens and the Co-op. They've even launched a new online shop where you can buy bottles of Surrey Cider and bag-in-box Vintage Cider.
"The launch of Vintage Cider was a real milestone," says Ben. "It's a truer reflection of the cider we make, and we believe it will satisfy drinkers looking for something a little different.
"2013 was a busy yet fruitful year for us, in more ways than one! Now we're looking forward to what 2014 will bring, and are aiming to extend the reach of our ciders beyond Surrey. Of course, we can't do any of this without the support and generous donations of apples from members of the public, and would encourage them to think of us around harvest time. They'll be richly awarded for their efforts!"
For more details about the Garden Cider Company, visit thegardencidercompany.co.uk
You might also like
Gleaning: an ancient way of reducing food waste
Five of the best English wine producers
Somerset cider and apple cake recipe
Lovefood meets… a responsible chef
A day in the life of a Dairy Herd Manager
Be the first to comment
Do you want to comment on this article? You need to be signed in for this feature