Eat and Drink: the best of Manchester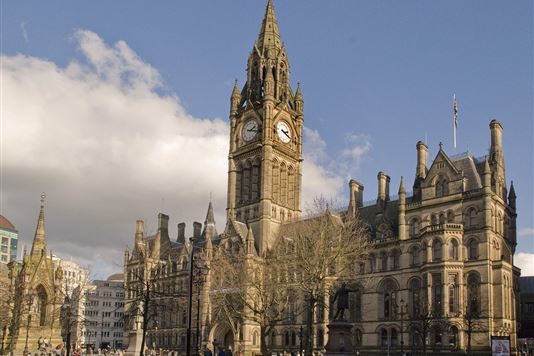 The 'capital of the North' is famous for music, football and, increasingly, food. Food writer Hugh Wilson shares his favourite places to eat and drink in Manchester.
Manchester's rejuvenated restaurant scene is desperate for a Michelin Star and, at times, the chatter threatens to drown out anything else. Will The French by celebrated chef Simon Rogan finally win the accolade, or will it be Manchester House by young pretender (and serious talent) Aiden Byrne? Or will it be somewhere else entirely? But visitors to Manchester needn't concern themselves with any of that. Dip a notch below fine-dining level and you'll find a thriving, exciting and eclectic foodie city.
Bring on breakfast
Northern people (and I am one) love breakfast. In some cases, we love it a little bit too much. But a good breakfast can be a glorious thing, and in Manchester there are plenty of options. Home Sweet Home in the Northern Quarter has an American diner feel and serves a monstrous English breakfast. But if you can't handle the full black pudding there are 'bennies' (eggs benedict in various incarnations), waffles and donut French toast too.
Superstore Grocer & Kitchen on Tib Street will also fry you up something special but, again, lighter options are available. The toasted sourdough, guacamole, poached eggs and sweet chilli rewards the adventurous, while the homemade granola, Greek yoghurt, honey and grapefruit puree should leave room for a decent lunch. Talking of which…
Lunch o'clock
Manchester is a large and busy city, so there are literally hundreds of lunch options. You can't really go wrong with the locally famous Katsouris, a Cypriot deli with locations on Deansgate and Bury Market. There are roast meats and fresh salads every day, a wonderful selection of mezze, and overstuffed ciabattas that could feed you for a week.
Barburrito is a local Mexican-flavoured chain, where smiley young people create fresh and filling burritos, tacos and nachos before your eyes. This is fast food done with care and quality, and so is Slice Pizza and Bread Bar on Stevenson Square, which does pizza the Roman way. Everything is made on site and fresh each day, and the pizza slices are rectangular (pictured left) in the true Roman style rather than round. There's fresh foccacia and panini too.
Manchester is home to the 'Curry Mile' (pictured left), though Rusholme is a bit of a trek if you're visiting the city centre. Besides, it can be a bit hit and miss. Instead, stick to the Northern Quarter where, round nearly every corner, you'll come across one of the area's famous curry cafes. This & That is perhaps the best known but there are plenty to choose from, and most offer a plate of rice and a generous dollop of several curries of your choice for less than a fiver. The food is filling, authentic and tasty; the service and surroundings entirely frill free.
Afternoon tea
After a hard afternoon in the city's wonderful galleries and museums (I recommend the People's History Museum and the Museum of Science and Industry for starters), you might be in need of afternoon tea. Head to North Tea Power on Tib Street for a mind-boggling selection of loose leaf teas and excellent coffee. For a fancier option, take tea – along with finger sandwiches and scones – at Radisson Blu Edwardian Manchester Hotel (pictured left) on Peter Street, which retains the facade of the old Free Trade Hall, one of Manchester's most historic buildings. They'll do you a fine cocktail too if you're feeling that way inclined.
Annie's on Old Bank Street, meanwhile, serves chocolate tartlets with afternoon tea, which has to be a good thing. It's co-owned by Coronation Street's Jennie McAlpine.
Treat time
Maybe you've come to Manchester on a city break, and holidays mean only one thing in my house: treats.
Manchester has plenty to tempt you with. The BonBon Chocolate Boutique (pictured left) serves decadent hot chocolate made with the finest Valrhona chocolate. They don't use milk or water – your hot chocolate is little more than melted chocolate with a sprinkling of sugar and a dusting of cocoa. You can add a flavour of your choosing.
Ice cream, you say? Well why not. Ginger's Comfort Emporium is ice cream with a distinctly grown up feel. Starting out with a van that still roams the leafy South Manchester suburbs, usually after the kids have gone to bed, Ginger's now has a permanent home in the iconic Afflecks Palace in the Northern Quarter. This is ice cream as art, a huge selection of flavours enjoyed either in toasted brioche, with hot puddings 'affogato style', or in milkshakes.
Three dinner suggestions
Almost Famous on High Street is a burger bar with a bit of a difference – the difference being that the burgers are really, really good. The 'triple nom' comes top, with two fine meat patties below a layer of barbecue rib meat, and fries that are minced with sweet potato.
Reviewers have compared Manchester's Chinatown favourably with its London counterpart, and the pick of a good bunch is Red Chili (pictured). It cooks spicy, deeply-flavoured food inspired by the cuisines of Beijing and Sichuan rather than the sweeter flavours of Canton. The menu can seem a little intimidating: 'stir fried whelk with big grandma's chili sauce', 'five spice sliced beef' and 'Mrs Spotty's bean curd'. But take a deep breath, dive in and enjoy.
A short stroll and you can swap continents in Habesha in Sackville Street, which serves authentic Ethiopian dishes like yebeg wot and awaze tibs. Doro wat is chicken sautéed in seasoned butter and stewed in red pepper and cardamom, onions and ginger. It's rich, tasty and deeply satisfying.
And so to bed
The one thing pretty much guaranteed on a foodie trip to Manchester is that you'll need to sleep it off. The city is awash with standard business traveller-type hotels, along with some ropey B&Bs, but Abode on Piccadilly has both good rooms and an excellent restaurant from the stable of celebrated chef Michael Caines. The eggs benedict for breakfast is highly recommended.
For a leafier experience, head out of town to the upmarket suburb of Didsbury and Eleven Didsbury Park, which is a name and address in one. The boutique hotel features a lovely small garden, well equipped rooms and quirky afternoon tea. The Gentleman Jack afternoon tea, for example, features a selection of canapé-style bites including seared steak with peppers and mushrooms on toasted ciabatta; 'hot pot' pies; beef burger and pizza bites; and a homemade scotch egg. The whole thing is rounded off, as it should be, with desserts and ice cream.
You can view a larger, printable version of this map here
Have you any other Manchester foodie pit stops to recommend? We can't possibly cover everywhere, so please don't be shy with your suggestions in the Comments box below.
Main Manchester Town Hall image attributed to Stevo1000; Curry Mile photo attributed to Kggucwa
You might also like:
Eat and Drink: the best of York
Eat and Drink: the best of Brighton
Eat and Drink: the best of Greenwich, London
Eat and Drink: the best of Hitchin, Herts
Eat and Drink: the best of Tunbridge Wells
Eat and Drink: the best of Whitstable, Kent
Be the first to comment
Do you want to comment on this article? You need to be signed in for this feature