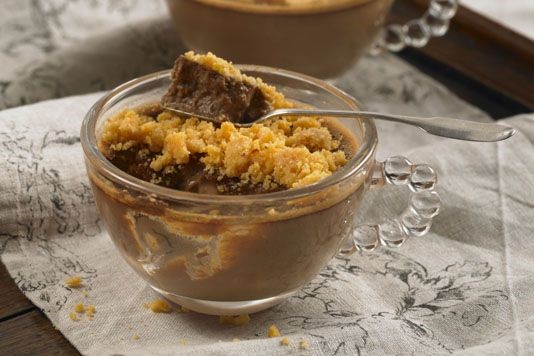 It's not just for dunking your digestive in - tea can be used in puddings, too. Here are our top five dessert recipes which require a tea bag or two.
A very velvety pud made by infusing cream with rooibos tea bags and fresh vanilla, then combining the mix with sugar and egg yolks before baking in the oven. Top your tea custard with caramelised Golden Delicious apples, and perhaps a scoop of lemon sorbet.
Chocolatier Paul A Young soaks crystallised stem ginger, raisins, cardamom, orange zest and sugar in hot Assam tea overnight, then combines the fragrant fruit with all the usual suspects, plus generously sized chunks of dark chocolate for a sumptuous tea bread.
Chai is a mixture of tea leaves and spices (cinnamon, fennel, cloves…) which works beautifully in baking. Eric Lanlard's chai cupcakes are also chock-a-block with cocoa powder and vanilla, and are finished with a swirl of chai and orange zest frosting.
Mike Robinson's favourite pud is crème brûlée, and here he accentuates the classic recipe with a hint of Earl Grey tea – "the scent of bergamot really compliments the pudding," says Mike. Remember, you can caramelise the cream under the grill if you don't have a blowtorch.
Adding tea to a dessert gives it a rich caramel flavour. Here Tristan Welch uses a very strong blend to give his caramel custard the edge, then sprinkles a crumble made from custard powder, sugar, butter, and flour on top. Serve in glass pots for an elegant finish.
This is a classic lovefood article
You might also like
Top five English tea producers
Five top places for afternoon tea
The art of afternoon tea etiquette
Tea or coffee: which do we love more?
Be the first to comment
Do you want to comment on this article? You need to be signed in for this feature