How to grow your own herbs and salad leaves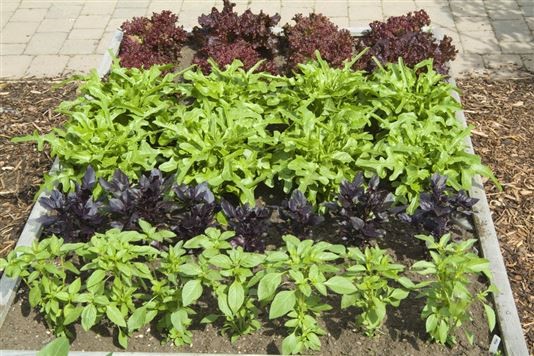 Growing your own herbs and salad leaves is a rewarding hobby, and means you'll never run short of parsley at a crucial moment! Here's how to do it.
In a perfect world we would all have gardens large enough to grow culinary favourites such as courgettes, runner beans and strawberries. But in reality, for many of us space (and time for that matter) is at a premium and we have to make do with what we have. Here's how to get around those stumbling blocks.
I don't have a lot of space…
Guy Barter, Chief Horticultural Advisor for the Royal Horticultural Society (RHS), says that a cheap and effective way to grow herbs and salads in limited space is to use growbags. They're very affordable too. "Growbags are long bags filled with growing media sold in garden centres and other outlets in spring," says Guy. "They will fit into small spaces like balconies, mini-greenhouses, narrow borders at the base of walls, patios, porches and even windowsills."
If you have a bit more room, then Guy says that your garden can probably accommodate a growbag-sized sunny spot near the kitchen door for herbs.
To use the bags, cut one 'panel' from them and sow closely spaced leafy crops together, such as endive, chicory, Chinese greens, leaf beet, lettuces, rocket and spinach. "The seed of these crops is very inexpensive and is much better value than buying young plants," says Guy. "Although plants are valuable early in the season while you wait for seeds to grow."
Growth is slow in winter, and will peter out by December, even if you have a greenhouse. You can pinch out the top leaves and leave a 'mini-stump', which can result in getting several pickings out of each plant.
If you're looking to grow larger plants, sow seeds more widely – Guy recommends leaving 25cm gaps between them.
What salads should I get?
There are mixed packets of lettuces and other salads available from various seed merchants, which Guy says are "carefully chosen to mature at the same rate – these are a great way of trying lots of different salads at a very moderate cost."
However, if you'd rather opt for just one variety, he recommends the leafy Batavian lettuces: Leny, Lettony and Loma. There are all widely sold and reliable as mini-salads or, if given enough space to grow, large leafy hearts.
What herbs should I get?

"Parsley and mint are essential for most cooks, but for really fresh tastes, basil and coriander are especially rewarding," says Guy. "Herb seeds are cheap, but young plants are widely sold and are perhaps a better choice for mini-herb gardens."
While herbs do look attractive planted together, if space is really tight they also grow well alongside other, larger plants. Really easy herbs to grow include fennel, oregano, parsley, rosemary, sage and thyme.
Guy says you should keep an eye out for varieties with different flower and leaf colours, as these generally taste as good but look even more appealing in the garden. This includes golden and purple sage, purple basils, broad-leaved Italian parsley and deep-pink-flowering thymes.
Herbs like well-drained soil, in general. If your soil is heavy clay, they will grow but would benefit from well-rotted manure or garden compost being dug in before planting.
When can I start?
Guy says that sowing can start in the spring, usually March (though it depends where you live), and can continue until September for late crops.
But remember that some herbs die in winter – French tarragon and mint for example. "These will look after themselves if placed where they cannot be frozen, saturated by rain or allowed to become too dry," says Guy.
If you need more advice about growing and looking after your plants, visit the RHS's site. It's full of useful tips. Once you've got a good selection of herbs to choose from, you might like some advice on cooking with them: read Lovefood's guide to culinary herbs.
This is a classic loveFOOD article
All pictures courtesy of the RHS; photography by Tim Sandall.
You might also like:
Easy vegetables and herbs for children to grow
What to do with leftover herbs
Be the first to comment
Do you want to comment on this article? You need to be signed in for this feature