Help provide food to those in need this Christmas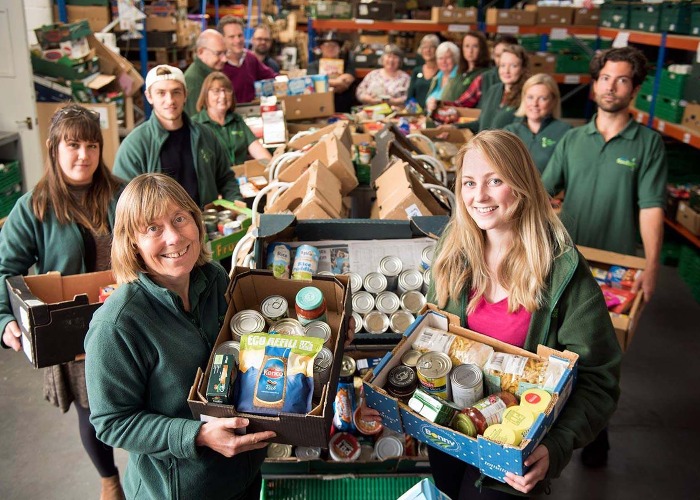 If you're thinking about donating time, food or money this Christmas, these are a few of the charities in need over the festive season.
As Christmas approaches and the weather gets colder, difficult times become even harder for many vulnerable and homeless people across the UK. This year the situation continues to be amplified further by the effects of the COVID-19 pandemic.
There are numerous organisations who would appreciate your support and if you're unable to volunteer, you can always donate money instead.
From a food bank to a charity supporting lonely elderly people, these are just a few of the charities that are looking for help this festive season.
Food bank use is at a record high in the UK. In the last year, The Trussell Trust gave out 2.5 million food parcels (of which 980,000 went to children) – a staggering 33% increase on the previous year.
The charity supports more than 1,200 food banks around the country which offer food parcels and assistance to those who have been referred.
You can help stop UK hunger by volunteering your time, fundraising, donating food supplies and goods, or by making one-off or regular donations.
Crisis has been working side-by-side with homeless people in the UK for more than 50 years to help them rebuild their lives through education, training and support with housing, employment and health.
With the average life expectancy of a homeless person just 45 years and rough sleepers almost 17 times more likely to be victims of violence, the charity's work has never been more essential.
This Christmas it's looking to secure temporary accommodation where people without homes can keep safe with access to advice, healthcare, food, clothes and activities for the period. It costs just £29.06 to reserve a place for a homeless person this Christmas. Your donation will also help fund year-round support including training and education.
You can also apply to volunteer at Christmas – this involves serving hot food, offering companionship and participating in activities between 23 December and 5 January.
Through a network of local projects, FoodCycle works to reduce the UK's unnecessary food waste and get nutritious meals to those who need it. It rescues surplus produce from retailers and uses it to cater over 1,500 dinners a week to hungry and lonely people at their 46 projects across the country.
From food collectors and cooks to phone volunteers, the charity is looking for people who can give their time. You could also become a project leader or work as a food co-ordinator securing food from large organisations.
Re-engage (formerly Contact the Elderly) is a UK charity solely dedicated to tackling loneliness and social isolation among older people. There are more than two million people over the age of 75 who live alone and the charity runs monthly Sunday tea parties in volunteer hosts' homes (which are now in the process of a relaunch following the lifting of COVID-19 restrictions) and offers a call companion service.
In 2019, over 900 regular social gatherings were held across the UK, helping 8,500 older people feel significantly less isolated. You can help out by donating money or volunteering to be a call companion.
Christmas is one of the toughest times for animal charities as many four-legged friends given as Christmas gifts end up abandoned or taken to a shelter in the following months. RSPCA expects to take in more than 10,000 vulnerable animals over the winter months, who will be in desperate need for medicines, food, warmth and care.
You can help by donating money to help cover costs for veterinary care, food, blankets, toys and treats, or by buying an RSPCA Christmas card, calendar, diary or gift wrap.
Finding local opportunities
Other places to look for local opportunities include do-it.org or your local council, who may know of organisations needing help.
Lead image: The Trussell Trust/Facebook
Be the first to comment
Do you want to comment on this article? You need to be signed in for this feature