Help provide food to those in need this Christmas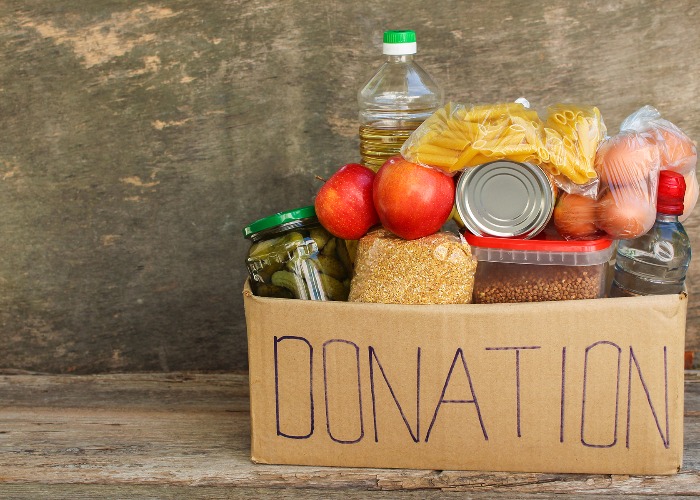 If you're thinking about donating time, food or money this Christmas, these are a few of the charities in need.
As Christmas approaches and the weather gets colder, difficult times become even harder for many vulnerable and homeless people across the UK and beyond.
If you're able to volunteer your time or donate money or food, there are numerous organisations who would appreciate your support.
From grass-roots projects providing food for refugees to food banks that supply essentials to many, these are just a few of the charities that are looking for help this festive season. If you can't volunteer, remember that you can donate instead.
Food bank use is sadly at record levels in the UK, with the Trussell Trust reporting a rise in distribution of emergency food parcels this year: 658,048 were handed out from April 2018 to September 2018, which is a 13% increase on the same period last year.
The Trussell Trust's 40,000 volunteers help to run a network of more than 420 foodbanks around the country offering food parcels, vouchers and essential support to those in need.
You can help them to raise awareness of poverty and stop UK hunger as a food-bank volunteer, by donating food, by fundraising, or simply by making a one-off or regular gift.
Crisis have been working side-by-side with homeless people in the UK for decades to help them rebuild their lives through education, training and support with housing, employment and health.
With the average age of death of a homeless person just 43 years old and rough sleepers almost 17 times more likely to be victims of violence, their work has never been more essential.
From the 23rd to the 29th of December each year, they run Christmas Day Centres in donated spaces in London, Newcastle, Edinburgh, Birmingham and Coventry where they provide shelter, food, entertainment and more. You can sign-up to volunteer your time, or contribute a much-needed specialist skill such as healthcare or hairdressing.
If you're looking to fundraise, their website has a range of suggestions and resources on everything from pub quizzes to carol singing. It costs just £28.18 to reserve a place at a centre for a homeless person this Christmas, and you can also donate food, clothing and craft supplies – or get sponsored to join one of their mid-winter swims.
Through a network of local projects, FoodCycle are working to reduce the UK's unnecessary food waste and get nutritious food to those who need it.
They currently save one tonne of surplus food each week and use it to cater 1,200 weekly community meals across the country for anyone who is hungry or lonely.
From cooks to servers, they're looking for a host of volunteers. If you have more time, you could start a hub in your area as a project leader or work as a food co-ordinator securing surplus food from retailers.
Contact the Elderly is a UK charity solely dedicated to tackling loneliness and social isolation among older people, running monthly Sunday tea parties in volunteer hosts' homes.
Food isn't the primary focus, instead they work to provide "care, conversation and a cuppa", offering companionship and support at weekends when few other services are available.
Since their first tea party in 1965, they've supported more than 100,000 lonely older people. You can get involved as a driver, host or co-ordinator, and fundraise for them at events such as the annual Santa Run.
Refugee Community Kitchen has been "feeding people without judgement" in northern France since December 2015. The camps may be gone, but thousands of refugees (inlcuding unaccompanied children) are still living on the streets, stuck in increasingly appalling conditions on the British border.
Until recently, refugees were denied any access to drinking water, showers and shelter, and many are still subjected to nightly confiscation of their belongings and violence at the hands of the police.
The only support comes from NGOs and entirely volunteer-run organisations such as Refugee Community Kitchen, who work in partnership with Help Refugees and Utopia56 to provide hot food in the Calais/Dunkirk region and at multiple points in London. To date they've cooked more than 2 million meals and supported more than 45,000 people.
They're always looking for volunteers to help with food prep, cleaning and cooking, or donations of any amount. They've also just started providing food to refugees living on the streets in the UK.
Finding local opportunities
Other places to look for local opportunities include do-it.org or your local council, who may know of organisations needing help.
Be the first to comment
Do you want to comment on this article? You need to be signed in for this feature