Delicious hummus recipes for every taste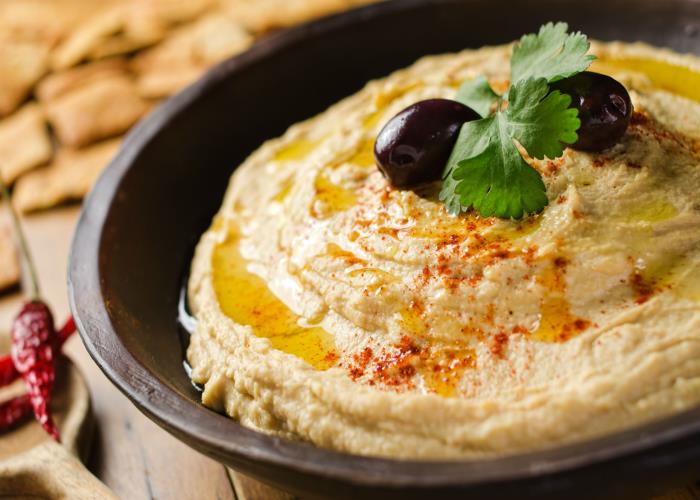 Make your own hummus, from the classic recipe to more original tasty twists.

This sweet alternative to regular hummus (pictured above) will certainly send your taste buds wild. Carrots give hummus a sweet lift that also goes very well with raw vegetables such as celery and cucumber. This Middle Eastern-inspired dish also has a little spiced kick from the ground cumin. We reckon this dip will be a great addition to any dinner party.
The delicious homegrown carrot hummus recipe has been created by Cinead McTernan, who also has two other homegrown hummus recipes for you to enjoy later on in our round-up (you don't need to do the growing bit).
Think of salmon hummus as an even healthier version of tuna mayo. The salmon will have a moussey texture, one not too dissimilar from a salmon paste. The hummus is light on the stomach, but not in flavour with the added garlic cloves for a little extra oomph. This recipe is great as your protein portion with a salad, but there is no reason why you can't serve it as a hummus dip also with crackers and raw vegetables. Go wild!

Cinead McTernan's beetroot hummus (above) is pleasing to both the eyes and the taste buds. It would go down a treat with some sesame flatbreads or crackers, as a twist on usual BBQ relishes or even as an appetiser at your next dinner party.
The broad bean and almond hummus has an earthy taste. The almonds are packed full of nutrients which only makes the dip more tasty, and by using roasted almonds (should you wish) you'll provide a more crunchy texture in the dip. And the broad bean pairing also gives your hummus an added summer kick. These two dips offer a healthier, lighter alternative to fried starters at a party, but they will also work well as an accompaniment to grilled meats, especially with lamb.
This broad bean hummus recipe is the third in the trio of homegrown hummus recipes created by Cinead McTernan. Broad bean hummus goes best with simple, clean flavours, which is why the mixture of basil and the tang from the lemon juice makes this dip perfect for summer, or as an accompaniment to halloumi – this is a real winner!
This recipe will knock your socks off! The homemade hummus is flavoured with walnuts, lemon, chilli oil, paprika, cumin, garlic, garam masala and parsley. With the array of spices in the hummus recipe plus an added crunch from the red peppers and walnuts, it's an explosion of tastes. To enjoy at its best, serve the hummus with fresh Naan bread, pita bread or toasted baguette slices.
Katy Salter gives us a bit of a history lesson as well as a great recipe for a traditional take on hummus. Try it for yourself, you might be surprised how it compares to shop-bought.
Some more recipes you might enjoy
Middle Eastern Salad: Tabbouleh
Aubergine, courgette and basil gratin
Be the first to comment
Do you want to comment on this article? You need to be signed in for this feature