Food historian Ben Mervis on Britain's best culinary traditions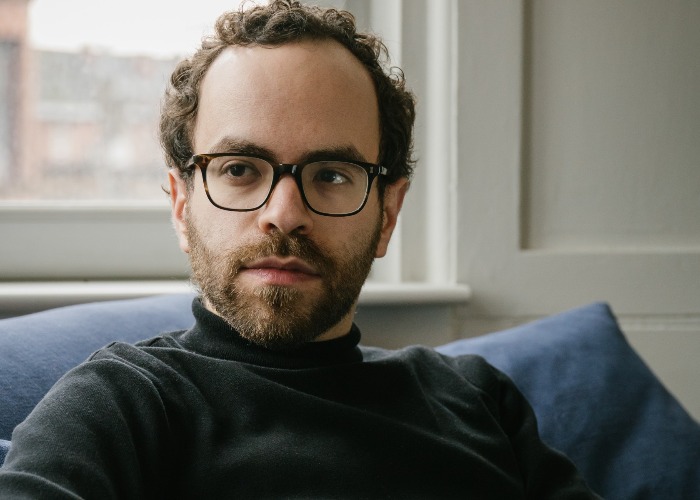 We caught up with food historian and British cuisine enthusiast Ben Mervis to talk about the UK's traditional recipes, the dishes everyone should try – and why our mince and tatties, hot cross buns and sponge puddings deserve to be celebrated.
From the full English breakfast and the tradition of Sunday roasts to long-forgotten delicacies like gooseblood tart, British food should be a cause for celebration – not something to be embarrassed about.
That's the thinking behind The British Cookbook, which explores Britain's rich culinary traditions through fascinating stories, delicious, easy-to-follow recipes and beautiful food photography. Written by food historian Ben Mervis, the book is the product of years of research, dozens of in-depth discussions with chefs and home cooks and a life-long interest in British food and culture.
Ben was actually born in the US, and moved from his home city of Philadelphia to Glasgow for university. His love of British food began in his childhood, even though it's a cuisine that's often overlooked and sometimes even disparaged – something he seeks to redress.
Covering more than 550 classic recipes, the book delves into the history surrounding famous rituals like Sunday lunch and seaside fish and chips, while also resurfacing recipes like stuffed cod's heads, relegated to the past. Could some of these unusual dishes be set for a comeback? We spoke to Ben to find out.
Tell us a little bit about your book.
The British Cookbook is a comprehensive collection of traditional and modern British recipes from across the UK, exploring regionality, seasonality and diversity. I've introduced each of the recipes, sharing their history and how best to enjoy them.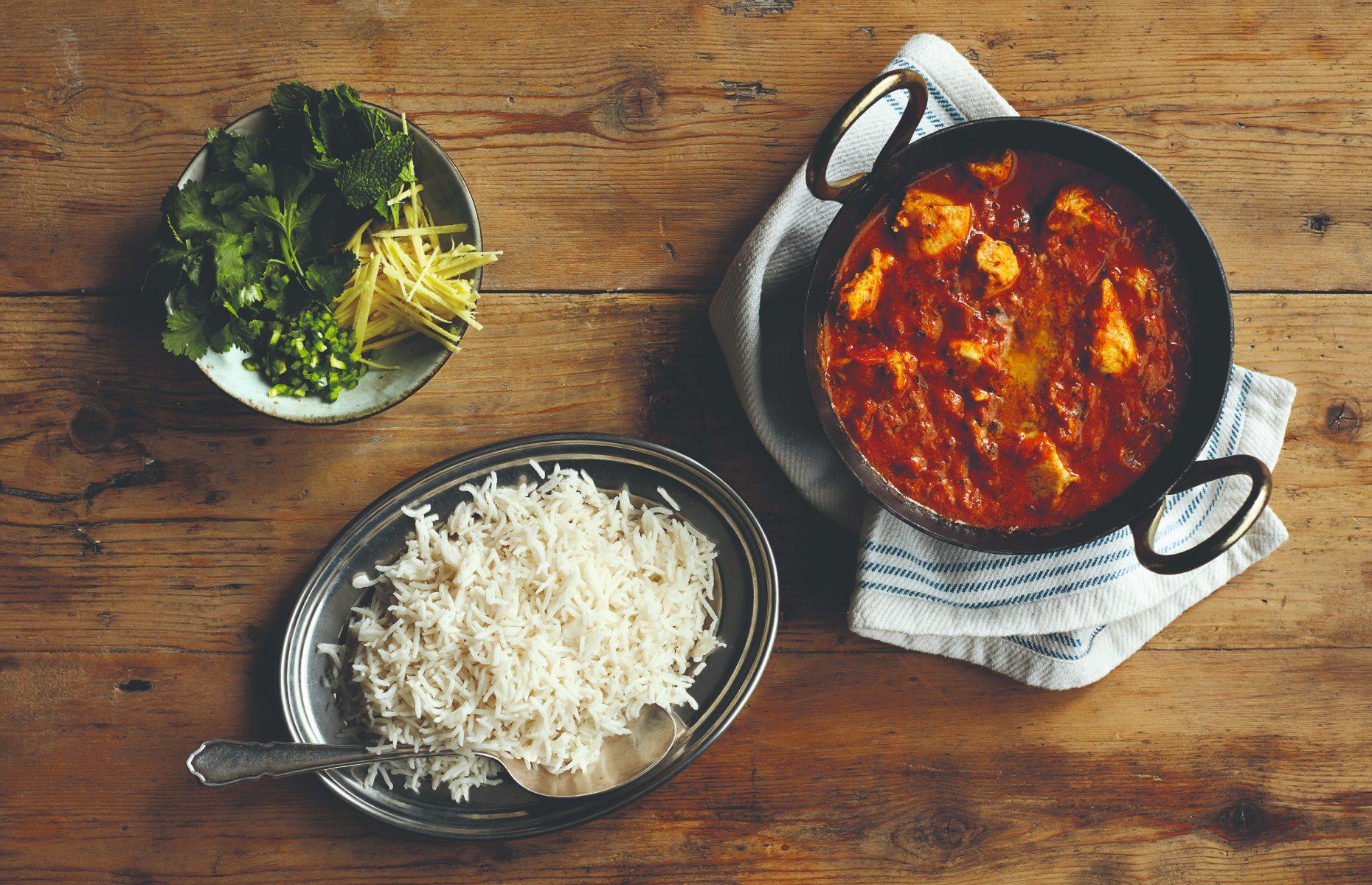 Chicken balti (Image: Sam A. Harris)
Try Ben's chicken balti recipe
You're originally from Philadelphia and moved to Glasgow for university. What sparked your interest in British cooking and its traditions?
I've been into British foods and culture since I was young – I once chose "Scotland" as my country cuisine of choice as a 12-year-old home economics student. Once I moved to the UK, and began working in and writing about food, shining a light on the traditions of my adopted home was a very natural next step.
How did you go about creating The British Cookbook?
It was quite the undertaking! I spent about four years working on it, involving dozens of chefs, home cooks, food writers, historians – and even more books! I built up a home library including everything from historic cookbooks and modern bestsellers to regional Women's Institute pamphlets and cookery school books. From all this research I was able to see patterns, notice common threads and common recipes, and begin from there.
What major events do you feel have most shaped Britain's food traditions, techniques and habits?
Wow, that's a big question! In the last hundred years, I'd say the effects of both world wars on our food systems and diets. It's such a big topic though, and there are dozens of factors, many of which have their roots much earlier in time.
British food is sometimes perceived as bland and unsophisticated. Why do you think this is?
Perhaps because this is such a humble and, I think we can say, peasant-derived form of cooking, and that contrasts with people's historic conception of the mighty British Empire. Also, I do think there was a broken link in the transmission of traditional food knowledge and desire for cooking traditional recipes that happened in the first half of the 20th century, which, maybe to others visiting the UK from abroad, felt a bit backwards.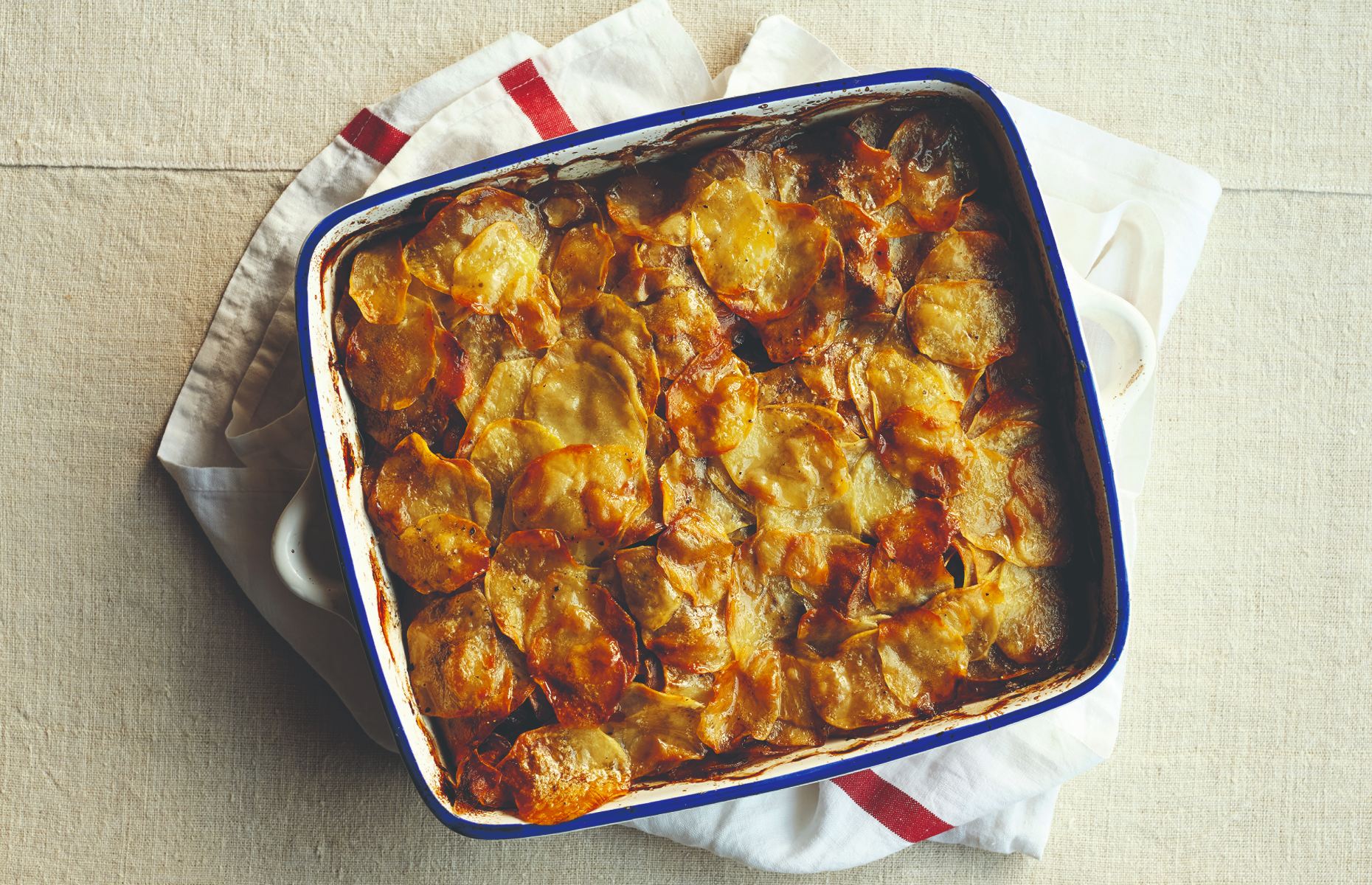 Lancashire hotpot (Image: Sam A. Harris)
Try Ben's Lancashire hotpot recipe
What are some of the strangest dishes you happened upon while researching your book?
Gooseblood tart, stuffed cod's heads and salted young gannet would all be up there! But, of course, they all do taste great when cooked well.
What are your favourite recipes in the book?
I'm particularly keen on the steamed sponge puddings, the hot cross buns and the mince and tatties.
What's one dish everyone should try in Scotland?
Mince and tatties!
And in Wales?
For those who've already had their fill of rarebit, I'd suggest Glamorgan sausages [vegetarian sausages made with cheese, leeks and breadcrumbs].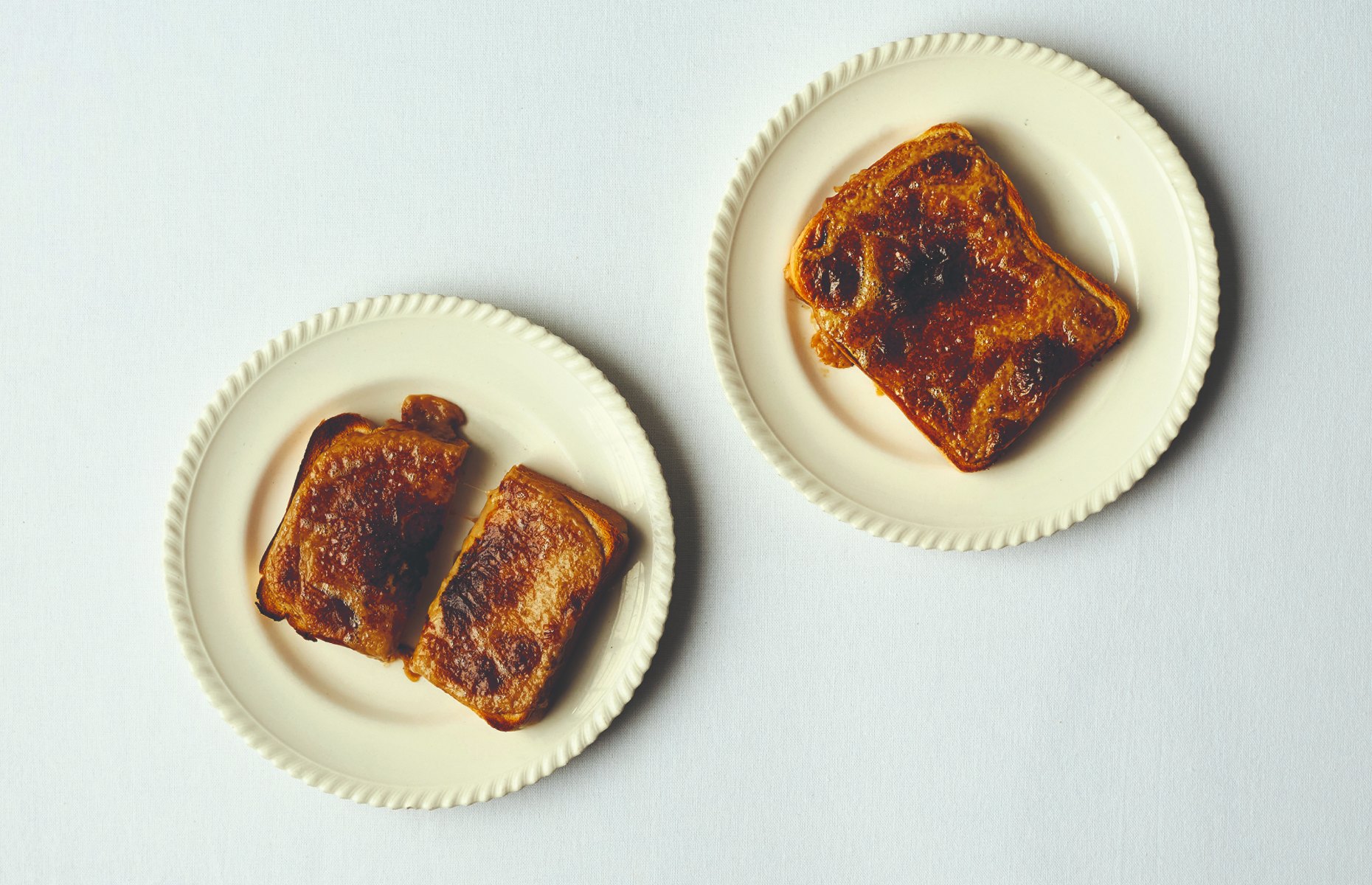 Welsh rarebit (Image: Sam A. Harris)
Try Ben's Welsh rarebit recipe
How about in England?
I'd love to see traditional meatloafs or meatballs cooked more often – like haslet [a Lincolnshire speciality meatloaf made with pork] or faggots [meatballs made with offcuts and offal]. They're both so delicious, although you may have to go the extra mile to find the right ingredients.
Which British dish has the most interesting backstory?
Oh, they've all got such rich histories! That's one of the most compelling things about this book, that you learn so much about many different parts of British history. Food is a wonderful way of understanding a people, understanding a culture, and a landscape, even.
Do you think you could stick to a diet consisting solely of British food?
As long as I lived in the UK, sure! It's wonderfully suited to seasonality and the weather. We do get such beautiful produce in spring and summer – it's not all comfort food for the most drab weather. However, if I were to live in a scorching hot climate I might want a touch of something else from time to time.
What is it that keeps us Brits coming back to those classic dishes? Can nostalgia affect the way we perceive a dish?
Absolutely, nostalgia and childhood memory play a crucial role in the way we eat and what we crave – sometimes against our best judgement or in complete contradiction to our other tastes.
Is there still room for older classics in British cuisine?
Yes, definitely. Tradition isn't static, it's always changing and evolving, even if the ways it does so are slow and small. British food has had considerable outside influence for thousands of years, so this is truly nothing new.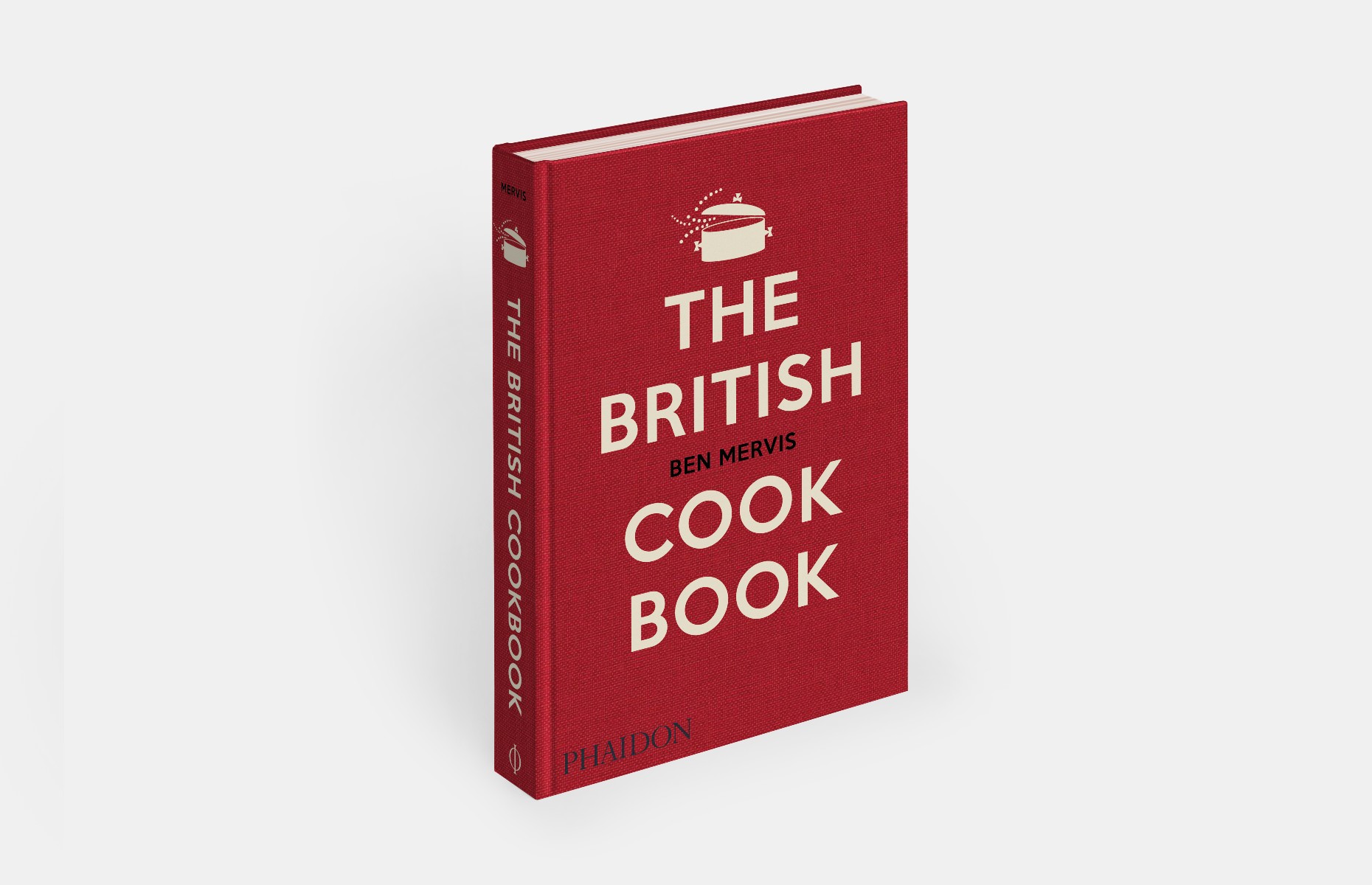 The British Cookbook (Image: Phaidon)
What long-forgotten British dish would you like to see come back and why?
Despite there being a mountain of recipes in my book, all of them are recipes which have been cooked (and even been popular) within living memory. I think some of the rarer recipes, like gooseblood tart or the stuffed cod's heads, would be amazing to see again, but it's just so hard to find the ingredients for them!
We're approaching Christmas. Can you tell us a fun food fact about Britain's Christmas dinner traditions?
Centuries ago, mince pies did in fact include minced meat. In that period, it wasn't such an unusual combination, but over the course of the 1800s people realised you could prep mincemeat months in advance as long as you didn't include the meat – and some people began leaving it out altogether. Of course, over time that became the prevailing way to make them!
The British Cookbook (Phaidon, £39.95) is available to buy now.
Lead image: Murray Orr
Be the first to comment
Do you want to comment on this article? You need to be signed in for this feature