Lisa Faulkner's tips for easy, tasty family meals on a budget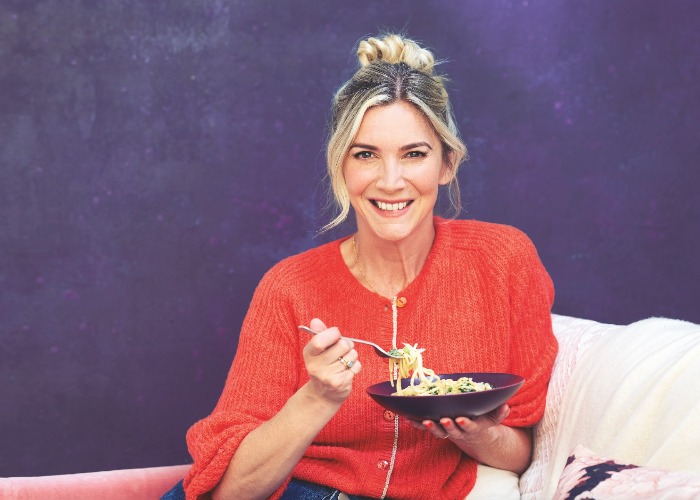 As the cost of living crisis deepens, we caught up with celebrity chef (and lover of family-friendly home cooking) Lisa Faulkner to talk fuss-free recipes and the tastiest ways to create simple, cost-effective meals.
This autumn, Lisa Faulkner has partnered up with online supermarket Ocado, who are on a mission to show that cooking cost-effectively for the family is easy, delicious and energy-efficient, to create a whole week's worth of family dinners for just £25.
Is home cooking a big part of your daily diet at home with the family?
I don't know anything but home cooking. I'm very lucky in that I grew up with my mum and both grandmothers cooking. They were all brilliant cooks and always cooked from scratch, so I feel like I grew up cooking that way too. And I still do; I mean, sometimes I use quick cheats and jars of sauce and things like that, but I cook every single day.
Depending on who's working, either my husband John (Torode, celebrity chef and presenter of Masterchef) or I cook. We also cook together a lot; it's something we both love, so it's never a chore.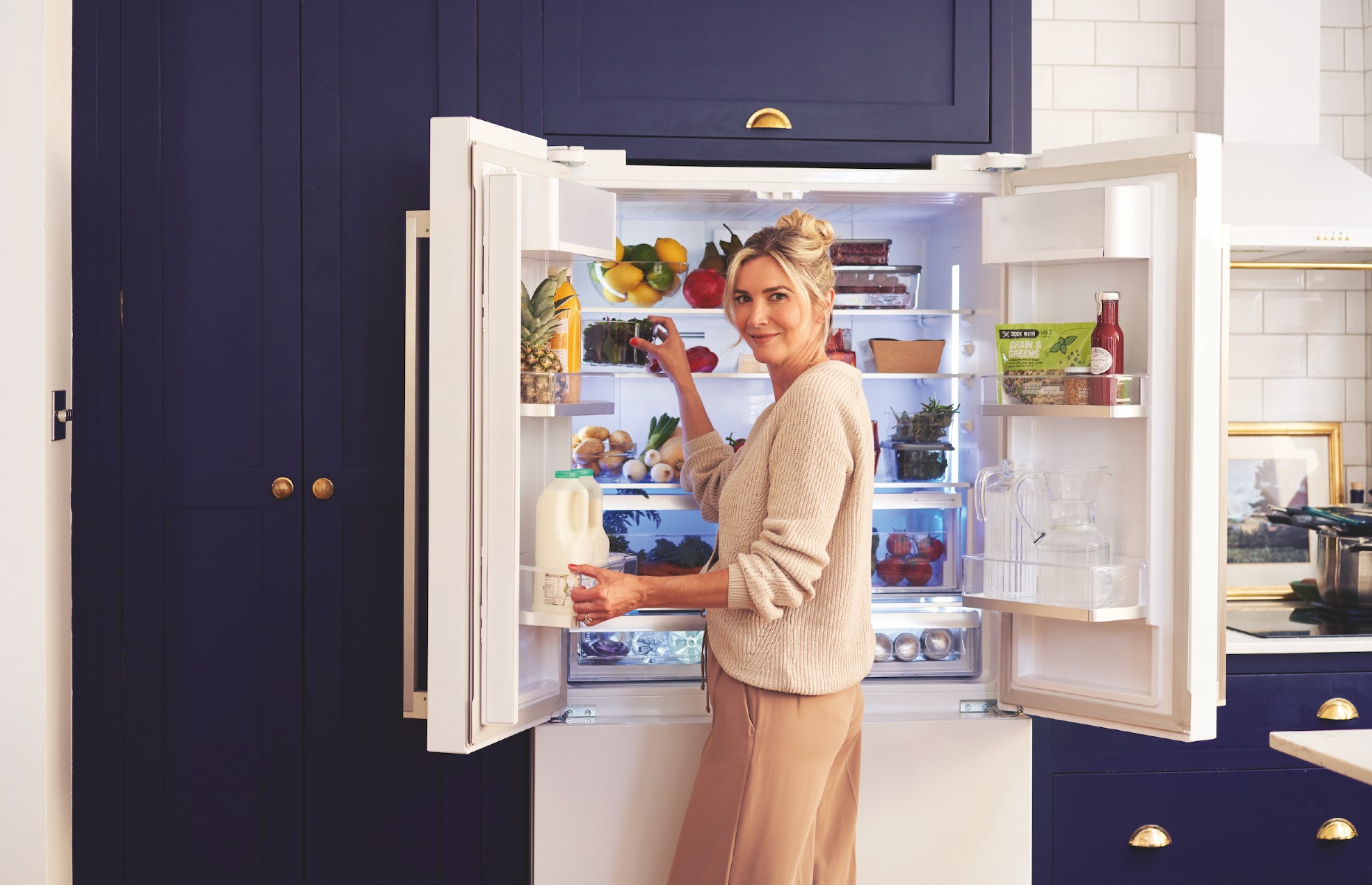 Lisa Faulkner has created five quick and easy recipes for Ocado (Image: Ocado)
What was the inspiration behind the dishes you've created for Ocado?
Everyone is watching the price of food and the price of living go up. We're all thinking, "OK. How can we make sure that we're not going to waste food and save money?". For me, it's all about planning; the more I can plan my recipes, the better. I plan it all out – what we can have for dinner, what we can have for lunch, what we can freeze and have again on the weekend. It's a constant thing.
That's why, when I was planning these meals for Ocado, I wanted to think about ingredients that can be used in more than one recipe. When we're cooking, a lot of us make the same mistake: we buy an ingredient, but only use it for one thing, and then it sits withering in the fridge until it's useless. I just really don't want to waste food; I'm always working out ways to use leftovers, or freeze food, or batch cook.
The five recipes I've created are a really nice way of maximising ingredients. Instead of having sage in just one recipe, it's used in a few of the dishes. Likewise, squash is in a couple of the recipes – kale too. But you're mixing it up so that you've got some meat dishes, some veggie dishes, and a fish dish that's so easy because it uses fish fingers. They're really simple recipes that are nice to cook; they don't take long, and you can cook them up knowing that you're feeding your family some of their five a day. They're obviously good value as well!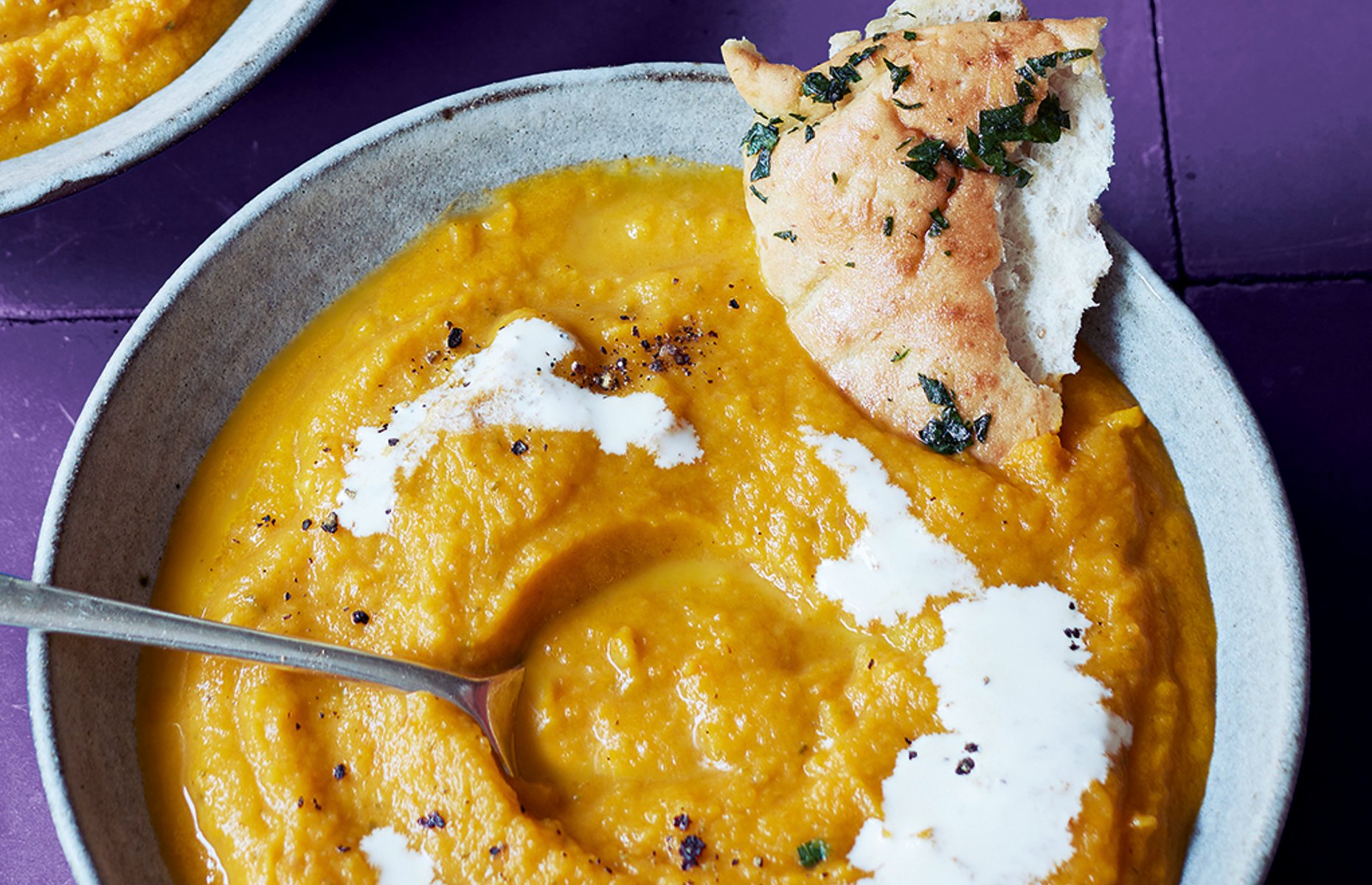 Lisa Faulkner's roasted carrot and sage soup with garlic pittas (Image: Ocado)
Try Lisa's roasted carrot and sage soup with garlic pittas recipe
The recipes contain plenty of vegetables – but do they cater for fussy eaters?
I think so! The roasted carrot soup is really great – kids tend to like carrots, and the soup is really tasty. Plus, you've got the garlic pitta bread, which is fun to dip in. The whole dish is a really good way of getting the veggies in there.
The katsu always goes down well, too, and it's great if kids are fussy. They might not like the sauce, or they might only want a bit of the sauce, but that's possible to do because it's essentially fish fingers, rice and broccoli. Anything covered in curry sauce and a breadcrumb is usually a winner!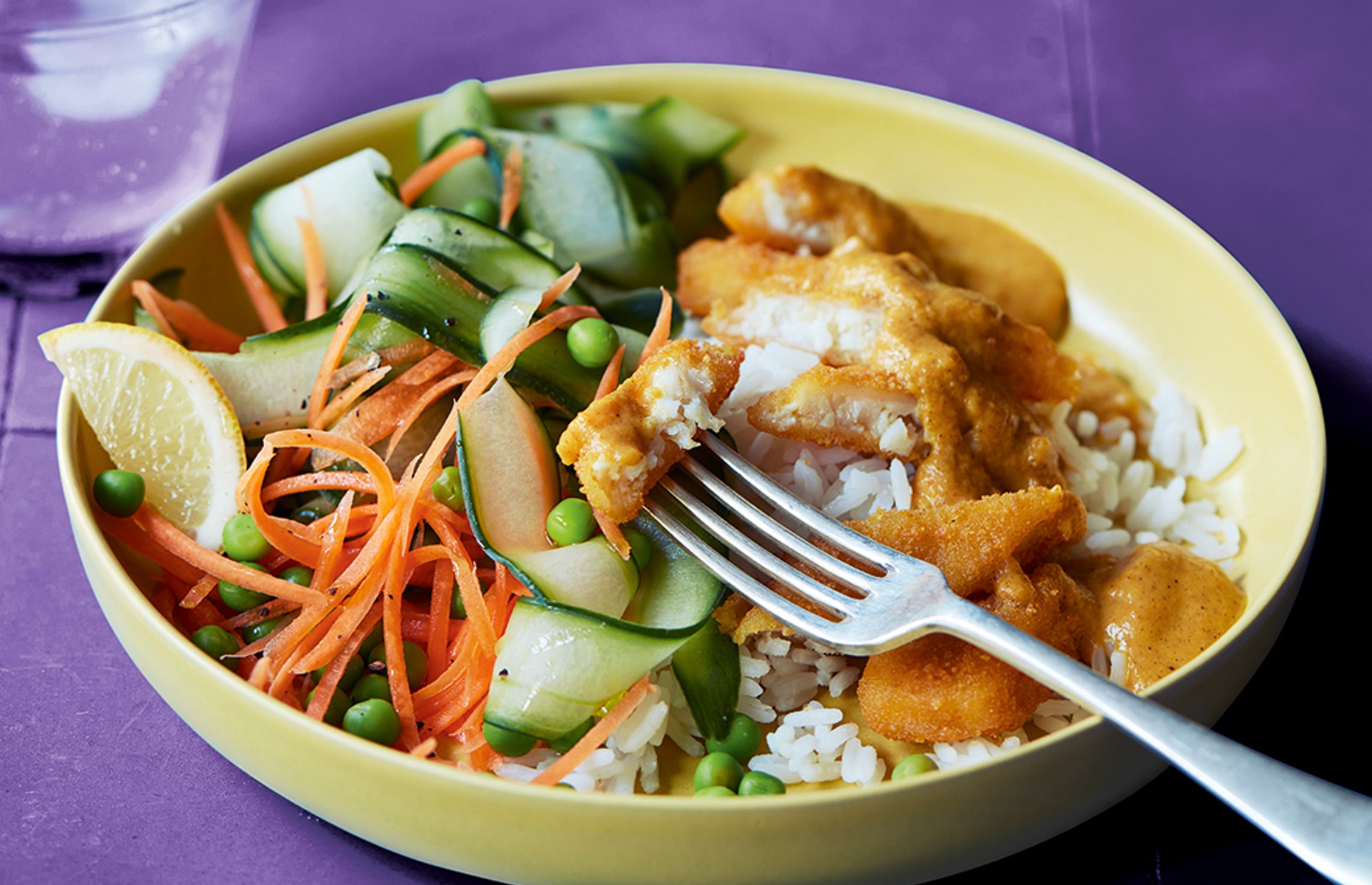 Lisa Faulkner's fish finger katsu (Image: Ocado)
Try Lisa's fish finger katsu recipe
Are the recipes easy to make?
They all take about 20 to 30 minutes at the most to prepare. They're easy recipes, and it's really nice to get kids involved with making them too. Lots of kids love cooking, and the earlier they cook the earlier they understand food; they understand what's good for them and what's not so good for them, what they can have in moderation, and how much things actually cost. Also, if the kids help make the food, they always want to eat it because they've made it.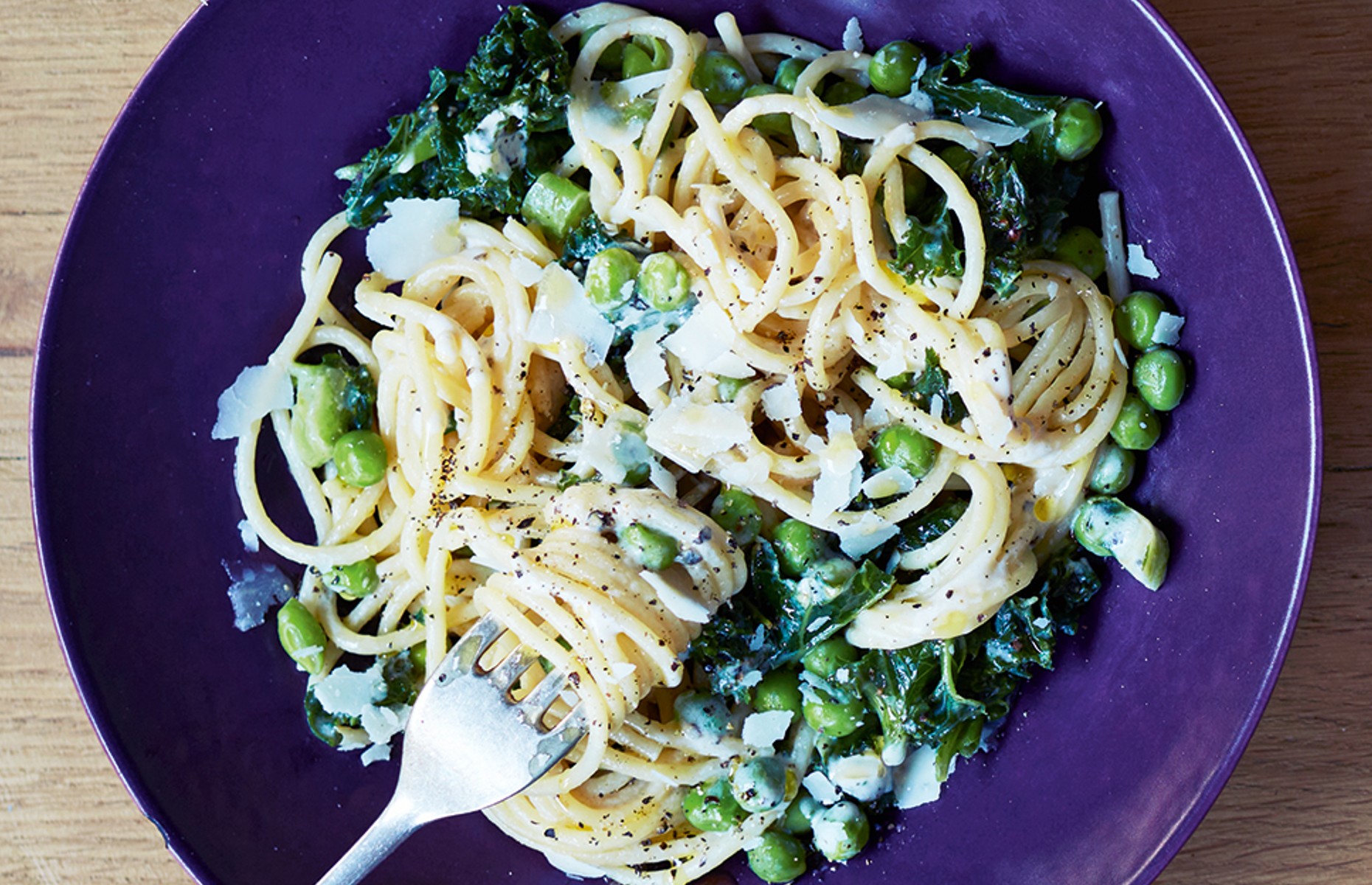 Lisa Faulkner's cacio e pepe, pea and kale spaghetti (Image: Ocado)
Try Lisa's cacio e pepe, pea and kale spaghetti recipe
What are your hero store cupboard ingredients for families cooking on a budget?
Definitely pasta, rice, tinned tomatoes and onions. Squash is obviously very autumnal, but it's a really versatile vegetable so it's really useful – then there's kale and cabbage, which are greens that you can put into lots of things, especially with kids. You can hide greens in things like mac 'n' greens dishes, or in the cacio e pepe recipe that I've created for Ocado.
Have you got any handy food tips for saving money that you can share with us?
Whenever I buy herbs, I use them in dishes and then put them in the freezer so I can use them again. Things like sage or thyme, I just dry out and put in jars.
Then, I make stocks out of loads of things – even old vegetables. We've all got those old vegetables in the bottom of the fridge drawer! I use them to make a soup, or a veggie stock for a soup if they're really past it. You've just got to think, pour some water on that, stick it in the oven and you've got an amazing stock to make casseroles, or soups or stews.
Another way to save money is by trying to use your kitchen appliances less. With the five meals that I've done, you can cook your vegetables for the tray bake and then do the veg for the soup on the same day because it's already cooked and you're just going to blitz it. That way, you don't have to use your oven every day.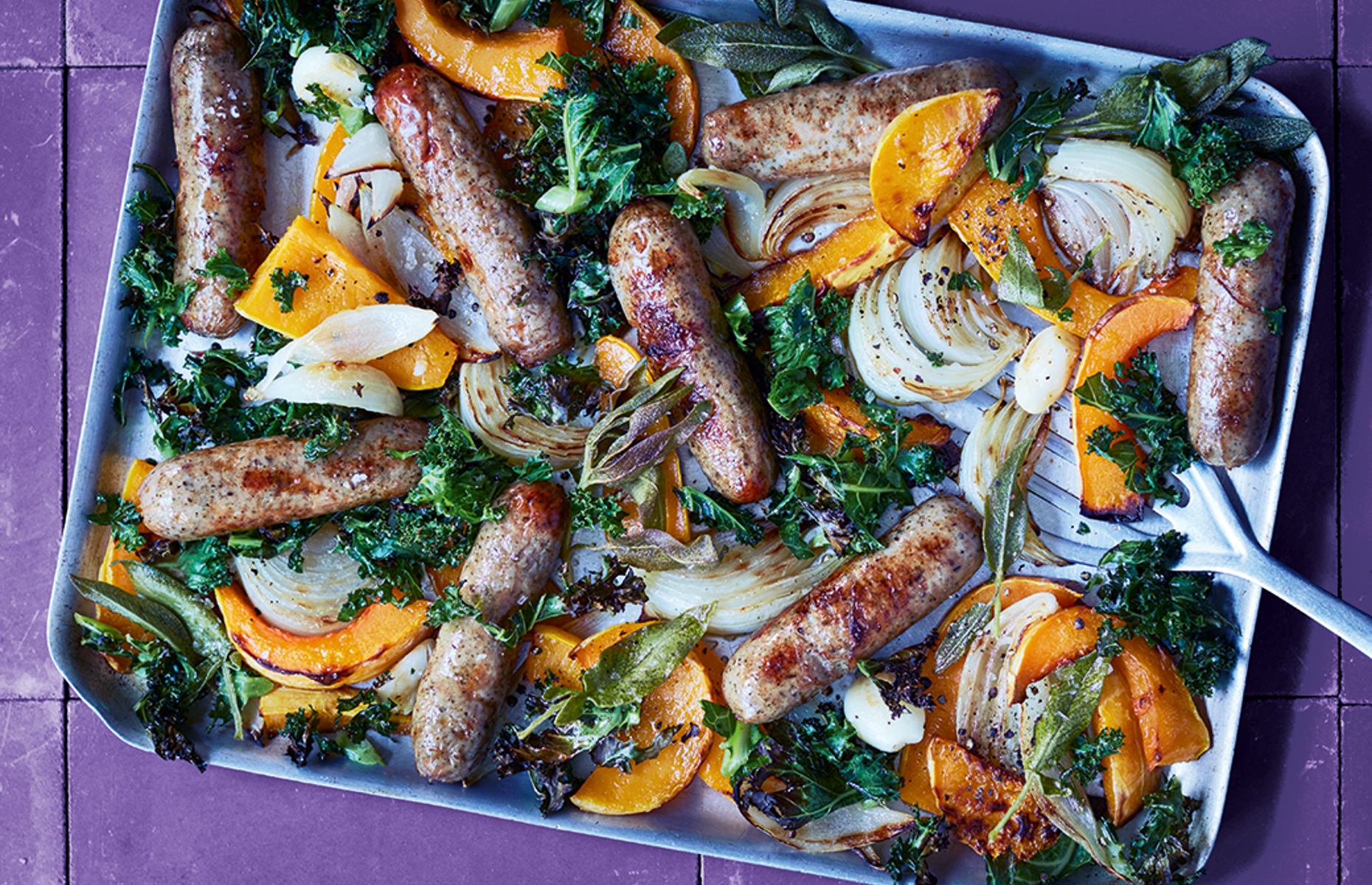 Lisa Faulkner's sausage, squash and sage traybake (Image: Ocado)
Try Lisa's sausage, squash and sage traybake
Do you tend to batch cook dishes and freeze meals for later?
Definitely. For example, my daughter Billie really loves my godmother's casserole, which is sort of like a beef bourguignon. When I make it, I always prep everything early and put it all in the slow cooker in the morning. When it's done there's always enough to put into portions, which I then freeze. We can reheat it and eat it again, or I can make it into something else.
The other day, we made it into a tortilla soup by using an extra tin of tomatoes, a bit of pasta and some tortilla chips on top. I'm a big fan of using leftovers, not just as the dish they were to start with, but turning them into something new.
Do you have any advice for people who are new to cooking meals from scratch?
I think one of the best things that anyone can do when they're new to cooking is to learn to cook a dish that they like to have when they go for dinner, or a dish from when they were a child.
Recipes can be intimidating. Even if it's something like mac 'n' cheese, you might have thoughts like, "oh gosh, I've got to make a white sauce and a cheese sauce, and I don't really know how long to cook the pasta, and I want to put some veggies in it and make it healthy". It's about breaking it down and following the recipe a few times. I think that once you've cooked something three times, then you know it. And once you know it, then you can adapt it and change it and make it something else.
It's about not being scared. Start off easy by trying something like a tray bake, where you're literally cutting things up and putting them into the oven. Then you can go, "I made that! That was really easy!". And then it gives you confidence. Baby steps!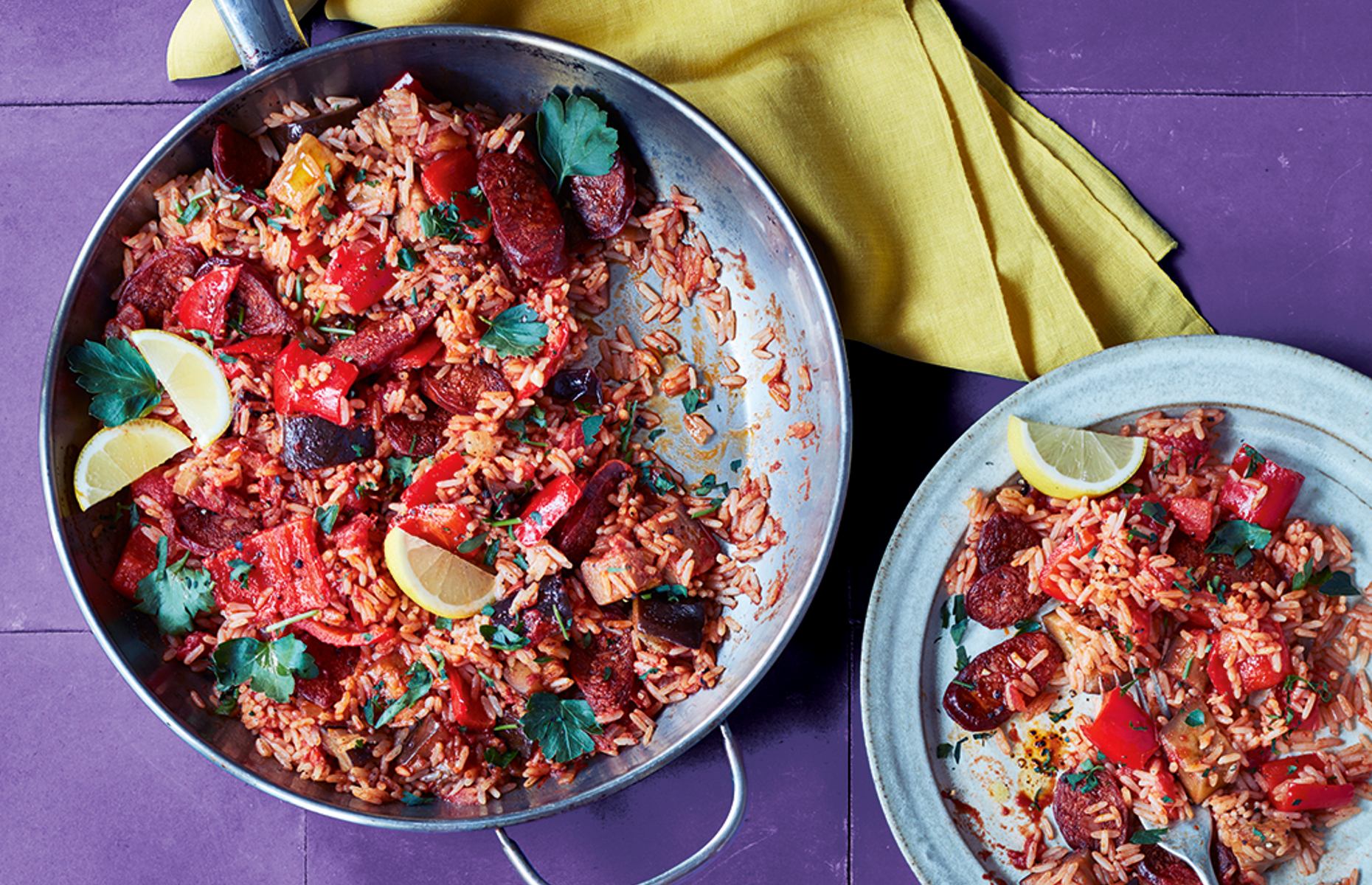 Lisa Faulkner's Spanish aubergine and chorizo rice (Image: Ocado)
Try Lisa's Spanish aubergine and chorizo rice recipe
One final question – do the Ocado recipes you've created get the seal of approval from John?
Well, he's eaten them and he likes them, so yes! You know what, he's my biggest fan. He's always so lovely about my food.
Lisa created her collection of Five Meals for Four for £25 using Ocado Own Range ingredients. To learn more about Lisa's Five Meals for Four for £25 and explore the recipes, visit Ocado.
Be the first to comment
Do you want to comment on this article? You need to be signed in for this feature