Theo Randall on Italian cooking and the rise of the non-alcoholic aperitivo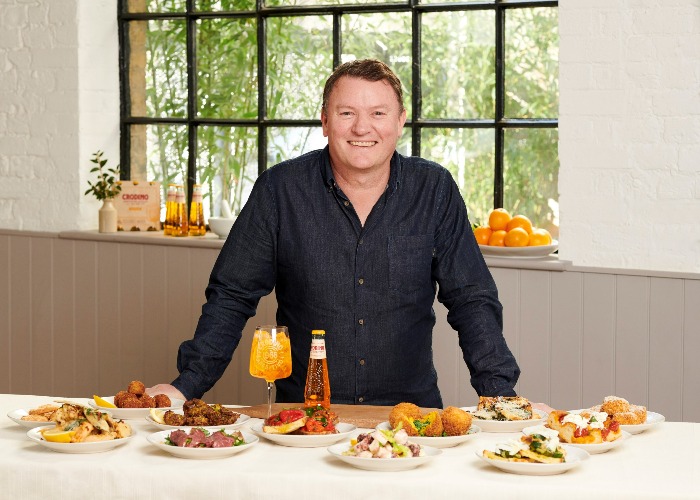 We catch up with acclaimed chef Theo Randall about his enduring love for Italian cooking and the joys of socialising with an aperitivo.
With a stellar career spanning almost 30 years, Theo Randall is one of the UK's most inspirational and recognisable chefs. The former Head Chef at The River Café in Hammersmith (which under his patronage was awarded its first Michelin star in 1997), his passion for cooking exceptional Italian food has taken him from London to Berkeley, California and back – and it's a life-long infatuation that shows no sign of waning.
Now the owner of Theo Randall at the InterContinental Hotel London Park Lane, where he is renowned for creating masterful produce-driven Italian dishes, he recently teamed up with the Italian non-alcoholic aperitivo Crodino to create a collection of bespoke aperitivo accompaniments.
We caught up with Theo to chat about his enduring love of Italian cuisine and the joys of indulging in a quintessentially Italian ritual: the post-work aperitivo.
How did you get into cooking?
I started cooking at a very young age. My mother was a brilliant cook and would make bread and cakes twice a week. I would always help her and got hooked early on. I loved flicking through her cookbooks and was always fascinated by chefs. I was given La Technique by Jacques Pepin for my 13th birthday, which is an encyclopaedia of classic cooking techniques. I loved the book and followed it page by page, practising my knife skills on whatever vegetables I could get my hands on.
Where did your love of Italian food come from?
Again, my mother – she loved Italy and its food. She first went there on a trip with her sister in the 1950s and was really taken with the country. Her cookbook collection was a mixture of British cookery writers and some very interesting Mediterranean books. Her favourite was Elizabeth David's Italian Cooking; we ate a lot from this book.
Holidays were spent going to France and then on to Italy. I will never forget my first trip to Venice; it was incredible. My mother was an artist, and my father is an architect, so you can imagine that visiting Venice was a big thing. I loved seeing all the galleries and the amazing architecture but, honestly, what I really wanted to do was eat! So that's when I first experienced real Italian food. I remember eating spaghetti alle vongole for the first time – eating clams with your hands was so exciting for a young boy and that experience has stuck with me. Since then, I've had this obsession with the Italian aperitivo tradition, its ritual, and creating authentic Italian small plates.
Have you got any memorable tales from your time starting out as a chef?
I have many, but one does stand out. I did a sabbatical at Chez Panisse in Berkeley, California back in 1992. I had to create a menu for the Monday night set dinner, which was a huge honour, so it had to be perfect. The dinner was going very well but, downstairs, there were always two seatings of guests. One of the dishes I was cooking was a spinach and ricotta gnudi, and I had counted enough for five pieces per portion. I was on the main course with another chef and hadn't realised that they had been serving six pieces per portion! When I counted them for the second seating, I had the shock of my life. I ran to the fridge to see if there was any spinach so I could make up another 60 pieces but – typically – it had all been used.
All the other chefs were tucking into staff meals, unaware that I had just run across the road to the supermarket and bought all the spinach they had. I made the extra gnudi just in time. I was so pleased when the service finally finished…
Did you enjoy working at Chez Panisse?
It was an amazing experience. I would work Mondays and Tuesdays with Alice Waters in the kitchen and the rest of the week with Paul Bertolli or Jean-Pierre Moulle. This was a very inspiring kitchen with a lot of talented chefs pushing things to the next level. The whole atmosphere and family spirit was a real joy to be part of. I think back to my short time there with great fondness and am very appreciative to have learnt so much, not just about cooking but also about how to work as a team.
How would you describe your cooking style?
Seasonal, simple, and very tasty. I love authentic regional Italian cookery and my main consideration is flavour and texture. Italian food is about the ingredients, and not over-working them. The produce is so important in Italian food, so there's nowhere to hide.
What's the dish you're most proud of?
There are many dishes I am proud of, but the one that has always been everyone's favourite is cappelletti di vitello - which is a fresh pasta stuffed with slow-cooked veal and parmesan, cooked in a sauce of porcini mushrooms and butter. It really is delicious.
How do you go about creating a new recipe or dish?
The process usually starts with a specific ingredient, then I cook it in my kitchen at home. This is the first stage, and then I develop it in the restaurant kitchen. My inspiration can come from many sources; sometimes it's a dish I've seen on Instagram or have read about, sometimes it's something I have eaten and thought was a good idea, and sometimes it's simply a seasonal ingredient that I want to use. We do a monthly regional menu at Theo Randall at the InterContinental, which comprises four courses and wines from the specific region. This takes a lot of research and development as some dishes don't always work in large numbers and the wine must match perfectly.
What do you love about the hospitality industry the most, and what aspects do you think need to improve?
I love making people happy. Cooking someone a delicious meal with friendly approachable service makes for a memorable experience. That, to me, is what it's all about. I strive to do this every day and some days are harder than others, but the result should always be the same. Hospitality needs some TLC; we need to focus on training and inspiring the next generation. For years we have been spoilt with trained chefs and waiting staff queuing up for employment. The reality is, this is no longer the case. We can blame lots of events, but at the end of the day we need to get on with it and show how bright the future can be for those who want to be part of it.
Is there anything you're particularly excited about in the UK's restaurant scene right now?
The food scene in the UK is better than ever! Even with all the challenges recent years have thrown at us, new restaurants are popping up. Talented, confident young people are opening stylish small businesses with great food, wonderful cocktails, and engaging atmospheres.
We've seen you recently worked with the Italian non-alcoholic aperitivo Crodino to create some bespoke aperitivo dishes. Do you think the aperitivo occasion is becoming more popular in the UK?
I love the idea of aperitivo and everything it represents – sociability, fun, and delicious food and drink. Aperitivo is a timeless ritual in Italy, where people come together at the end of the working day, usually around 5-8pm, and enjoy bittersweet drinks with appetisers to open their palates before dinner. Having spent a lot of time in Italy, I've seen how many bars and restaurants offer simple serves like Campari Spritz, Aperol Spritz and Crodino – the original non-alcoholic aperitivo in Italy – where customers can also enjoy a selection of delicious small bites to complement their drink.
This is slowly becoming popular in the UK, particularly in large cities, where people meet friends after work and want to catch up over a drink or two with something light to eat. This has always been the case in Britain, except now – instead of salted nuts and crisps, people want better quality, more sophisticated food with their drink.
Have you seen more of a trend towards people enjoying non-alcoholic and low-alcohol drinks with their food, and wanting something other than the usual options?
I think we are a lot more flexible in our habits today. Non-alcoholic drinks have become very popular, and the variety is excellent. A simple, but extremely flavoursome non-alcoholic aperitivo like Crodino with large ice cubes and a thick slice of orange is just as enjoyable and refreshing as a Campari Soda. A recent project of mine with Crodino was Endless Aperitivo, a dining experience in partnership with the Italian Supper Club. It celebrated the very best of Italian culture with a delicious aperitivo menu that extended into the spring evenings. The whole experience was alcohol-free, as recent research showed a growing desire for dining experiences that didn't necessarily have to revolve around alcohol. I had the pleasure of designing a menu that offered plate after plate of Italian light bites – and every single night was a sell-out!
Quick fire questions
What kitchen gadgets could you not live without? A pestle and mortar.
What's your favourite quick and easy meal? Pasta with butter and Parmesan.
What's your ultimate comfort food? Boiled eggs and soldiers.
Are there any food trends you wish would go away? Foam on food.
Which other chefs do you admire? Phil Howard of Elystan Street.
Have you read any good cookbooks recently? Well, I have been busy writing one… my Italian Pantry cookbook.
Crodino is now available nationwide in Sainsbury's and Waitrose, and via Amazon.
Be the first to comment
Do you want to comment on this article? You need to be signed in for this feature