How Maria Bradford is putting Sierra Leonean food on the map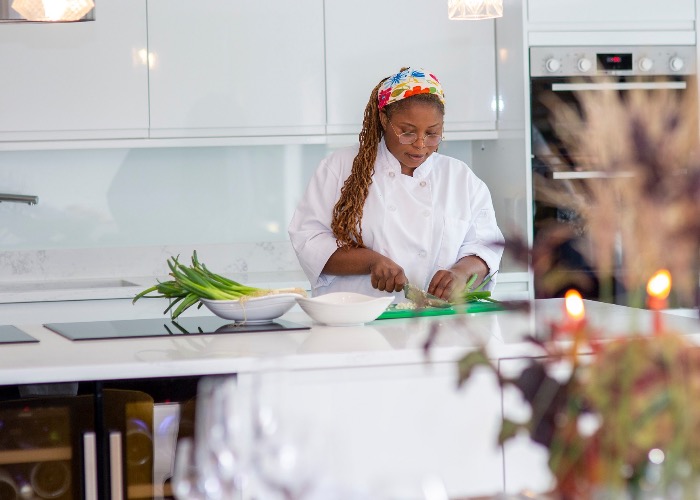 The founder of food business Shwen Shwen on highlighting Sierra Leone's vibrant food culture and raising the profile of her home country's cuisine further with upcoming cookbook Sweet Salone.
There's a lot of buzz around Maria Bradford as a rising star in the food world. Born and raised in Freetown, the capital of Sierra Leone, the entrepreneur is bringing Sierra Leonean and Afro-fusion cuisine to the British food scene in a way that's making serious waves.
Bradford's fresh take – and social media presence (33,000 Instagram followers and counting) – has led her to be named one of The Observer's chefs to watch this year, and seen her land a lucrative deal with Quadrille to publish a book which will highlight the colourful culture and spicy flavours of Sierra Leone that have inspired her premium fine dining experiences.
"The aim of what I do is to promote Sierra Leone food, our ingredients and to change the narrative because the country has got such a bad reputation when it comes to what's in the media," says Bradford.
"The civil war finished 20 years ago (taking place from 1991-2002) but I still have people asking me about it. You can't escape the fact that Sierra Leone is a poor nation, but there's so much more there than just focusing on the terrible things that have happened. The people are happy, and they eat well and healthy. It's a tiny country with seven million people, but for such a small place it has big, colourful, bold flavours."
As such, Bradford's fine dining catering company and mail order food business Shwen Shwen, which sells chilli sauces and a range of traditional Sierra Leonean drinks, has one simple goal – to offer an authentic Sierra Leonean experience using fresh and flavoursome ingredients.
"It is very much an African thing that from a young age you spend time in the kitchen with your mum, aunties and grandparents. I was brought up to be very curious and engaged when it comes to food. I love cooking for people, so I knew it was something I was going to do," she says.
"My favourite memory was going to the market with my mum and her knowing everything, from who the best producers were and what the best ingredients look like, to the interactions with the sellers. It's a special community and I'm trying to bring that feeling to what I do by helping people change these local ingredients into delicious, authentic dishes."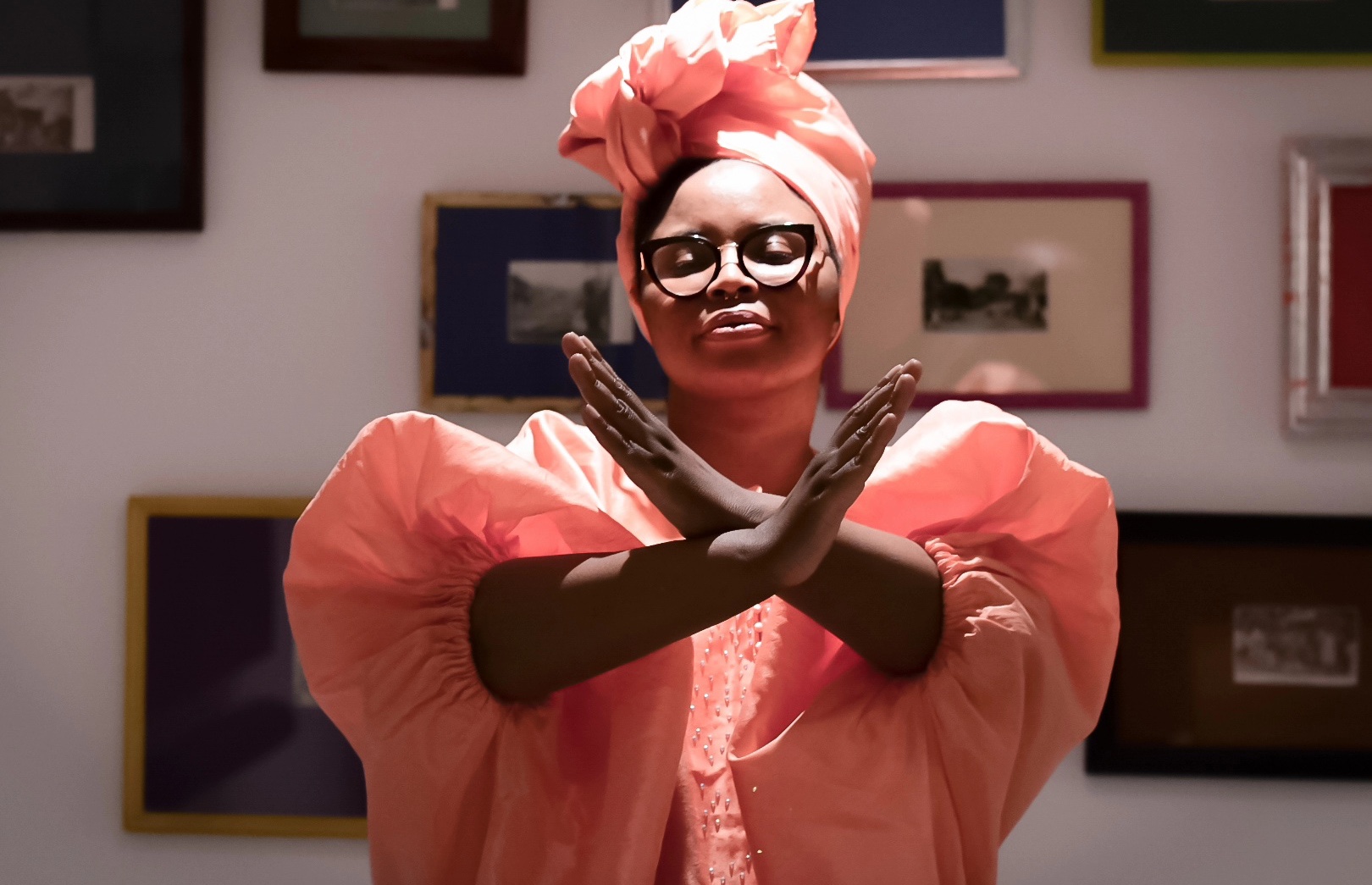 Credit: Shwen Shwen
Bringing Sierra Leone dishes to the forefront
As part of her business model, Bradford uses social media to highlight her home country's culture and vibrant food history, regularly uploading stunning and informative posts about everything from egusi (a name for the protein-rich seeds of certain cucurbitaceous plants, which after being dried and ground are used as an ingredient in West African cuisine) to cassava (a nutty-flavoured root vegetable).
"In Sierra Leone we eat very healthy – lots of vegetables, leaves and fish, while meat isn't a huge part of our diet. We also eat a lot of pulse, peanuts (we add peanut butter to a lot of dishes), rice, cassava and yams. Our food is so nutritious," explains Bradford.
"Cassava is big in our culture – it's used to make many traditional dishes and that's because of how versatile it is. You can boil, roast and ferment it, and make it into dough balls or a granulated powder. We eat the roots and the leaves – in fact, the sauce we make with the leaves is our national dish. There's also not much wastage when you eat in my home country as even the peels are fed to the goats."
After boasting about its cooking potential, it comes as no surprise to discover that the cassava leaf (which is a rich source of protein, minerals and vitamins) is Bradford's favourite "because it's got everything that makes Sierra Leone so special," she adds. "You can cook it with palm oil too – not the one that destroyed Asia, this is a red palm oil which we've been eating with for more than 5,000 years. It's as important to us as olive oil is to Italians."
Read more: try our baked cassava fries recipe
Credit: Shwen Shwen
Paying homage to her home country
But Bradford's signature style is to not reinvent the wheel but to make fellow Sierra Leoneans and Africans aware of the versatility of the country's food, as well as introducing this cuisine to new markets – especially British palates as she now lives in Kent in England.
"I have many fond childhood memories of Sierra Leone and I'm passionate about conserving heritage recipes. My style of cooking is best described as a reinvention of traditional dishes, allowing quality, fresh and seasonal ingredients to stand out," she explains.
"For me, the traditional stuff doesn't need to change – it just needs to be cooked and plated well. I don't want to water down what's already there as there's nothing wrong with it. What excites me is taking traditional Sierra Leone ingredients and making them into something new as it shows how versatile our produce is."
It also helps when engaging people who have no experience with African food, as Bradford explains. "You eat with your eyes and the best way to bring someone into your culture is to meet them halfway – not by watering down what the flavour is but meeting them at a place where they understand what you're dishing out.
"So, they might not necessarily know what cassava leaf is, but if it's plated well and looks and smells nice, then they will want to know more about it." This approach is visible in the mail order side of the business too. For example, all of Bradford's drinks pay homage to Sierra Leone by using ingredients from the country, but that also complement English flavours such as strawberry and lavender.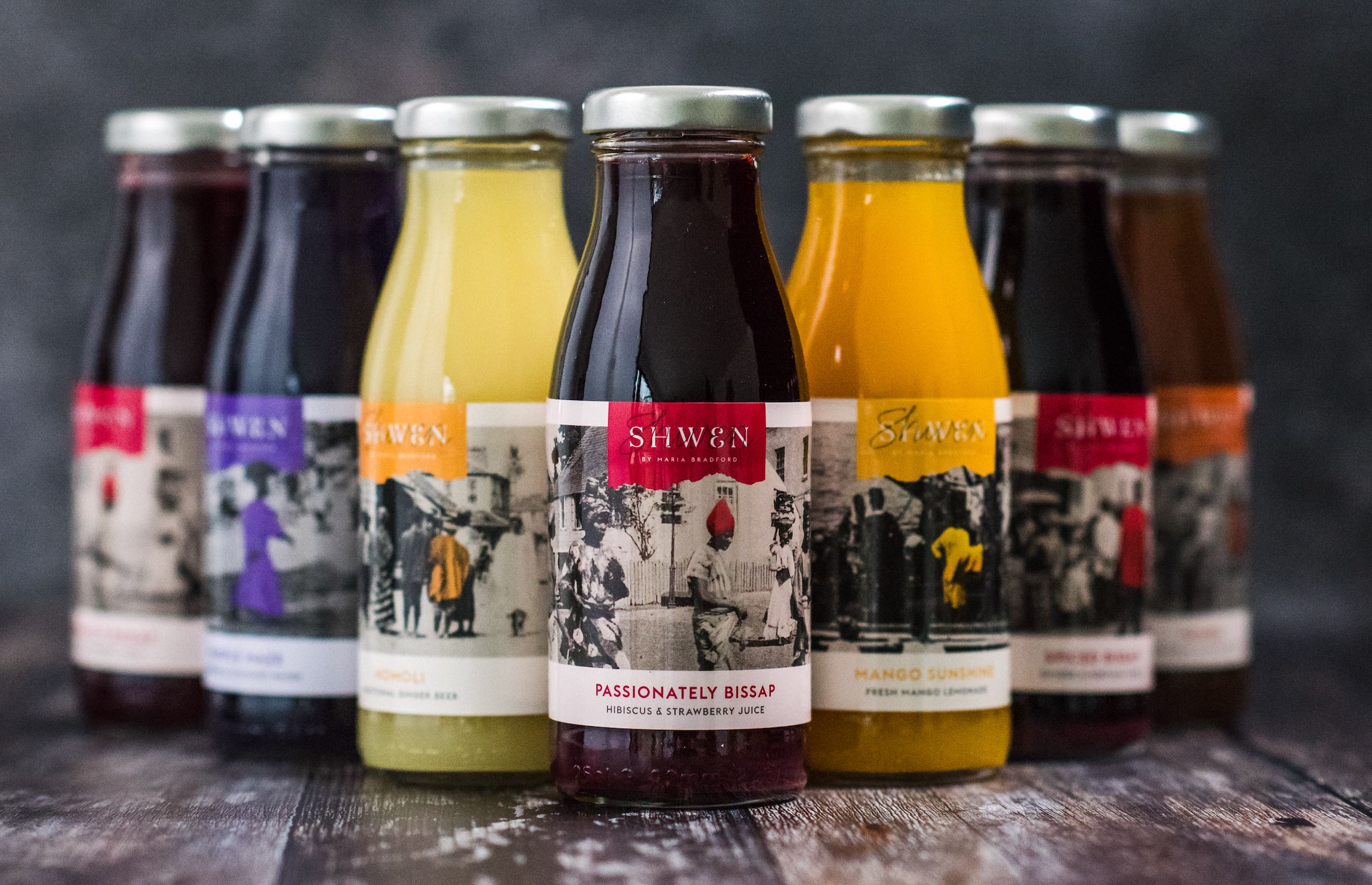 Credit: Shwen Shwen
Being respectful of tradition while also making her mark
It's this style of cooking and plating that has influenced the chef's business name too. "When I first started, I was working under the name 'Maria Bradford Cooking', but whenever I posted on social media, Sierra Leoneans would refer to what I was doing as 'Shwen Shwen', which means fancy – so I rebranded. I just thought if that's how they feel about it and it's their food, then I'm going to go with it," she says.
She gives me an example of how she gives dishes a twist and how this sparks conversation with her fellow Sierra Leoneans online. "Not long ago, I posted about pepper soup [a hearty African soup] on my Instagram. Usually, the fish and everything is mixed up together and cooked in this broth, but for me, that broth is so important that I focused on making it separately, and then made the fish, and plated it with it on top, adding some patchouli for extra flavour," she says.
"However, because people aren't used to seeing it plated like that there were a lot of comments. Some people were questioning why I was doing it like that as it's not how they serve it. All the ingredients for that dish are in there, I've just plated it differently and showcased the important bits of it – that the broth needs to be cooked well."
Bradford's talent is getting that balance right – listening to her audience while also trusting her creativity and what she's bringing to the table. "People are very passionate about African food, what they grew up eating and how their family cooks it, so you just have to respect their views but also be respectful to how your own family cooks stuff as it won't be the same," she says.
"Ten people can use the same ingredients and all come out with something completely different, and my thing is about accepting that we all cook differently. There's flexibility in what you can do with Sierra Leone ingredients and that's what I'm highlighting."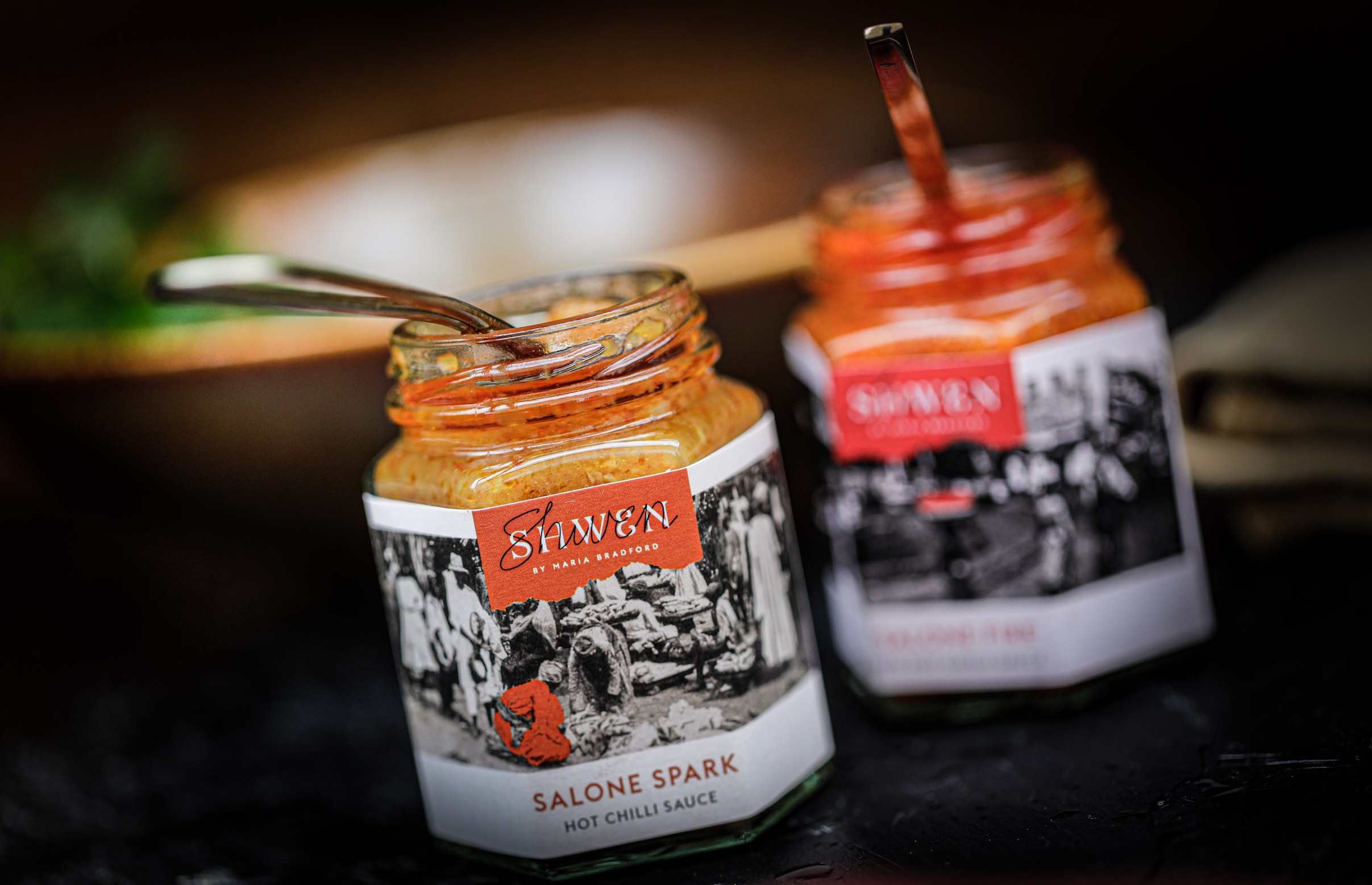 Credit: Shwen Shwen
The Sierra Leone cookbook on everyone's lips
Bradford's first book is being published by Quadrille in 2023, titled Sweet Salone, and it's already tipped to become a kitchen staple. The book will cover traditional Sierra Leonean cuisine and Bradford's signature Afro-fusion dishes, as well as tell the story of the country's history and culture.
"This book is about showcasing Sierra Leone at its best and to change the media perspective on the country – that I'm from a place where we have amazing, healthy food. I've just come back from a location shoot [for the book] and it has hammered home how important it is to have a role model who is doing amazing things with African ingredients and food – who states it's OK to showcase your culture and the food you grew up eating," she says
"I would love to go back in the future and teach the young people there that if you can use your hands and be creative then you should embrace that. It took me such a long time to embrace the fact that I would love to be a chef because there was no role model for me to follow. I want to inspire the next generation."
Read our interview with Leonor Espinosa, the World's Best Female Chef of 2022
The Great British Bake Off star Paul Hollywood on handshakes and his take on the classics
Be the first to comment
Do you want to comment on this article? You need to be signed in for this feature