An interview with Tom Kerridge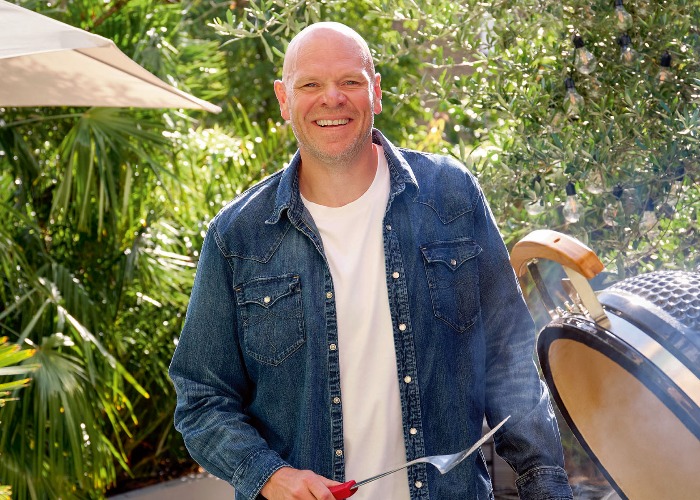 Michelin-starred chef Tom Kerridge talks to us about writing a book in lockdown, his best outdoor cooking tips and teaming up with Marcus Rashford to help tackle child food poverty.
With numerous restaurants, countless cookbooks and TV shows under his belt, Tom Kerridge is one of the UK's most celebrated chefs. Although the last year has been tough on the hospitality industry, Tom has stayed busy. Perfectly timed for summer, his new cookbook Outdoor Cooking is a fantastic compilation of 80 outdoor and barbecue recipes, from familiar classics like burgers and hot dogs to inventive dishes drawing on global flavours and lots of healthier options too.
He's also partnered up with footballer Marcus Rashford on the brilliant Full Time Meals campaign. With 4.2 million children living in poverty in the UK, the initiative aims to raise awareness and support the nationwide #EndChildFoodPoverty campaign. The pair have worked on creating 52 filling, but pocket-friendly meals that are easy to make, require minimal kitchen equipment and focuse on store-cupboard ingredients with a longer shelf life.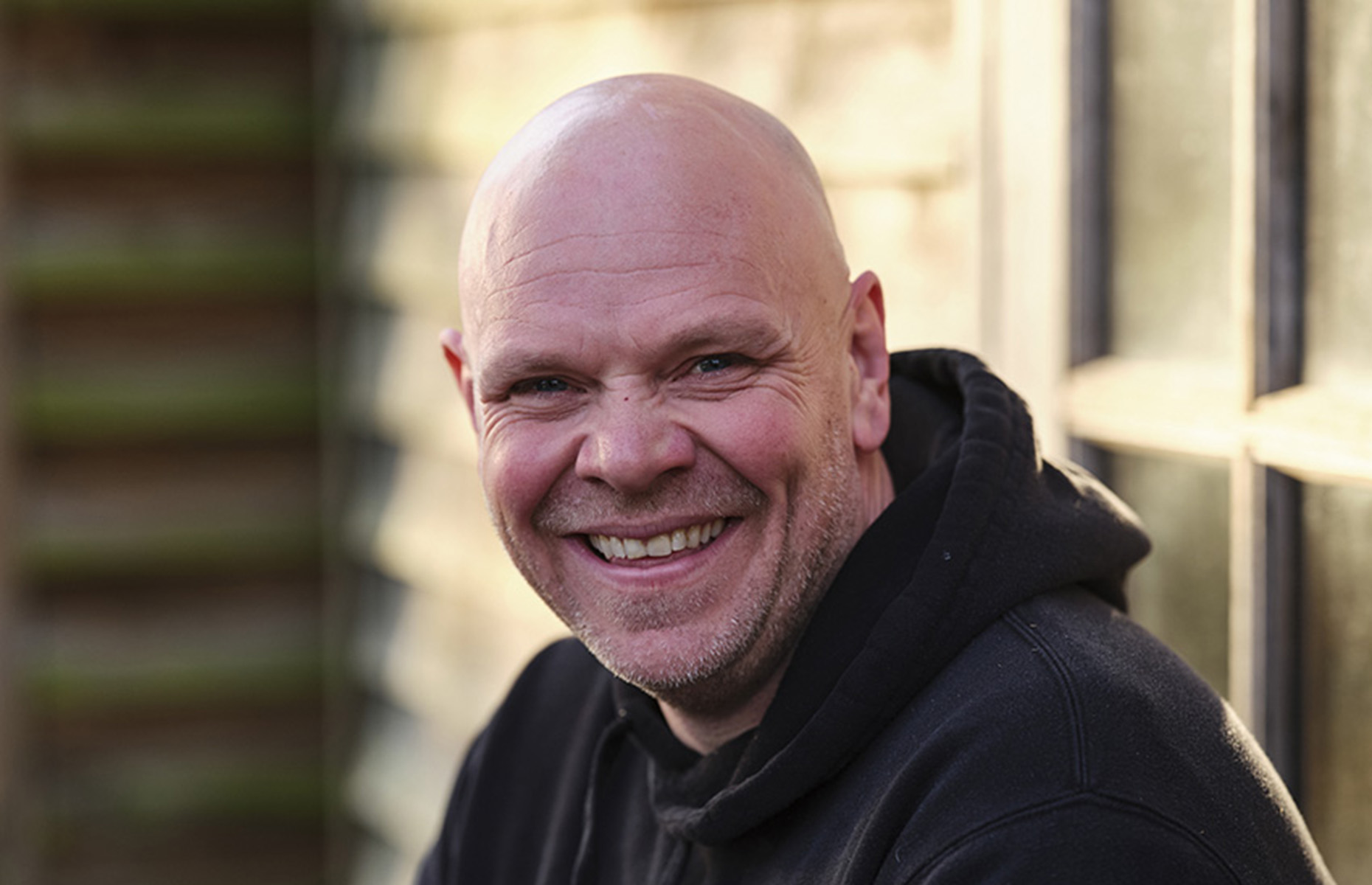 Photography by Christian Barnett
We caught up with Tom shortly after the launch of his new cookbook to talk about his favourite recipes, his best healthy outdoor cooking tips and how the Full Time Meals campaign aims to support millions of families up and down the country.
READ MORE: An interview with Chetna Makan
What inspired you to write Outdoor Cooking?
During the first lockdown, me and my team did a series of barbecue recipes for the Food Network, so we already had these recipes floating about and then we had an idea to put it all in a book. All of us, myself included, have spent a lot of time in the garden hanging out, cooking food, so we thought why don't we try and put something together for the summer.
Normally books take about a year and this was done in three or four months. It was quite an exciting thing when everybody moved very quickly on it. It goes to show that if you put your mind to it and work really hard, you can put together something that's great.
How has the last year been for you? Is there a sense of relief now that things are starting to open up again?
Yes, absolutely! We're all very pleased that hospitality is up and running, and restaurants' doors are open and festivals are starting to happen again. It's been a really difficult year for hospitality and in so many other industries too. It's nice that everybody's beginning to get exposed to some form of normality.
READ MORE: An interview with Gennaro Contaldo
Are there any particular favourite recipes from the book?
They are absolutely delicious, I love them all! The pastrami burger I'm a big fan of. I love the idea of putting that pastrami through a little bit of an extra cure to add another layer of flavour, which is what we all love in burgers. And then the ultimate hot dog as well. It's kind of a play on a German Christmas market hot dog where you have a sausage, a little bit of curry powder, it's got some smoked Bavarian cheese, but it's also wrapped in bacon, like pigs in blankets – that's absolutely delicious.
What's your favourite thing about writing a cookbook?
Every time you put something together, you learn because you don't know it all and you have to do a bit of research and play around with some new recipes and ideas. Everybody cooks things outdoors on fire, on coals, all over the world. There's grilled street food in Southeast Asia, lower and slower cooking in India, grilled, spiced meats in West Africa, all the way over to classic barbecue in the Southern states of the US and asador cooking in Argentina. So that's been an exciting journey to be on.
I also wanted to get away from Outdoor Cooking being seen as a geeky foodie barbecue book. There are a couple of lovely slow-cooked recipes in there, which work fantastically, but I wanted to make it more accessible to everyone. It's not just about blokes cooking loads of meat for 18 hours, it's actually very family friendly. There are lots of fish and vegetarian recipes and lovely ideas that are good for the kids too, but it also embraces recipes from around the world.
READ MORE: Tom's stuffed sweet potatoes recipe
What are your top grilling tips for a barbecue beginner?
The beautiful thing about a barbecue is it's very forgiving in terms of flavours. There's not much subtlety about it. Whether it's the sugar content, acidity levels or sweetness of barbecue sauces, everything is quite robust and punchy. You haven't really got to worry too much about it because we're not looking for refinement in outdoor cooking. Be confident, have a go, don't worry about it and the food will look after itself.
Photography by Christian Barnett
READ MORE: Tom's lamb koftas recipe
The other thing I'd say is the more you do it, the better you get at it. It's the understanding of coal management you have to get right – how hot it gets, when it's too hot to cook, letting it get to the right temperature and knowing when to start cooking. If you're not confident with coal, there's nothing wrong with a gas barbecue, particularly if you're using those punchy marinades. You won't get the same kind of smoky coal or woody flavours, but if you are using the marinades that drive up the flavour, then it works very well.
You've done a lot of great work on encouraging people to eat healthier. What are your top tips for healthy eating in summer?
Dishes you cook outdoors don't always have to be about fatty, thick pieces of meat with loads of rich sauces on it. You can still cook beautiful, healthy food. Outdoor Cooking has lots of salads, roasted vegetables, lots of fish cookery.
Have a look at the kind of recipes that still have a lot of flavour. Although they're fantastic, it really isn't all about pieces of meat and potato salad with loads of mayonnaise.
READ MORE: An interview with Dr Rupy Aujla
What are some of the easiest changes that people can make to eat better and healthier?
The best thing is to have an understanding of what it is you're going to be putting into your body. Structure your meals, do the shopping, work it all out. You do know when you eat something that's bad for you so just don't do it every day. Think about it, use a bit of common sense. Eat a little bit more healthy, exercise a little bit more and then you can enjoy sneaky treats.
Photography by Christian Barnett
READ MORE: Tom's courgette and halloumi skewers recipe
Your Full Time Meals campaign with Marcus Rashford is a fantastic initiative. How did the idea for it come about?
Although I'm twice Marcus' age, we come from very similar backgrounds. Both of our mums were single parents with two jobs so we had very similar childhoods. We connected through the National Food Strategy that I work on with Henry Dimbleby. The guys who are part of it are also on the Marcus Rashford Task Force so we spoke to Marcus and his team about what we could do together.
Marcus is very keen to learn to cook – it's a life skill that he feels he's missed out and one that he wants to gain. It's also been a great way to showcase the Healthy Start vouchers that Marcus has been helping to raise the value of, from £3.50 to £4.25, so it all tied in very nicely.
Both myself and Marcus recognise that we find ourselves in a very fortunate position where with my skill set and Marcus' reach, we're able to try and help as many people as possible. It's incredibly important to offer people as much help and encouragement we can to cook some nice and exciting recipes that destigmatise and encourage cooking.
What are some of your best money-saving tips for cooking satisfying meals on a budget?
There is nothing wrong with tinned and frozen produce. We all think frozen peas are the best, but there are lots of veggies that work really well in the freezer. The good thing about frozen produce is that you have very little wastage, you just use the amount you actually need. You take it from the freezer, you cook it and stick the rest of the bag back in the freezer. You're also not having to buy individual items, which can often be more expensive too.
Also learning to utilise things like pasta and rice dishes a lot more and driving flavour into them. There are plenty of those recipes that come through the Full Time Meals campaign that are all very substantial, super-filling and tasty but very pocket-friendly.
Lead image by Christian Barnett. Tom Kerridge's Outdoor Cooking is published by Bloomsbury Absolute (£22) and is out now.
Be the first to comment
Do you want to comment on this article? You need to be signed in for this feature