Easter recipes: the best baking, brunch, side dish and main course ideas
Although Easter will be a little different again this year, you can still make the most of it and have a cracking long weekend. We've got plenty of easy Easter recipes, including fish on Good Friday, Saturday brunch and bakes, Sunday mains perfect for smaller celebrations and genius leftover dishes.
Easter breakfast and brunch recipes
Why wait until lunchtime to enjoy a special Easter meal? Start the day by filling the house with the aroma of freshly-made pancakes or treat the family to filling corn fritters. As new season asparagus starts creeping onto supermarket shelves, it's the perfect time to pair the crunchy spears with other spring vegetables and perfectly runny eggs, or give shakshuka a green update. Here are a few recipes you might want to try:
Buttermilk pancakes with lemon curd
Corn fritters with salmon and poached eggs
Green baked eggs with asparagus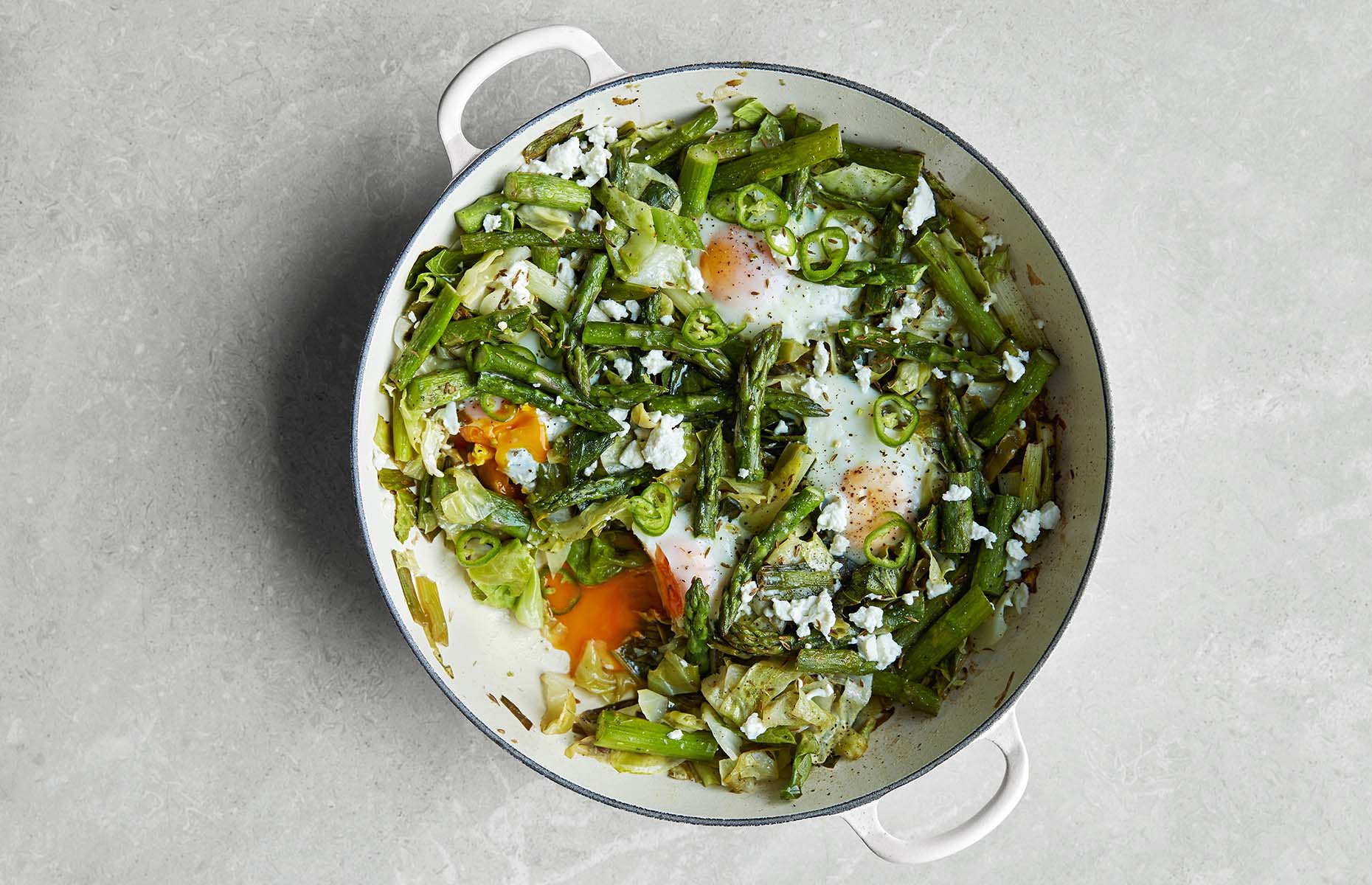 Waitrose & Partners/loveFOOD
Easy Easter starter and snack recipes
Celebrate springtime ingredients coming into season with light and colourful starters and snacks. Sausage rolls and broccoli quiche are both winning dishes. Or try something new like a grilled avocado salad or turmeric chicken kebabs that can be cooked in the oven or on the barbecue, if the weather allows. There's no escaping eggs at Easter so give a retro classic like devilled eggs a modern update with creamy tahini and fragrant za'atar. Try these:
Grilled avocado salad with tahini dressing
Courgette, pea and broad bean tortilla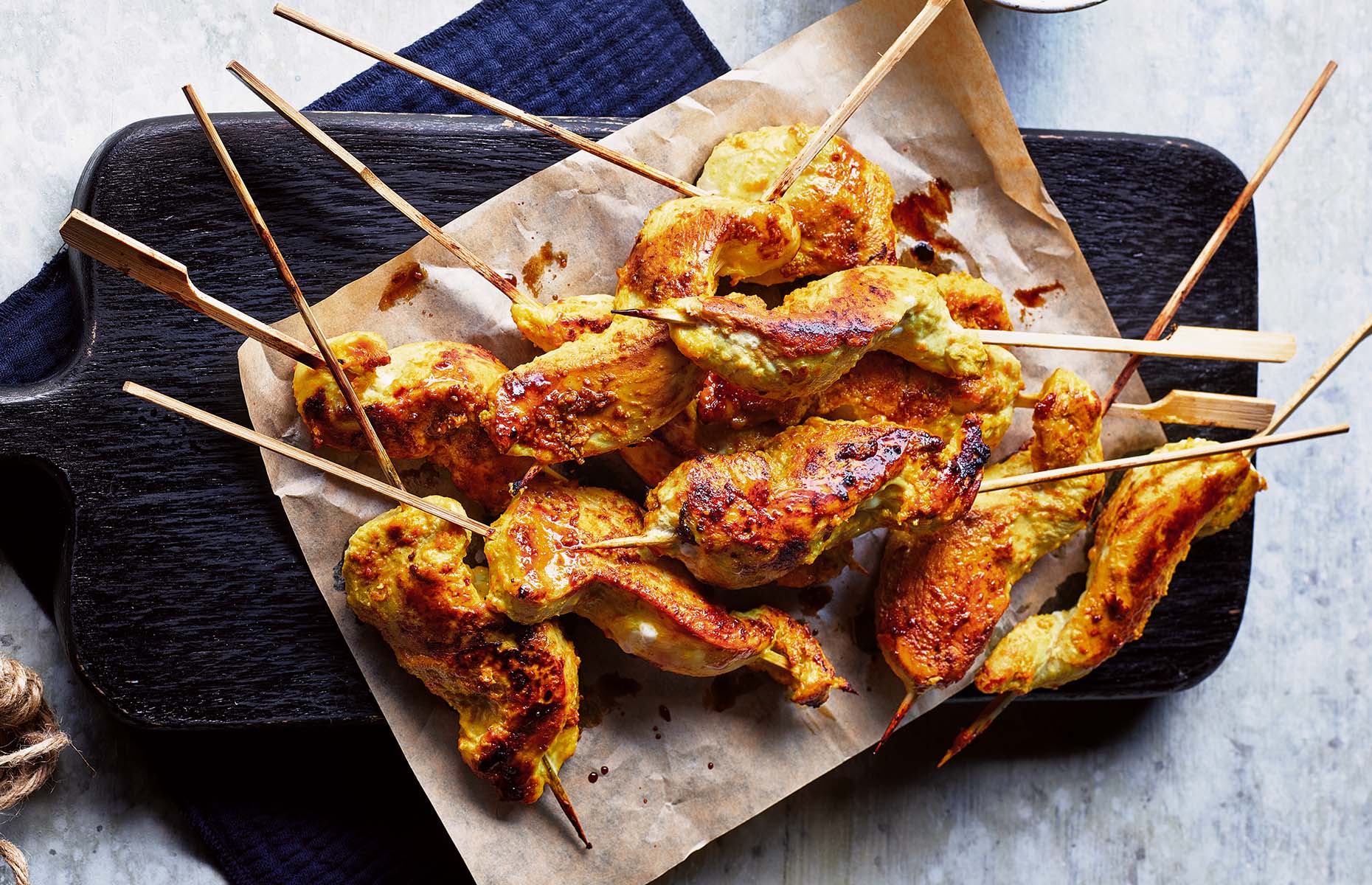 Simply: Easy Everyday Dishes/Mitchell Beazley
Good Friday Fish
The tradition of eating fish on Good Friday is centuries old and still observed in many countries around the world. Salmon and hake are top choices this time of year, while meaty tuna steaks with a refreshing vinaigrette will be a bolder, more surprising option that's great cooked on a grill. Fancy some shellfish? Give crab a go. Here are a few of our favourite fish recipes:
Hake and butter beans with lemon mayonnaise
Grilled tuna steaks with vegetable vinaigrette
Pan-fried salmon with pine nut salsa
Roast hake, samphire and tomato salad
Bacon-wrapped cod with peas, leeks and potatoes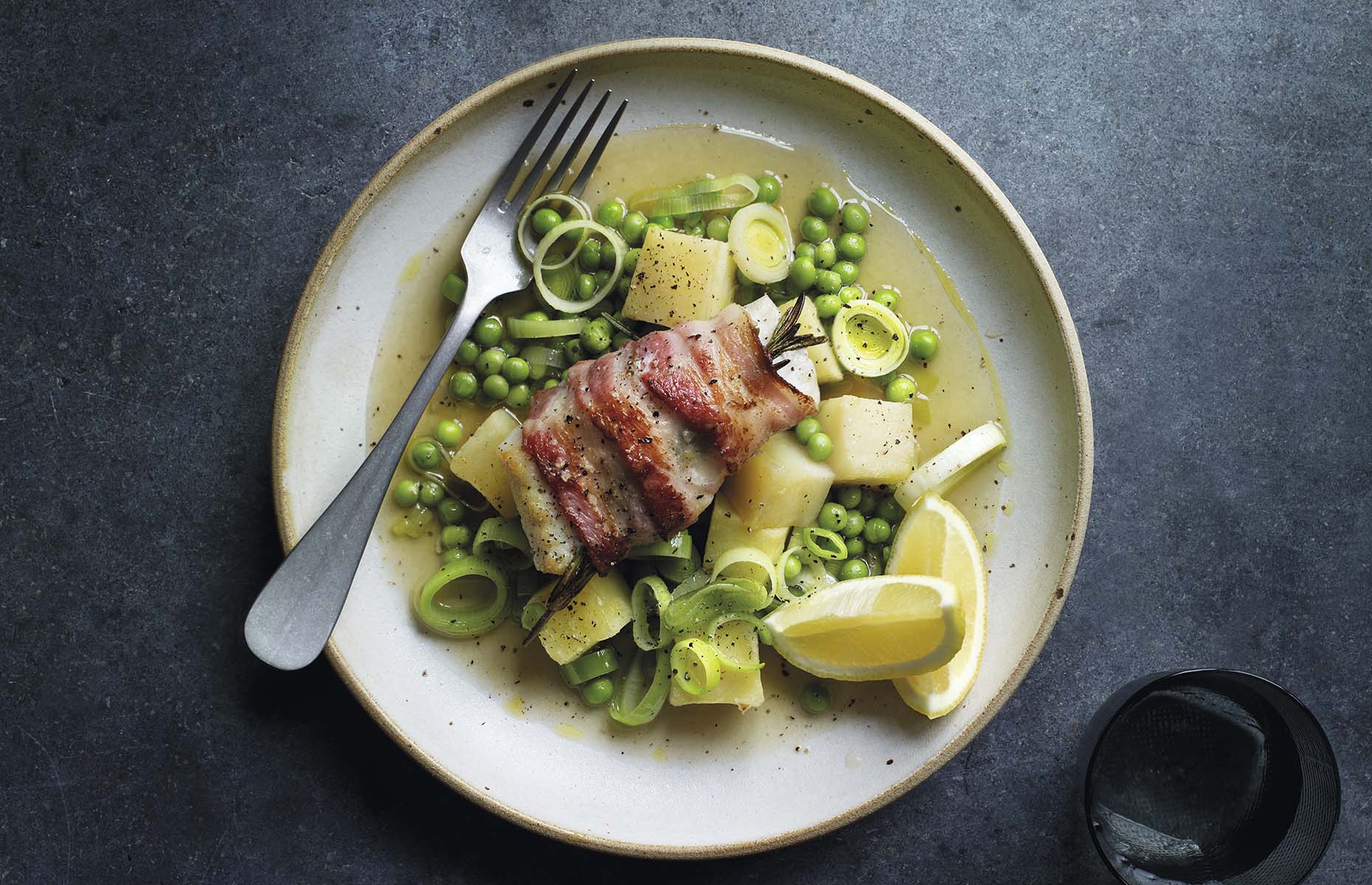 Sardine/Pavilion Books
Easter lunch mains
A roast is undoubtedly Easter Sunday's main event, whether you're doing it on a smaller scale or still sticking to a whole joint. If you're cooking lamb, add interest with a punchy salsa verde, a tangy rhubarb and ginger jam, or a fragrant caper and herb crust. Other meats like pork and chicken will do nicely as well – make roast chicken a touch more special by roasting the bird with a paprika rub and serving with a fiery ginger and watercress mayo. Here are our top recipes:
Roast chicken with ginger mayonnaise
Slow-roasted pork belly with cannellini beans
Rhubarb and ginger jam lamb chops
Grilled lamb steaks with chickpea curry
Roast leg of lamb with a caper and herb crust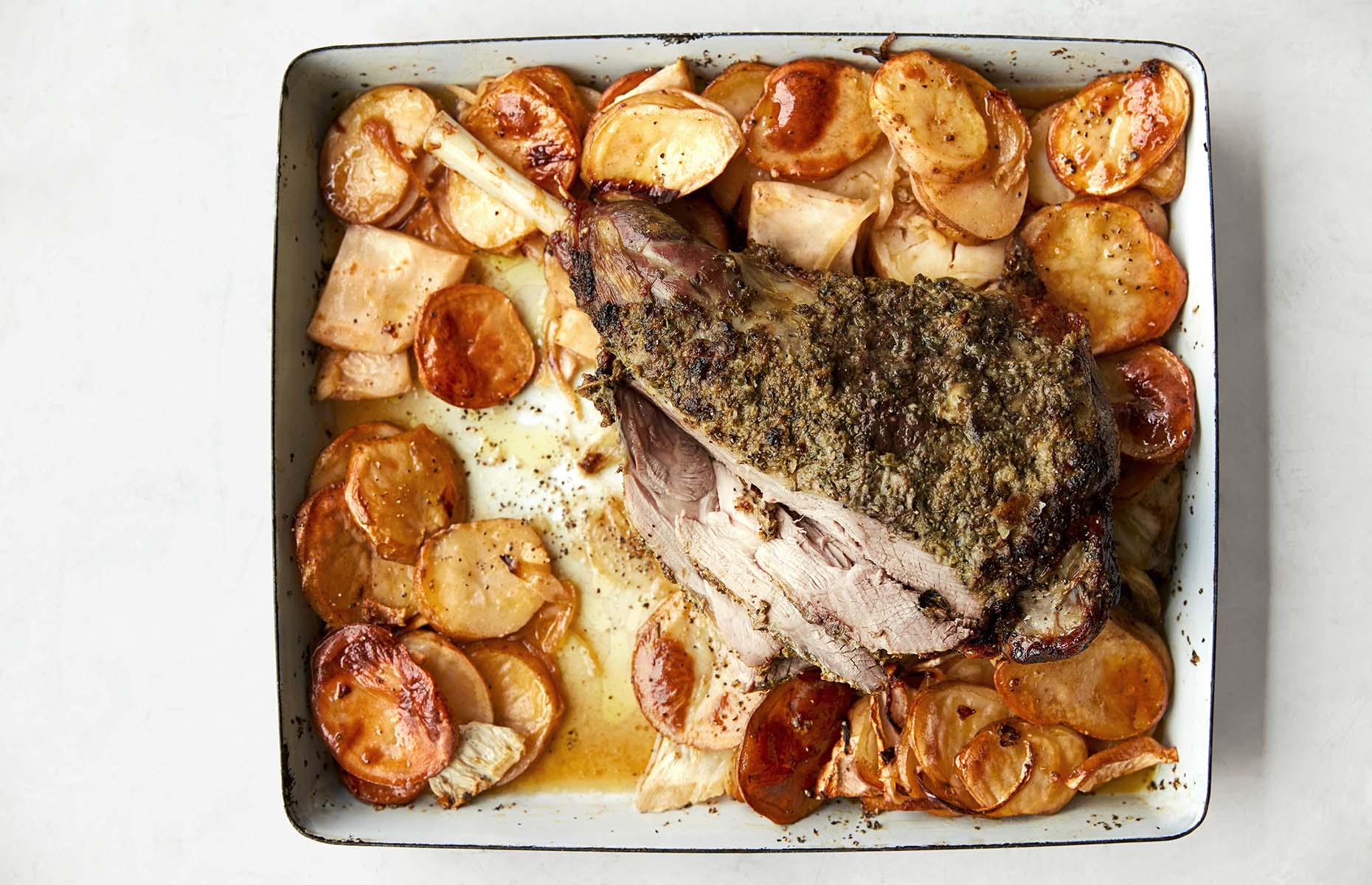 Waitrose & Partners/loveFOOD
Vegetarian and vegan recipes
With plenty of new produce coming into season, it's an excellent time to try out colourful, bright and flavoursome meat-free dishes like show-stopping cauliflower shawarma and bright, Moroccan-spiced sweet potatoes. If you're firing up the barbecue, try tandoori vegetable kebabs with a cumin yogurt sauce. We've picked a few recipes for you to try: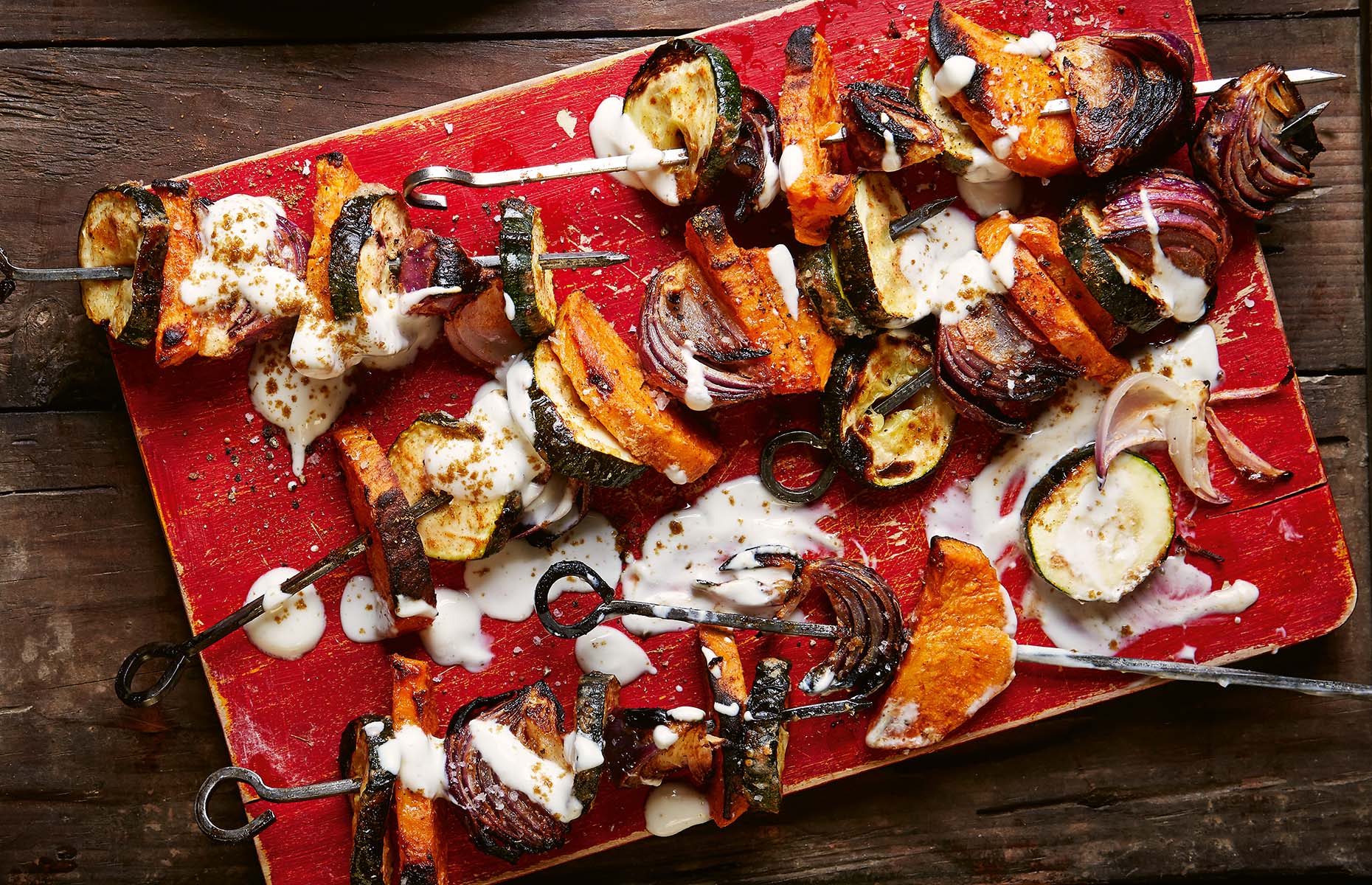 Chetna's Healthy Indian Vegetarian/Octopus
Quick side dish recipes
A good selection of sides is essential to support the main dish. New potatoes are plentiful this time of year so take advantage of the glut and turn humble spuds into something special. Radishes and new season carrots are also around and will offer a pleasant bite and freshness to many dishes. Here's a selection of colourful sides to serve:
Asparagus, new potato and radish salad
Roast rainbow carrots with herbed yogurt
New potatoes with pickled samphire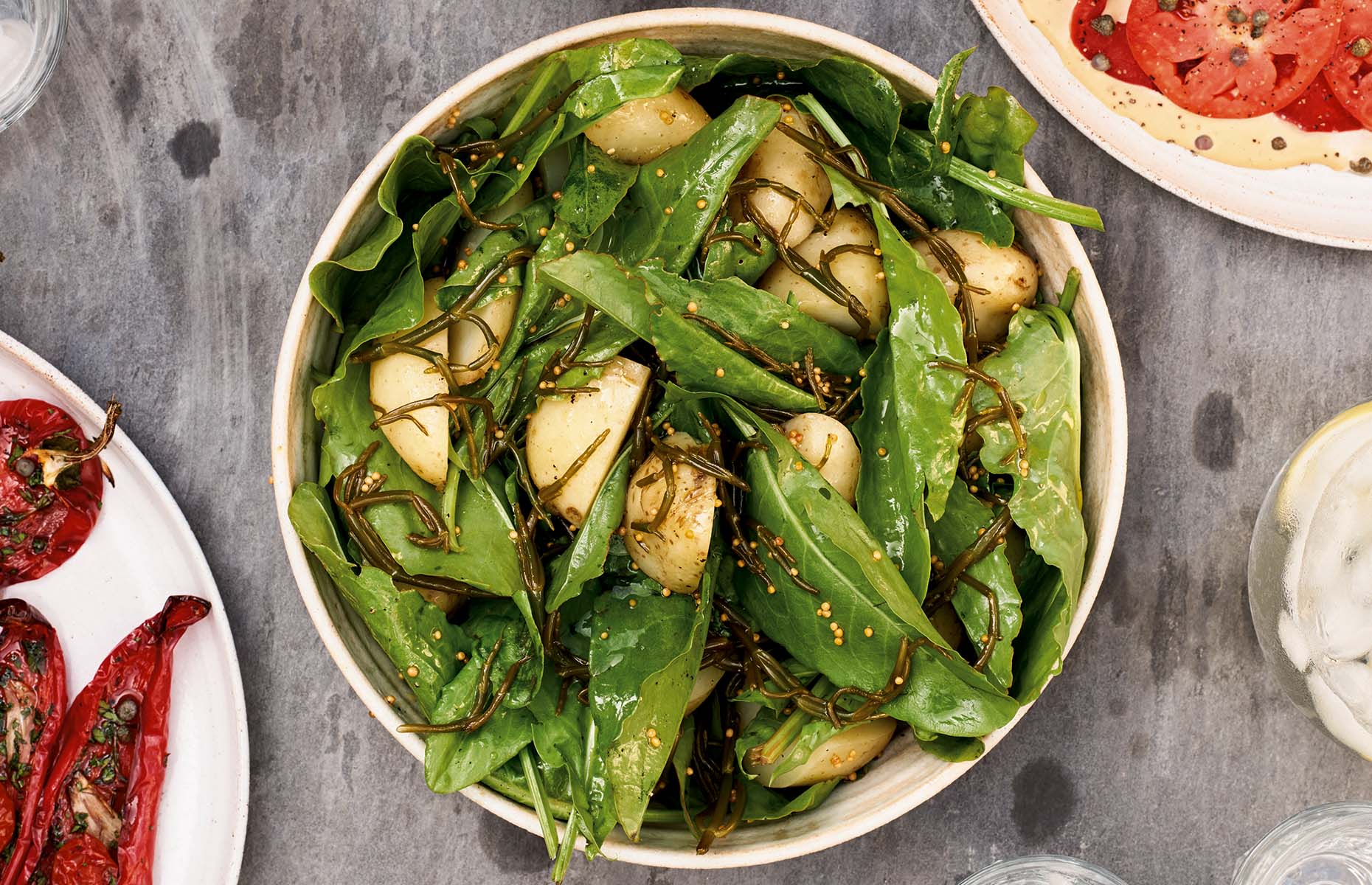 On The Side/Bloomsbury Publishing
Pudding and dessert recipes
Finish Easter lunch on a sweet note with a lighter take on Eton mess or a classic pavlova. If you're low on time, a no-bake cheesecake and mini tiramisùs can both be made well in advance and stored in the fridge until ready to serve. Take a look at these recipes for inspiration: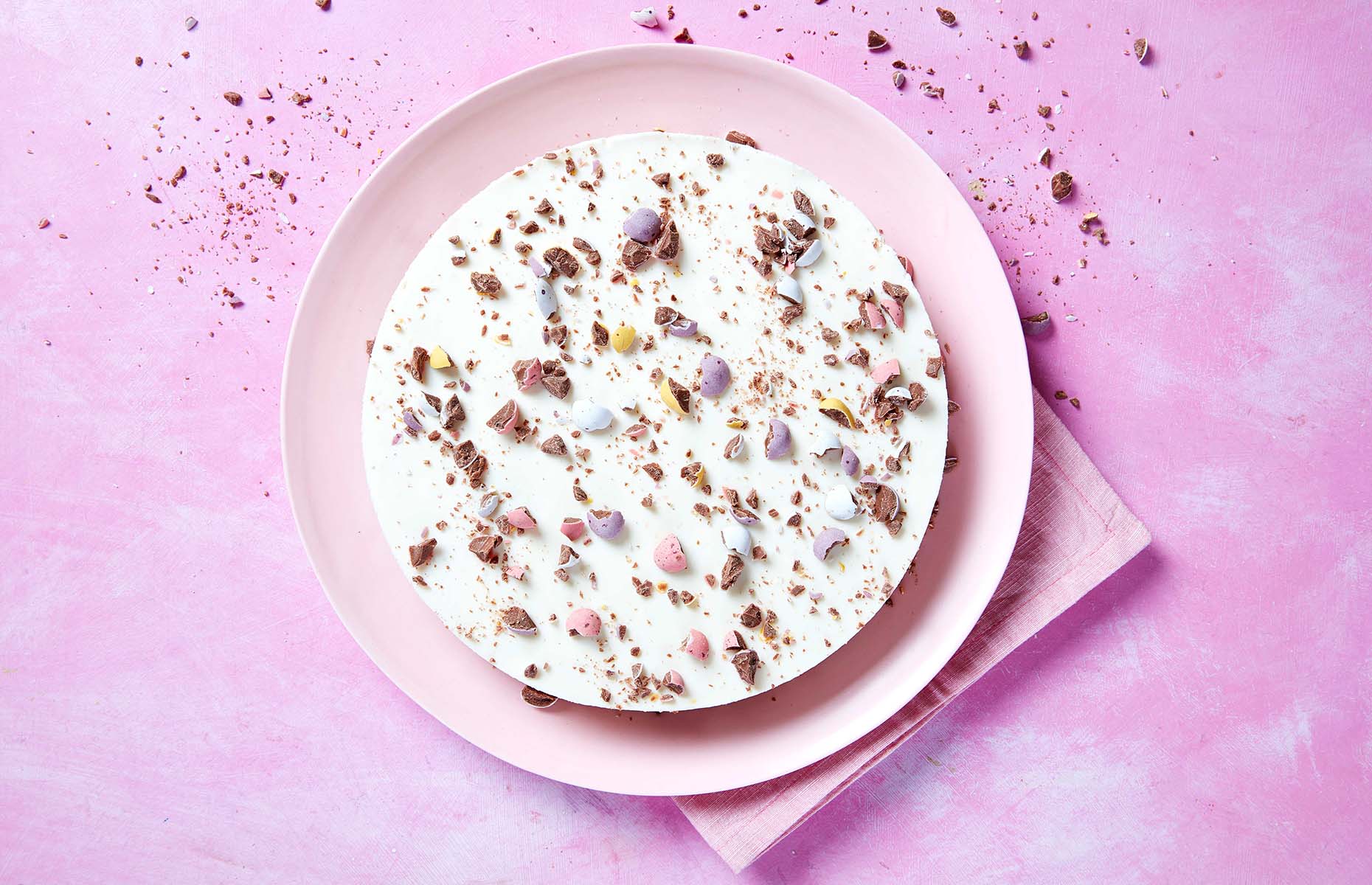 The Cadbury Mini Eggs Cookbook/HarperNonFiction
Easter baking recipes
Easter is a great time for baking, especially when you can enlist the youngest family members to help with adorable creations like iced biscuits. Of course, the holiday is synonymous with hot cross buns so whip up a batch to enjoy throughout the weekend too. Once Easter Sunday rolls around, finish the meal with a traditional simnel cake, mini bundt fruitcakes, or a show-stopping Mini Eggs Easter cake. Here are a few recipes to try: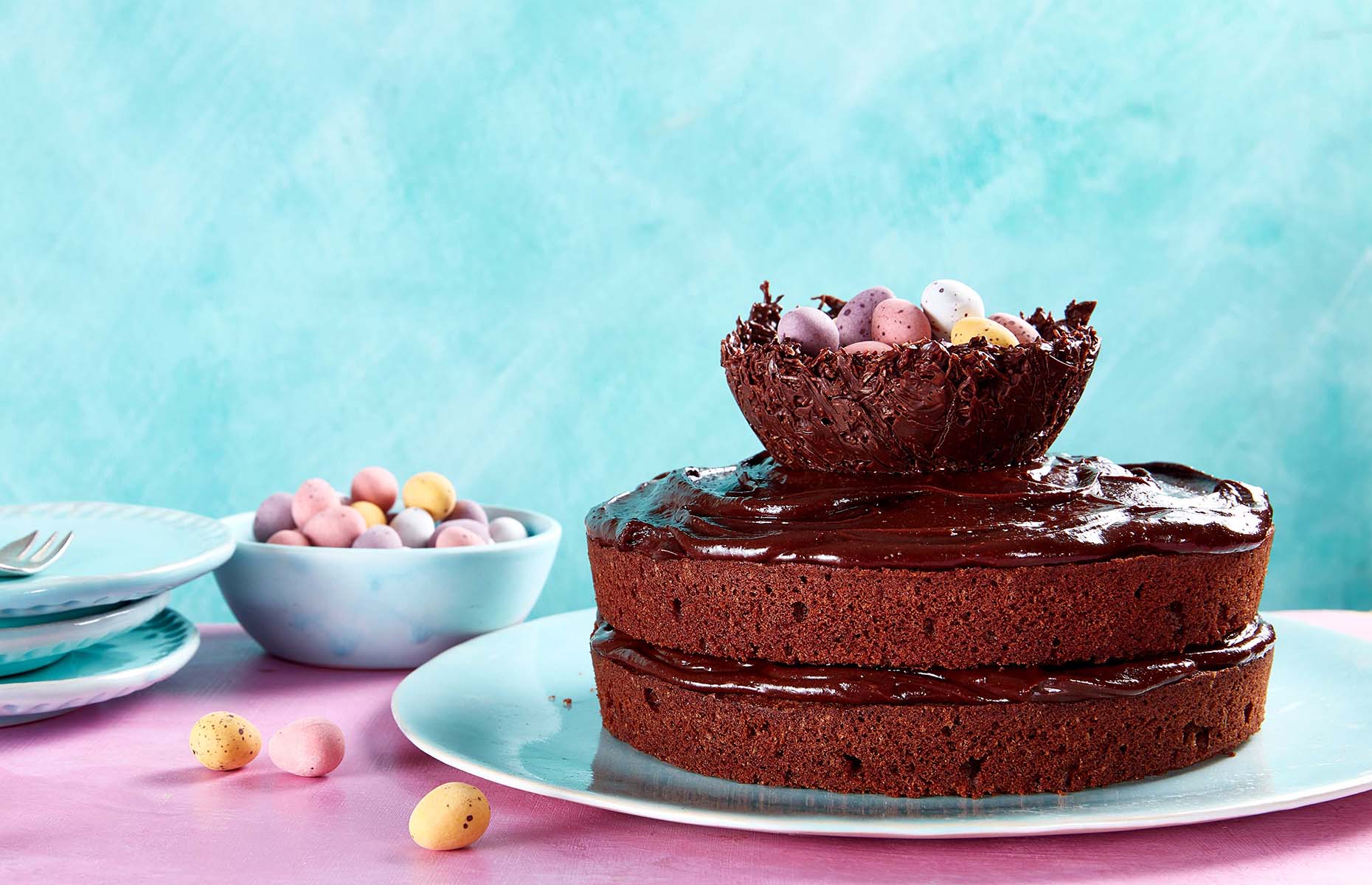 The Cadbury Mini Eggs Cookbook/HarperNonFiction
Chocolate treats
All things chocolate take centre stage over Easter so you might as well include it in your desserts and bakes. From creamy chocolate yogurt pots and an indulgent chocolate caramel tart to an easy Mini Eggs rocky road that can be prepared ahead of time, there are plenty of ways to celebrate this versatile ingredient. For the ultimate decadent treat, bake gooey, rich chocolate puddings with a white chocolate and orange curd filling, mimicking a Cadbury Creme Egg. Give these recipes a go: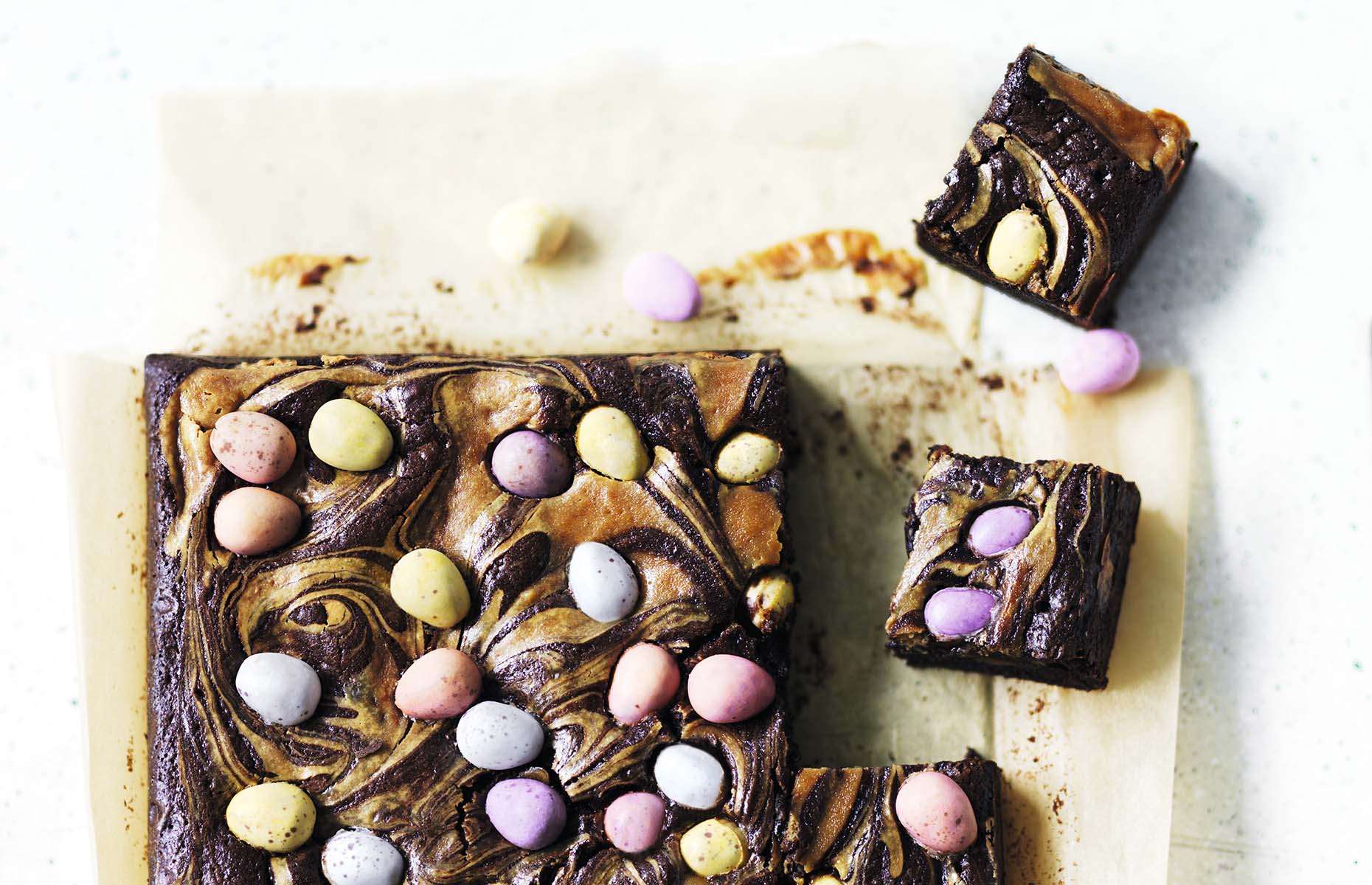 Waitrose & Partners/loveFOOD
Easter leftovers recipes
Chances are you'll buy and cook more than you need over the long weekend and end up with a fridge full of leftovers. But there are plenty of ways to bring a day-old dish back to life.
If you serve lamb for Easter lunch, chop up leftover meat and incorporate it into a classic ragù. Or use it in a curry, chucking in potatoes and onions as well. An egg and coconut curry or a simple egg and lettuce salad are both great for using up any eggs lingering at the back of the fridge.
You could jazz up slices of leftover pork roast in a quick char siu stir-fry, shred roast chicken into colourful fajitas and use up salmon in a noodle bowl.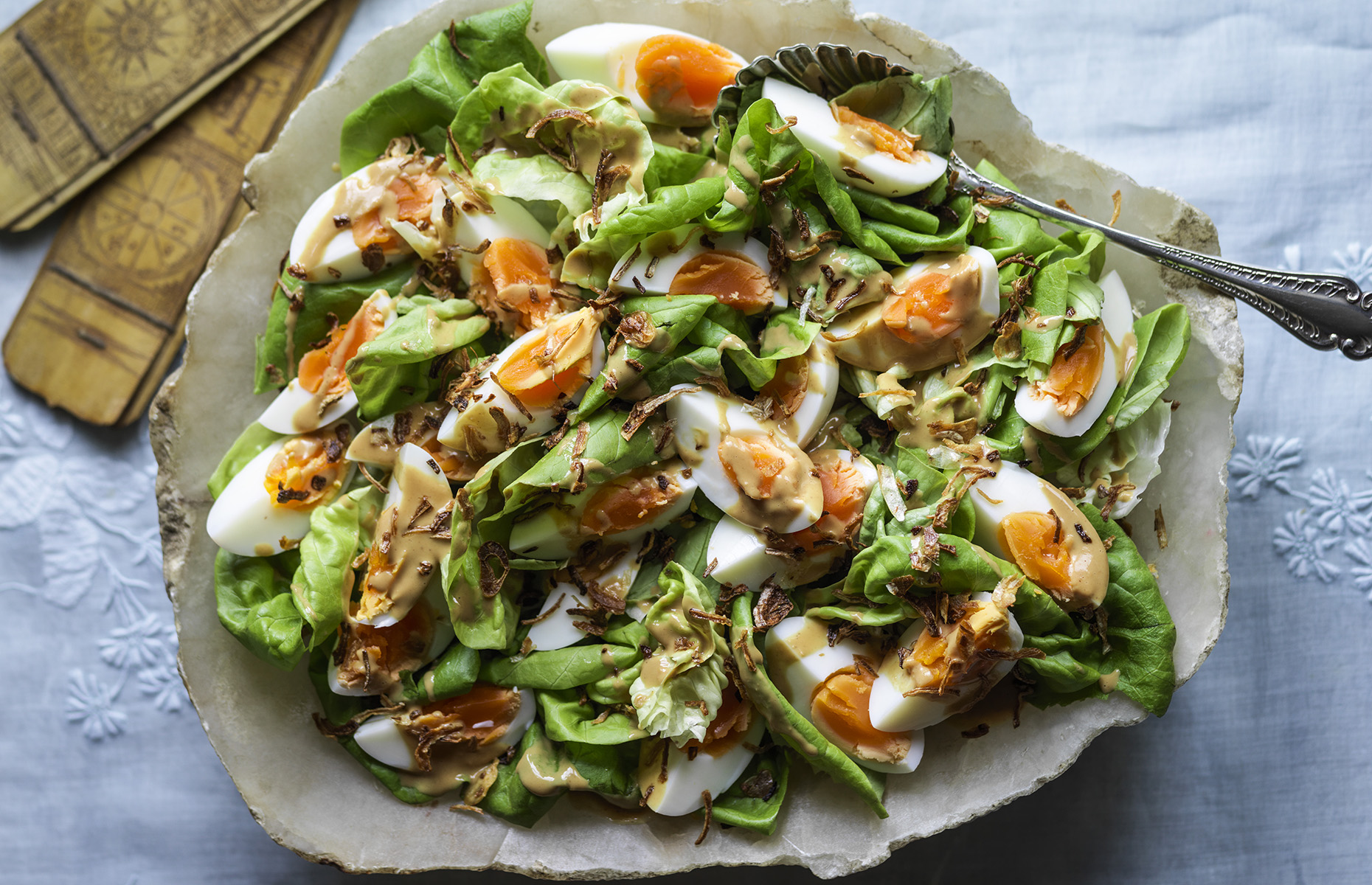 Mandalay/Bloomsbury
Don't throw away your stale hot cross buns – this take on a bread and butter pudding incorporates bacon for a sweet and salty sensation. Any uneaten buns will also work well instead of brioche or bread in this French toast recipe.
And when no one can stomach another piece of chocolate, turn it into a variety of snacks to be enjoyed later. Try white chocolate, peanut butter and banana blondies, salted peanut chocolate fudge or chocolate tiffin.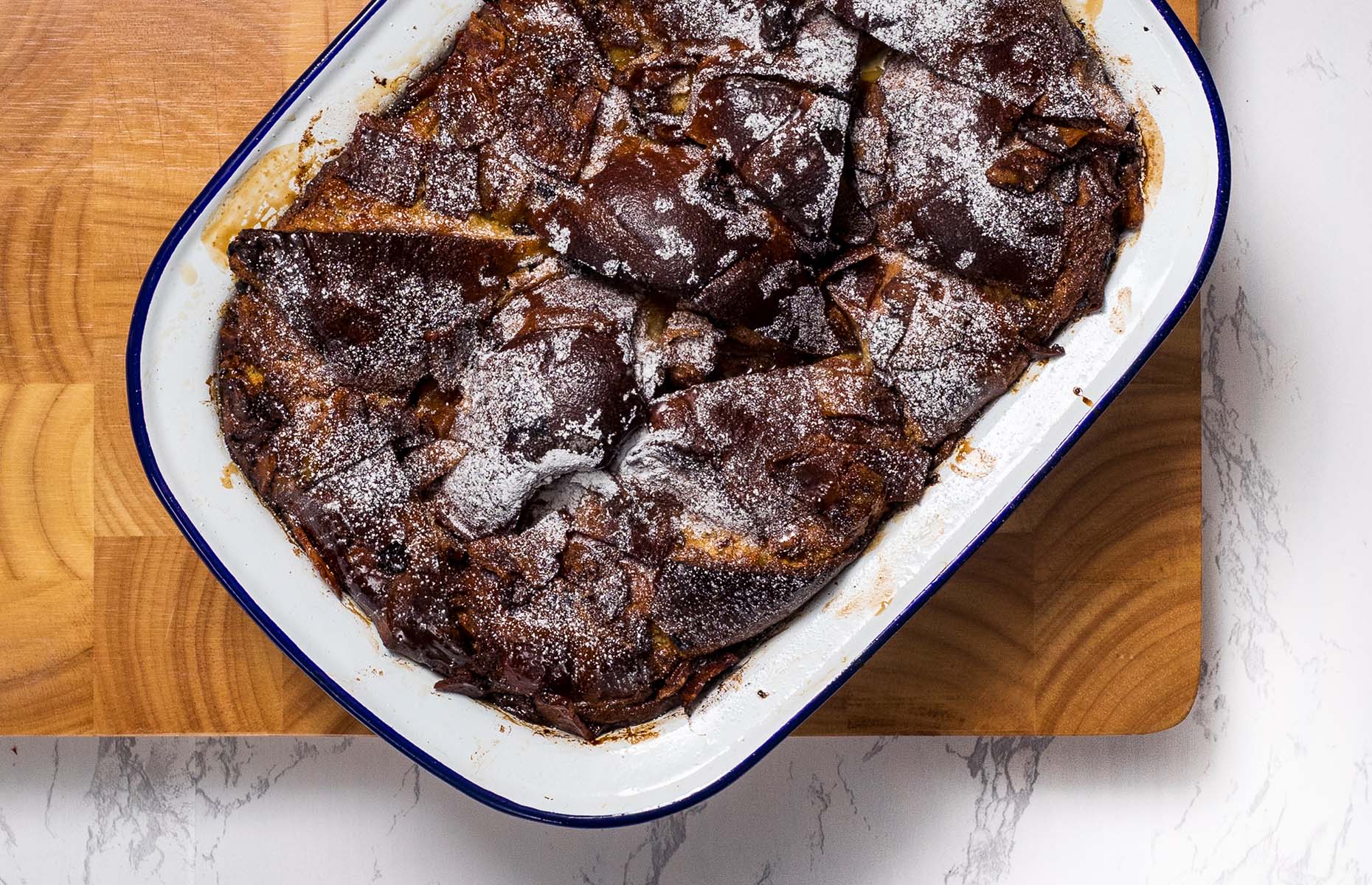 GAIL's Bakery/loveFOOD
Lead image: Natasha Breen/Shutterstock
Be the first to comment
Do you want to comment on this article? You need to be signed in for this feature