Ultimate food-lovers' Christmas gift guide
From kitchen novices to star bakers to little chefs, we've rounded up the best gifts for your food-obsessed family and friends, whatever your budget.
For the kitchen novices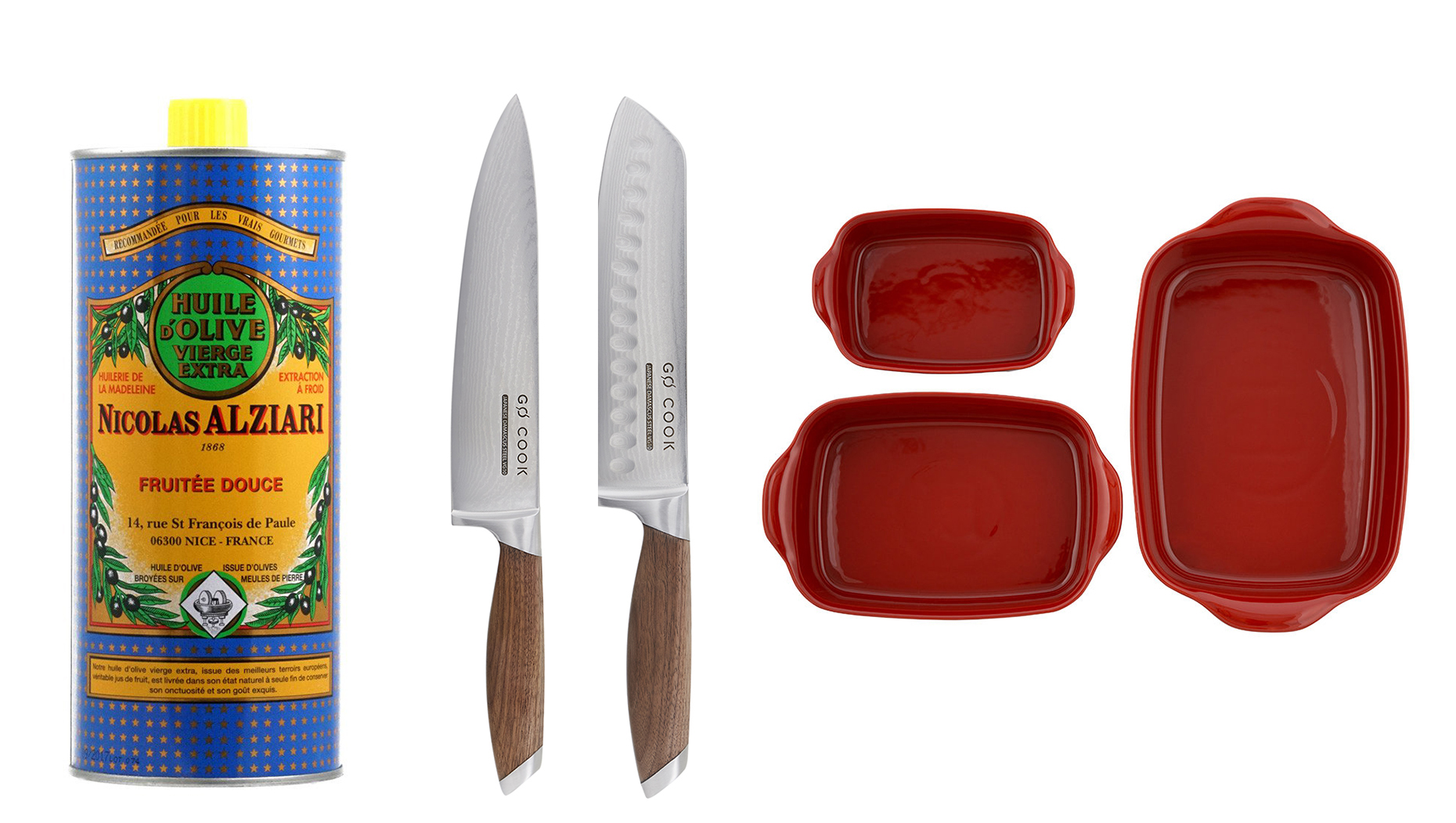 Left to right: Waitrose & Partners olive oil, Tesco Go Cook knives, Emile Henry oven dish set.
Under £20
Recipe file, Paperchase (£15): Fully customisable, this recipe file is perfect for budding home cooks to save all of their favourite recipes in. They can personalise section titles, use stickers to label recipes and fill in and organise the recipe cards to suit their cooking needs.
Alziari extra virgin olive oil, Waitrose & Partners (£15.50): Every cook needs a good-quality olive oil in their kitchen, especially if it comes in the most beautiful old-school metal canister. A soft and fruity oil, it's cold-pressed in a stone mill to preserve the mellow and buttery flavour of the olives.
Butcher's meat cuts apron, Not On The High Street (£17.95): Perfect for a kitchen novice, this apron will not only protect their clothing from spillages and kitchen accidents but will also teach them a thing or two about the different cuts of meat.
£20-£50
Go Cook Damascus steel knife range, Tesco (£20-£40, available in store): If there's one thing any home cook needs, it's a good, reliable knife and Tesco have launched the perfect range for that. Crafted from Damascus steel, the range features a utility knife, a chef's knife and a Santoku knife and all come with a 20-year warranty.
Kaufmann Sienna frying pan set, Amazon (£37.35): Another essential piece of kitchen equipment is non-stick frying pans. This two-piece set comes with a small 20cm pan and a large 28cm pan that both have a 10-year guarantee and a 5-year non-stick warranty.
Cuisineart mini food processor, Lakeland (£44.99): Small but mighty, this mini food processor is an indispensable help in the kitchen – it chops, purées, mixes and grinds and will aid any recipe you take on.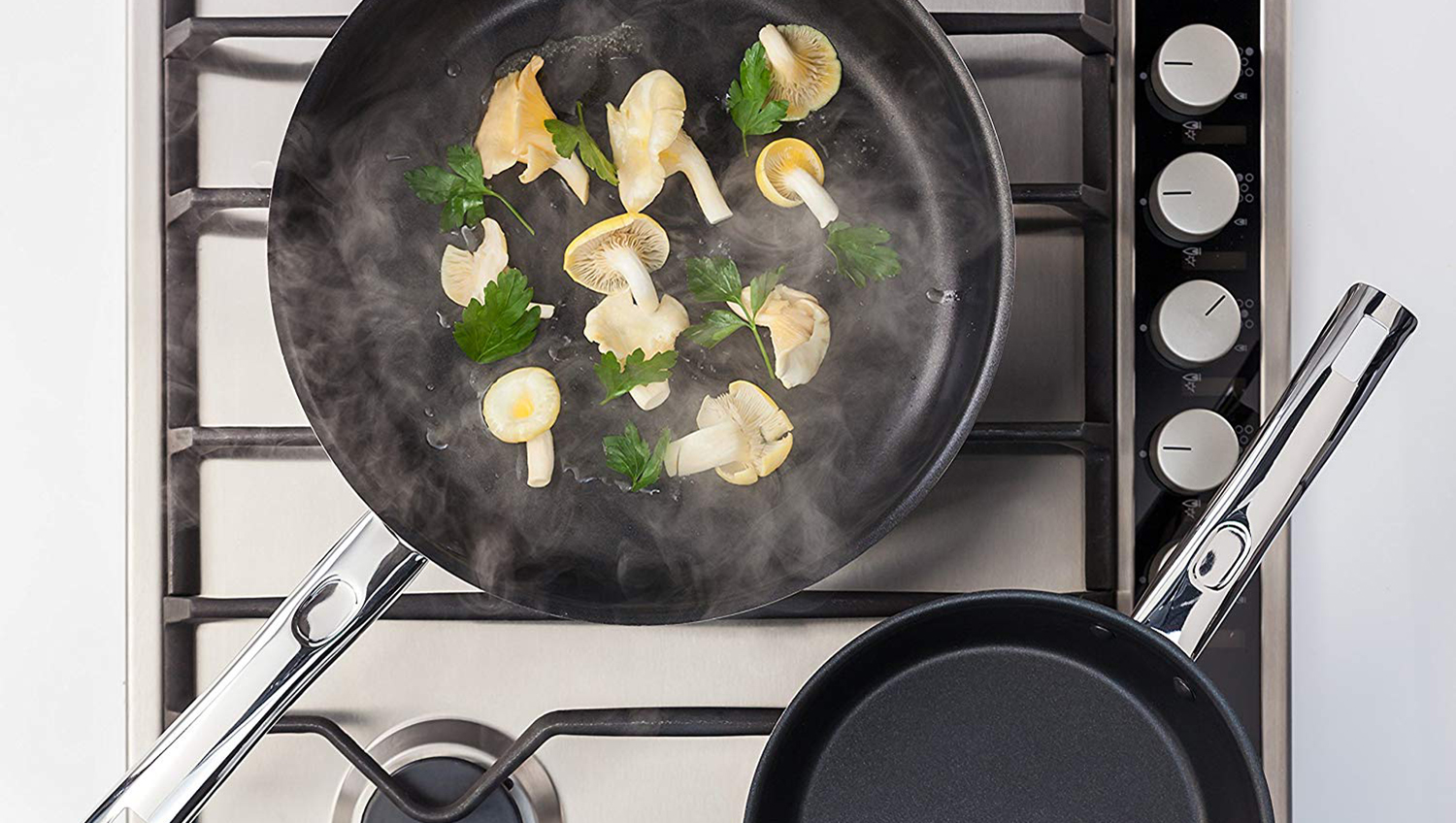 Kaufmann Sienna frying pan set.
Over £50
Slow cooker, Crock-Pot (£69.98): Know a home cook that just can't be bothered spending hours in the kitchen? Then a slow cooker is the perfect gift for them as they'll be able to cook soups, stews and casseroles with minimum effort.
Emile Henry 3-piece oven dish set, Amara (£95): Made from heat-resistant ceramic, this oven dish trio is not only easy on the eye but also a handy piece of cookware to have in the kitchen. The rounded edges help food cook evenly and they're dishwasher-, freezer- and microwave-safe too.
Cordless handheld vacuum cleaner, Shark (£129.99): Cordless, lightweight and powerful, this handheld vacuum is a kitchen essential. It will help deal with crumbs and dry food spillages on worktops and tables and is perfect for quickly tidying up a mess. What's more, thanks to its streamlined and modern look it can be stored on your countertop.
Cookbook pick
How to Eat by Nigella Lawson (£18.99): A Nigella classic, this book is often many people's first venture into cooking. Filled with helpful tips on prep and saving time, as well as achievable recipes, this book is what every kitchen novice needs to fall in love with cooking.
For the aspiring masterchefs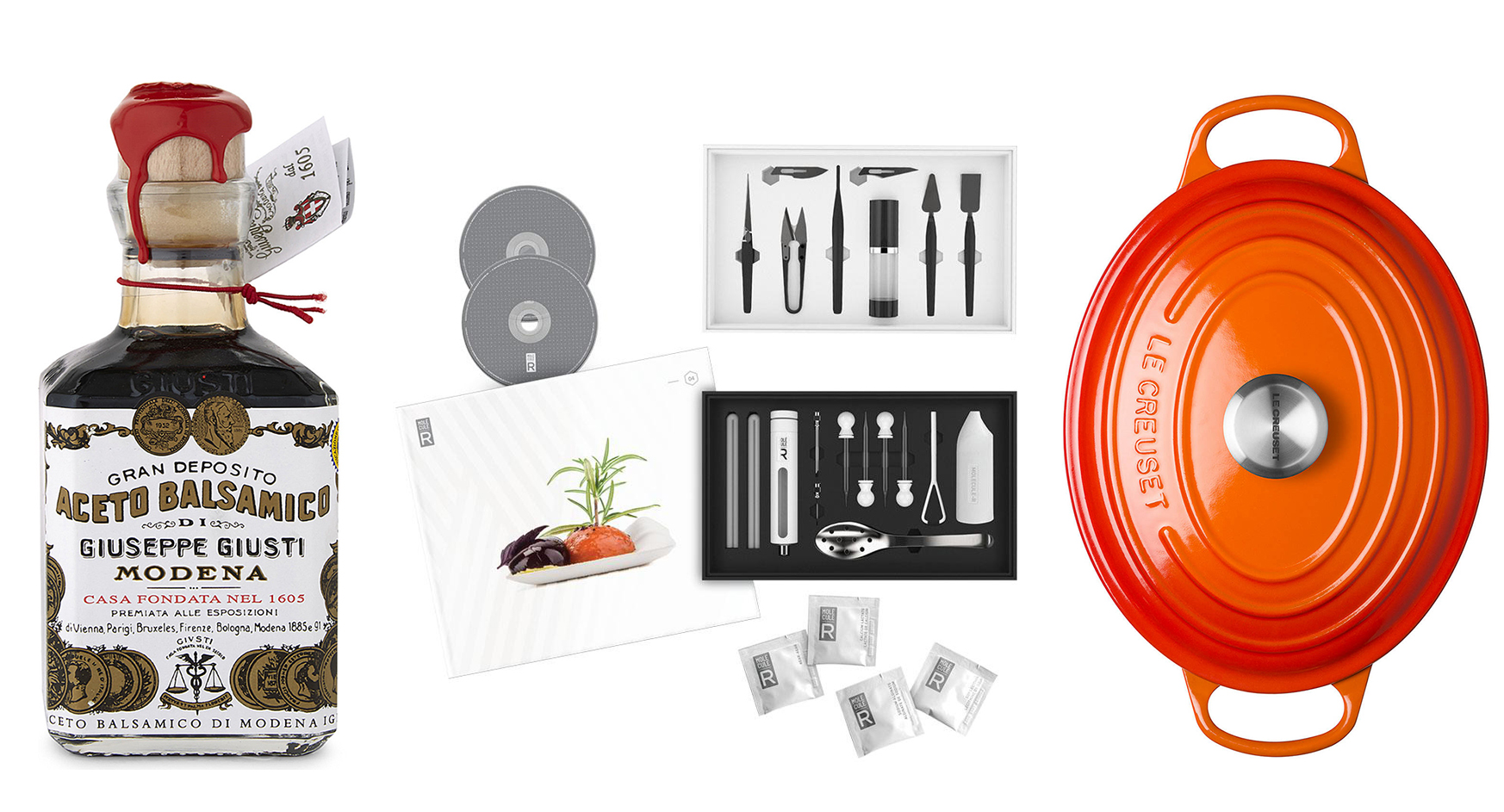 From left to right: Guiseppe Giusti balsamic vinegar, Sous Chef food styling kit, Le Creuset signature cast iron casserole.
Under £20
Spice rack with cork stand and 5 jars, The Food Market (£11.50): An indispensable kitchen storage item, this lovely-looking spice rack isn't only a beautiful kitchen accessory but is also very useful for storing homemade spice mixes or avoiding spillages from spice pouches.
Guiseppe Giusti balsamic vinegar, Selfridges (£13.99): No aspiring masterchef's kitchen is complete without a good-quality balsamic vinegar. Aged in oak barrels, the two gold medal variety has a peppery kick with hints of fruit in a beautiful bottle.
Blue lobster oil, The Conran Shop (£16): Another must-have condiment, the blue lobster oil is made by blending natural lobster extract with the finest grapeseed oil. Great on seafood pasta dishes, scallops or in salad dressings, this oil comes in a striking orange bottle.
£20-£50
Aix & Terra truffle gift box, BoroughBox (£24.95): A much-loved ingredient among professional chefs, truffles will set any aspiring masterchef's pulse racing. This selection includes a black truffle mustard, an eggplant dip with black truffle and Camargue salt infused with black truffle, perfect for adding a touch of luxury and restaurant quality to everyday dishes.
Fruit pulps vinegar set, Edélices (£29.28): Perfect for marinades, sauces, dressings and even deglazing, this selection of cardamom and mango pulp vinegar, Espelette chilli pepper pulp vinegar, Kalamansi lemon pulp vinegar and Tasmania pepperberry and raspberry pulp vinegar is brilliant for adding a personal touch to one's cooking.
Microplane grater set, Amazon (£36.05): Microplane cookware is a must in every kitchen and this gift set with a grater and a slicer is perfect for somebody who enjoys their time in the kitchen. The grater is perfect for zesting, grating whole spices or hard cheeses, while the slicer's sharp blade ensures the food is cut smoothly without any ripping or tearing.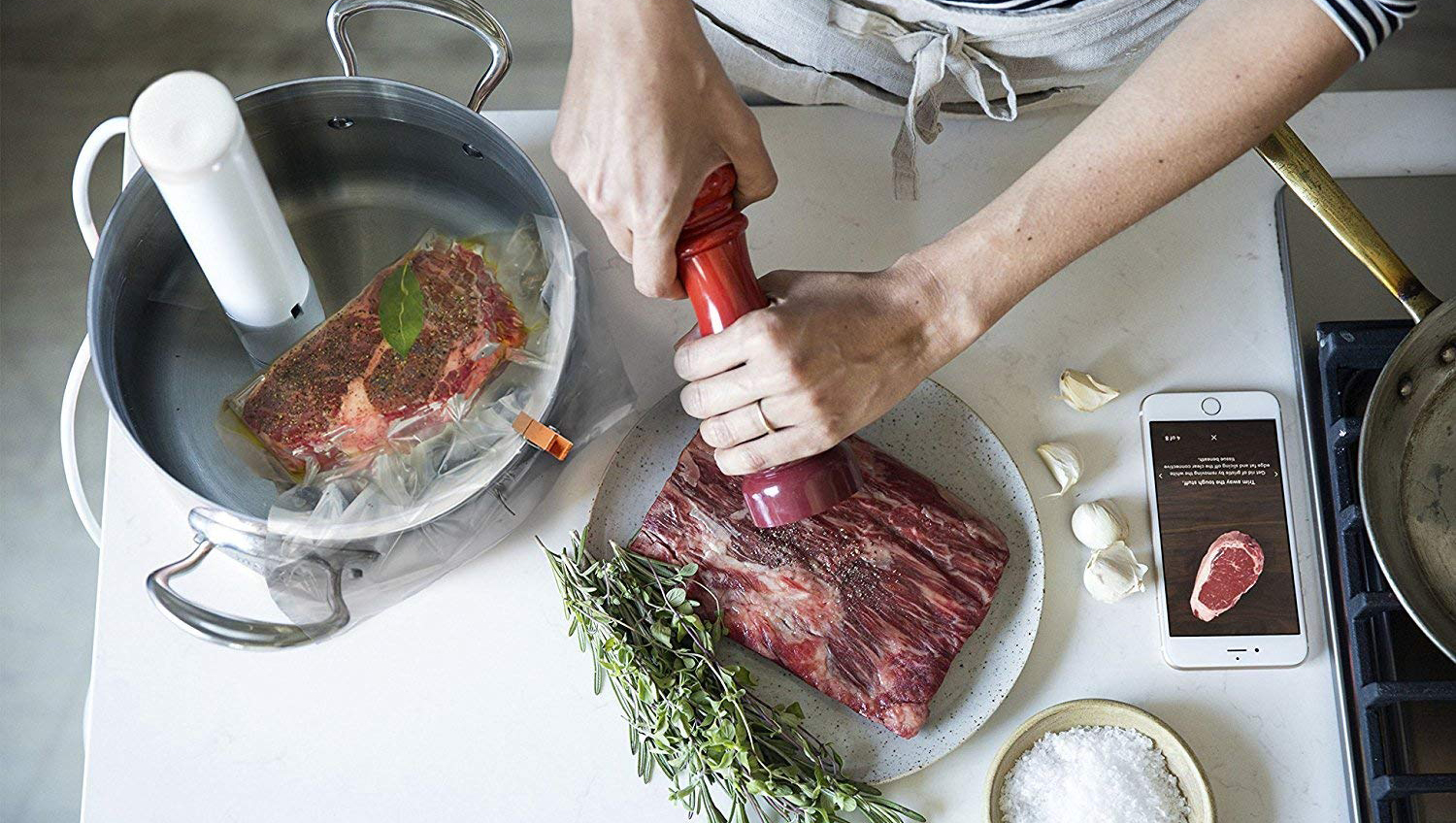 Joules sous vide.
Over £50
Food styling kit, Sous Chef (£150): It's often the skill of plating food professionally that sets amateurs and seasoned chefs apart. This styling kit brings the worlds of molecular gastronomy and plating together, to teach the best techniques to serve both delicious and good-looking food.
Joule sous vide by ChefSteps, Amazon (£189): A fraction of the size of usual sous vide machines, this immersion tool can transform any pot into a sous vide machine. With an app that helps achieve the perfect cook by controlling the cooking temperature and time, Joules sous vide helps bring a piece of a professional kitchen into any home.
Le Creuset signature cast iron casserole, John Lewis & Partners (from £195): A household name among both professionals and home cooks, having a Le Creuset cast iron casserole is most cook's dream. It's the perfect tool for creating beautifully slow-cooked and indulgent dishes and, thanks to the signature bright colour, it'll look stunning on the dining table.
Cookbook pick
Lateral Cooking by Niki Segnit (£35): Designed to help creative home cooks understand recipe development, this cookbook is perfect for learning about flavour profiles, understanding how one dish leads to another and learning the core culinary terms and techniques.
For the adventurous cooks


From left to right: World of Zing rare chilli collection, world curries and masalas spice kit from Vinegar Shed and the SIMPLE hamper by Ottolenghi.
Under £20
Cheese making kit, Debenhams (£15): With everything included you need to make cheese, this kit is perfect for adventurous home cooks who want to try their hand at making their own cheese. This particular kit is best suited to making soft cheeses and will yield between 250-500g of mozzarella, ricotta or soft goats' cheese.
Rare chilli collection, World of Zing (£19.95): Help an adventurous cook spice up their life with this selection of chillies from around the world. With smoky chipotle chillies, Pasilla chilli flakes and Kashmiri Indian chillies in the box, the collection is great for adding bags of flavour to curries, salsas and stir-fries.
£20-£50
Tre Oli gift set, Carluccio's (£21.95): Ideal for adding finishing touches to a dish before serving, this oil trio features Calabrian lemon oil, perfect for salads and grilled fish; a chilli oil from Emilia-Romagna to add heat to pastas and pizzas; and a basil oil from Sardegna to drizzle over bruschettas.
World curries & masalas spice kit, Vinegar Shed (£25): A beautiful 12-metal spice tin set, the world curries and masalas kit will take a home cook on a journey through the world's most famous curries, such as Sri Lankan red curry and madras curry, as well as help them discover new ones.
The homemade curing kit complete collection, Ross & Ross (£36): An introduction into the world of curing, this award-winning kit combines the much-loved salmon and bacon curing kits from Ross & Ross. With six cures for both salmon and bacon included in the kit, there are lots of new recipes to be tried out.
Molecular gastronomy kit, Prezzybox (£44.95): Pretty much every keen home cook has wanted to try their hand at molecular gastronomy. Filled with the tools and additives needed to mess about with spherification, emulsification and gelification, playing with food has never been more fun.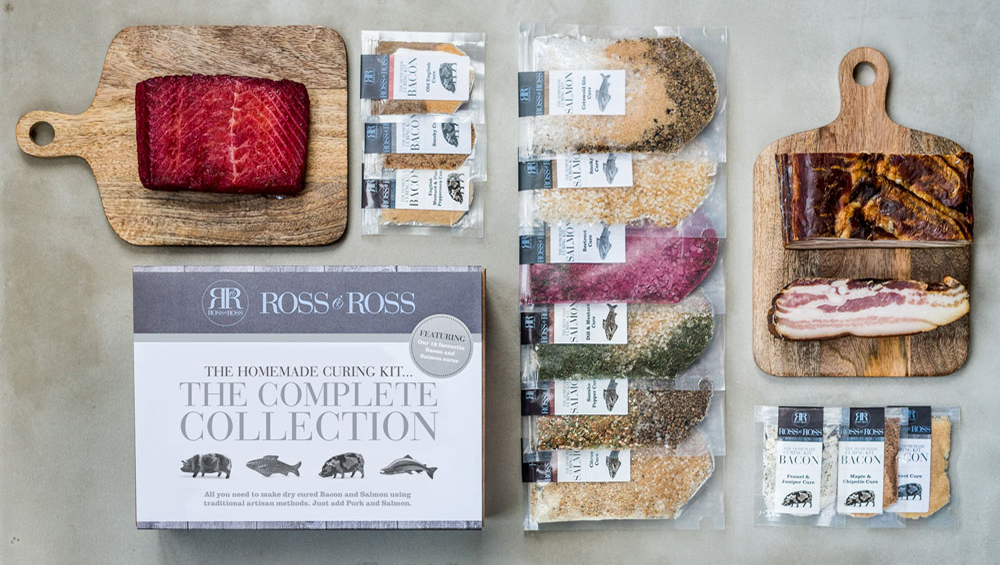 The homemade curing kit complete collection by Ross & Ross.
Over £50
The SIMPLE hamper, Ottolenghi (£65): Complete with Ottolenghi's newest cookbook Simple, this hamper is perfect for trying out Middle Eastern recipes. It's filled with 10 key pantry ingredients needed to recreate the recipes from the cookbook, including pomegranate molasses, preserved lemons and tahini.
Emile Henry tagine, Amara (from £74): Great for North African dishes as well as slow-cooked stews and soups, this Emile Henry tagine would be a wonderful addition to any home cook's cookware collection. Suitable for use on electric and gas hobs, its unique shape allows steam to circulate inside and cook the food evenly and gently.
Camerons stovetop starter kit, Hot Smoked (£88): Smoking has been a big food trend within the last few years and this stovetop starter kit is ideal for trying it at home. The kit includes a hot smoker, a collection of different wood chips for smoking and a recipe book to get started smoking at home.
Cookbook pick
Season: Big Flavours, Beautiful Food by Nik Sharma (£26): Both beautifully written and illustrated with Nik Sharma's food photography, this cookbook is filled with exciting recipes that tap into traditional Indian flavours. Best suited for someone who's not afraid to cook with plenty of spices and aromatics.
For the star bakers


From left to right: IKEA serving stand with lid, sourdough bread making kit from Sous Chef, VonShef stand mixer.
Under £20
Serving stand with lid, IKEA (£10): Excellent for serving cakes, pastries or even cheese, this glass stand comes with a lid to ensure bakes stay fresh for longer. An excellent gift for a keen baker in your life, who'll definitely notice the stand's resemblence to The Great British Bake Off trophy.
Set of 4 cake forks with cake slice, Next (£14): Beautiful cakes taste even better when served with stunning cutlery and this set of golden cake forks and cake slice will add a luxurious finishing touch to any dessert.
Mason Cash ceramic mixing bowl, John Lewis & Partners (from £15): These traditional glazed earthenware mixing bowls are a dream not only for bakers but keen home cooks too. Available in a variety of colours and sizes, the bowls are dishwasher-safe and will add a vintage touch to your decor.
£20-£50
Olive wood rolling pin, Not On The High Street (£20): A must-have tool in any bakers' kitchen, this rolling pin is carved from a single piece of olive wood. It's not only the perfect tool for making your own bread, pastry and pasta but will also look great in the kitchen thanks to the unique pattern of the wood.
Sourdough bread making kit, Sous Chef (£39.50): The bread trend at the moment, baking the perfect loaf of sourdough is a real art. This kit includes everything needed to become a sourdough expert, from Emmanuel Hadjiandreou's book How To Make Sourdough to a scoring blade and a Le Parfait jar for the sourdough starter.
La Cloche baking dome, Bakery Bits (£39.95): Help your favourite home baker bake the perfect golden crackly crusts and the most moist, evenly-baked breads with this baking dome. Based on thousands of years of bread-making tradition, the baking cloche will help achieve professional quality loaves.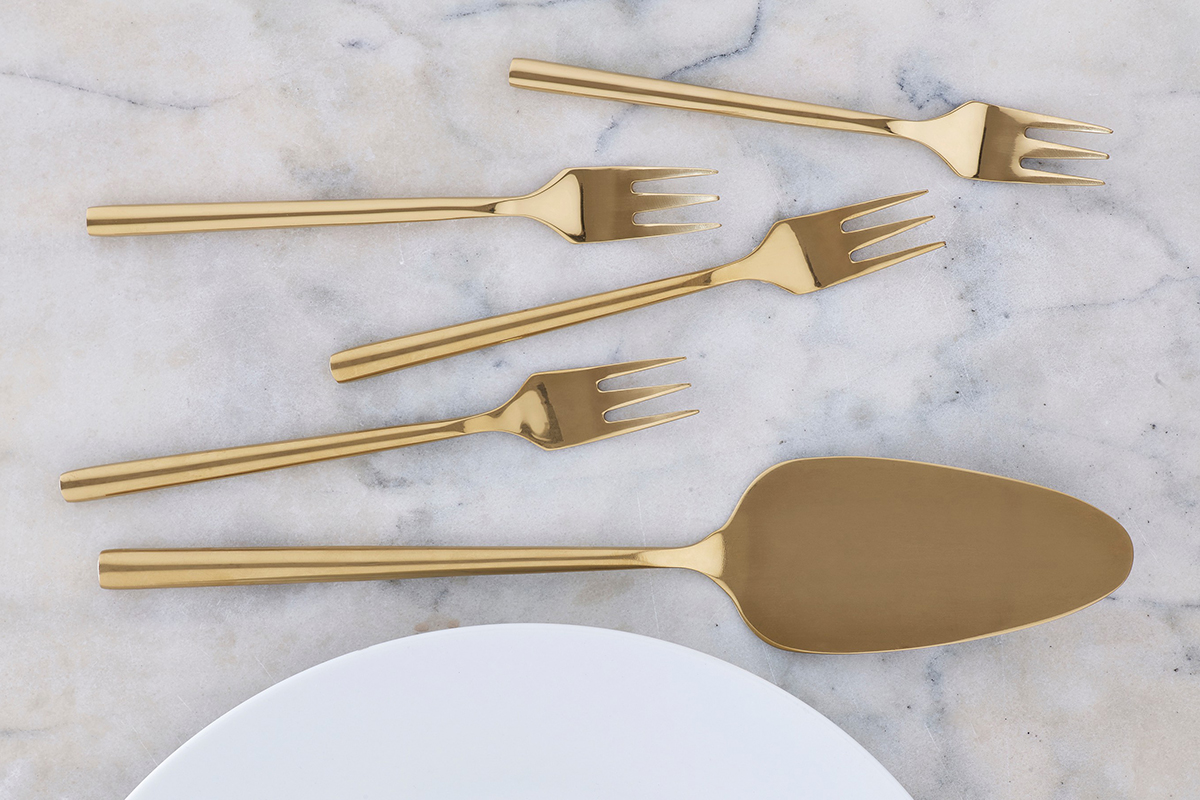 Set of four cake forks and a cake slice from Next.
Over £50
Bread maker, Lakeland (£99.99): With incredible functionality and the ability to bake two different loaf sizes, this bread maker is a great kitchen gadget to have. There are 12 settings for baking anything from a basic white loaf to cakes and even jams.
VonShef stand mixer, Domu (from £134.99): An indispensable help in any kitchen, this stunning stand mixer has eight speeds and comes with a balloon whisk, a dough hook and a beater, essential for making doughs, batters and meringues. The large stainless steel bowl has a side handle for easy pouring and the mixer comes with a splashguard to prevent mess in the kitchen.
Airbrush machine kit, The Cake Decorating Co. (£141.99): Ideal for creating show-stopping occasion cakes, this airbrush kit can be used on sugarpaste, marzipan, chocolate, modelling paste, buttercream, biscuits and more. The perfect gift for someone who's very serious about their baking.
Cookbook pick
The Great British Bake Off: Get Baking for Friends and Family by The Bake Off Team (£20): A collection of recipes from the contestants, as well as Paul Hollywood and Prue Leith, this cookbook is filled with hints, tips and tricks as well as easy step-by-step instructions and photographs throughout. On your marks, get set, bake!
For budding little chefs


From left to right: Play BBQ from JoJo Maman Bébé, Biscuiteers DIY gingerbread house and Opinel Le Petit Chef complete set.
Under £20
Apron and chef's hat, H&M (£9.99): We can't really think of a cuter gift than this apron and chef's hat set. The hat comes with a hook and a loop fastener at the back so it's suitable for a wide range of ages.
Wooden cooking set toys, Asda George (£11.97): Perfect for little chefs who like to copy their parents in the kitchen, this wooden cooking set promises hours of family fun. With two plates, cutlery, a sauce pan, a frying pan, salt and pepper shakers, a spoon and a spatula, it's everything they need to cook up an imaginary storm.
Personalised kids baking set, Not On The High Street (£16.50): Delight a future baker with this personalised set of baking utensils. Complete with a rolling pin, a spatula, a pastry brush, a wooden spoon and a cutting board, it's suitable for kids aged five and under.
£20-£50
Opinel Le Petit Chef complete set, Amazon (£31.50): Great knife skills are a testament to any good cook and this training set from Opinel is perfect for children to learn how to properly hold a knife and cut. With a fingerguard included in the set, you also won't have to worry about them making mistakes.
Play BBQ, JoJo Maman Bébé (£32): The cutest play BBQ in town, this set includes everything a kid needs to set up their own garden party barbeque. There are condiment bottles, plates, utensils and even skewers to thread on the different foods.
DIY Hansel & Gretel gingerbread house kit, Biscuiteers (£35): Help the kids get creative with this stunning DIY gingerbread house kit. Complete with ready-baked gingerbread walls and roof, there's everything the kids will need to go wild with decorations.
Personalised baking set from Not On The High Street.
Over £50
Star beans coffee shop, Great Little Trading Co. (£68): Beautifully made from sturdy, painted wood, this coffee shop play set can be set up anywhere on a table or low shelves. Complete with all the essential coffee shop accessories, it's sure to be a big hit.
Play kitchen set, Wayfair (£138.99): Perfect for recreating a real kitchen, this play set has a fridge complete with an ice maker with cubes, a stove with two oven doors and two burners as well as a sink with moving handles.
Kitchen and market stall play set, Early Learning Furniture (£152.40): The ultimate market stall play set, hours of fun are guaranteed. The set also comes with a veg growing kit complete with pots, compost blocks, plant labels and seed sachets to teach the kids about growing plants.
Cookbook pick
Basics to Brilliance Kids by Donna Hay (£20): Written by Australia's best-selling cookbook author, Basics to Brilliance is the ultimate introduction to the world of food and cooking. Filled with tips and highlighting the importance of celebrating the joy of cooking, there are over 120 simple, family-friendly recipes for children and parents to cook together.
For the hosts with the most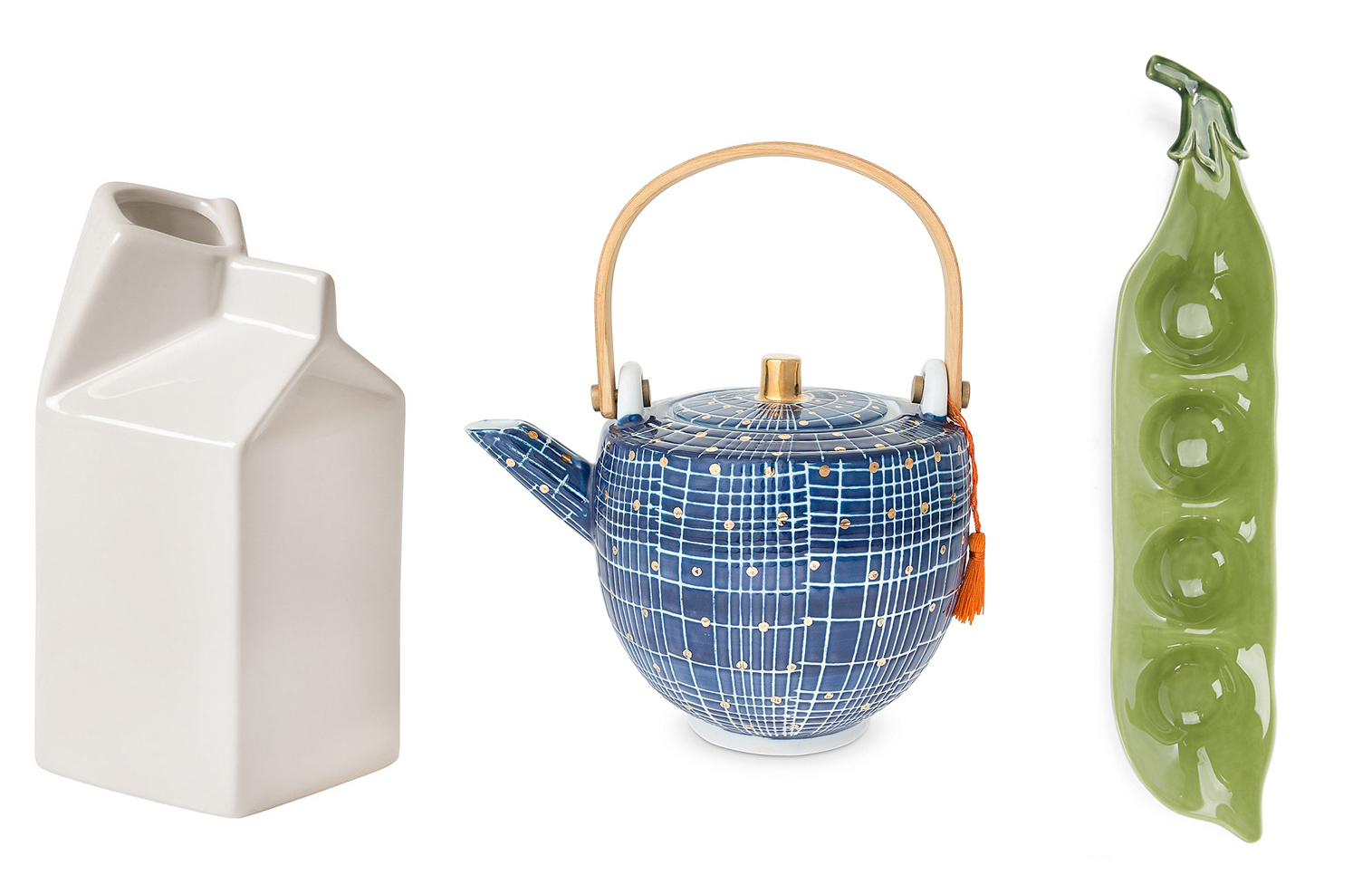 From left to right: Seletti milk jug, Oliver Bonas porcelain tea pot, Bordallo Pinheiro peapod serving platter from Liberty.
Under £20
Seletti milk jug, Amara (£9): Crafted from crisp white porcelain, this milk jug in the shape of a milk carton will add a bit of humour to any dining table. Both microwave- and dishwasher-safe, it's part of a wider collection that mimics paper plates, plastic bottles and tins.
Artichoke salt and pepper set, H&M Home (£9.99): A salt and pepper shaker set like you've never seen before. These glazed porcelain shakers not only do the job but will also look fantastic on the dining table.
£20-£50
Perdita brown splatter cookware, Habitat (£20): Finding a beautiful oven dish that doubles up as serveware can be tricky but this round spot pattern dish does exactly that.
Tamma porcelain teapot, Oliver Bonas (£32): Make tea time extra special with this blue porcelain tea pot with a white grid pattern and gold polka dots. Featuring a beautifully-crafted wooden handle and an eye-catching orange tassel, it's a great gift for someone who does afternoon tea in style.
Bordallo Pinheiro pea pod serving platter, Liberty (£46): Inspired by traditional Portuguese pottery, this unique pea pod serving platter is perfect for making a statement and serving canapes or nibbles and dips.
Porcelain serving dish set of 4, Zara Home (£49.99): This stunning set comes with four differently shaped, finished and coloured serving dishes. They also fit into one another for easy storage.
H&M Home artichoke salt and pepper shakers&
Over £50
Monette monogram cheese board, Anthropologie (£64): Add a personal touch to after dinner snacking with this gorgeous monogram cheese board. Crafted from marble, mother-of-pearl and paua shell, it's polished and finished with brass accents.
L'Atelier du Vin cheese knives, The Conran Shop (£73): Perfect for anyone who fancies themselves as a bit of a cheese gourmand, these cheese knives are made from stainless steel with beautiful solid wood handles. Made for both hard and soft cheeses, the set is all you need to enjoy cheese with ease.
Fish tureen, Sous Chef (£115): Bring a retro element back to dinner parties with this striking fish tureen. The hand-painted ceramic fish is great for serving fish soup, bouillabaisse or other fish dishes.
Cookbook pick
How to eat a peach: Menus, stories and places by Diana Henry (£25): The perfect book for anyone who loves hosting, How to eat a peach is a great reference for how to create amazing lunch and dinner party menus and is filled with Diana Henry's favourite dishes and recipes from around the world.
For the drinks connoisseurs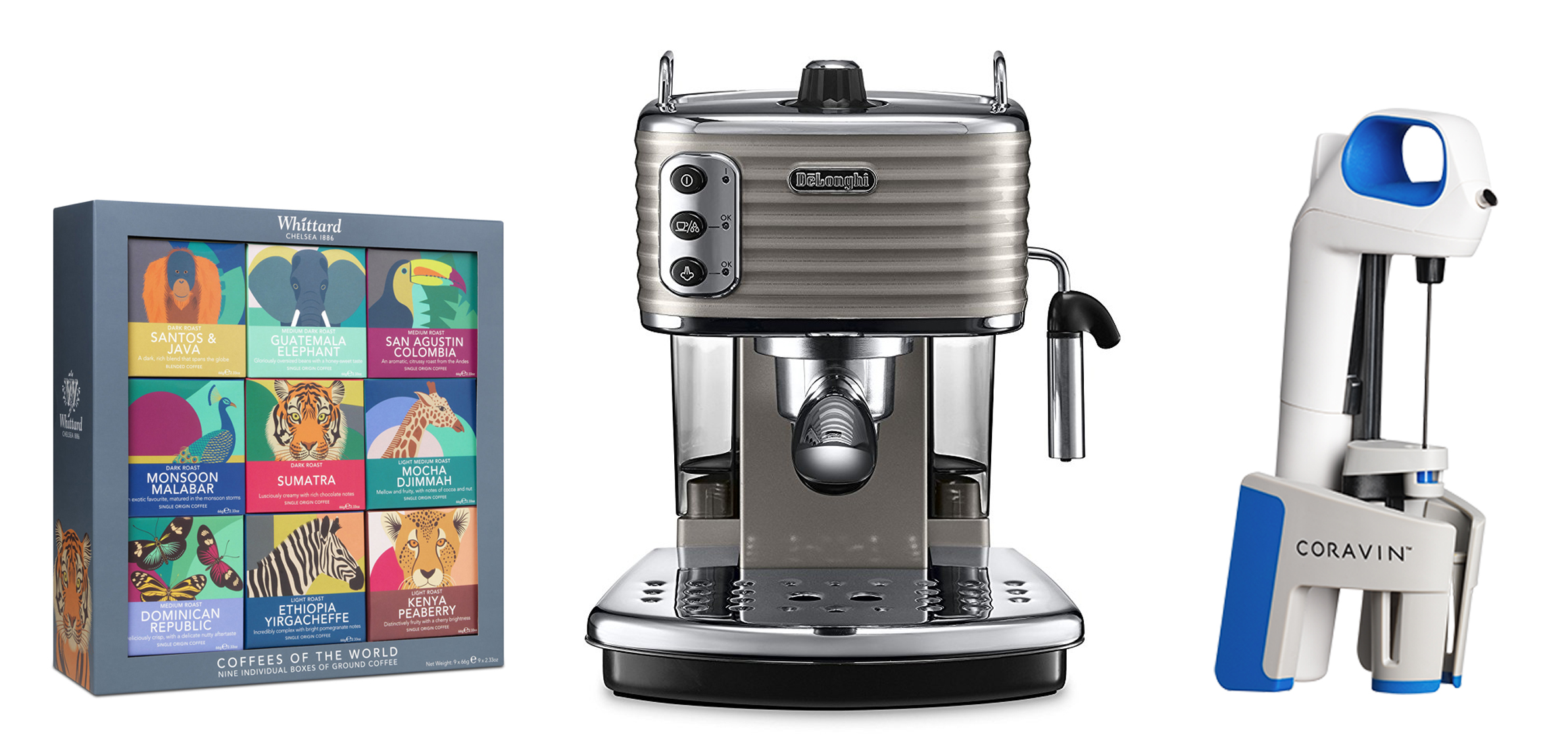 From left to right: Coffees of the world gift set from Whittard, De'Longhi Scultura espresso machine and Coravin model one wine system.
Under £20
Botanical infusion bags for gin and vodka, BoroughBox (£12.50): Ideal for someone who loves a tipple and a little bit of fun, these tea bag-like infusion bags are truly unique. Simply pour a measure of your favourite gin or vodka and let the bag infuse for a few minutes.
Set of 2 embossed gin glasses, Next (£16): Gin is very much in and so is retro embossed glassware. This set of two glasses from Next is all that's needed to add Great Gatsby vibes to a night of drinks with friends.
The port pairing box, Fortnum & Mason (£16.95): Brilliant value for money, this port pairing box comes with Fortnum's LBV vintage port, which is made the traditional way with rich notes of black cherry, while the equally tasty white port delivers honeysuckle and butterscotch notes.
£20-£50
Coffees of the World gift set, Whittard (£25): Send a coffee lover on a trip around the world with this coffee gift set. Ranging from dark Sumatran roasts to light and fruity numbers from Kenya, there's a brew to suit every mood.
The connoisseur gin mixing gift set, M&S (£25): A gift that will delight any gin fan, this gin mixing set includes everything needed to create a personalised gin infusion or cocktail. The set comes with London dry gin, whole cloves, star anise, cardamom, a jigger and a stirrer.
American wheat beer recipe kit, Beer Hawk (£50): Jump on the trend of micro-brewing and artisan beer and brew your own pint at home. The kit comes with everything you need to make just shy of 4l (7pt) of beer.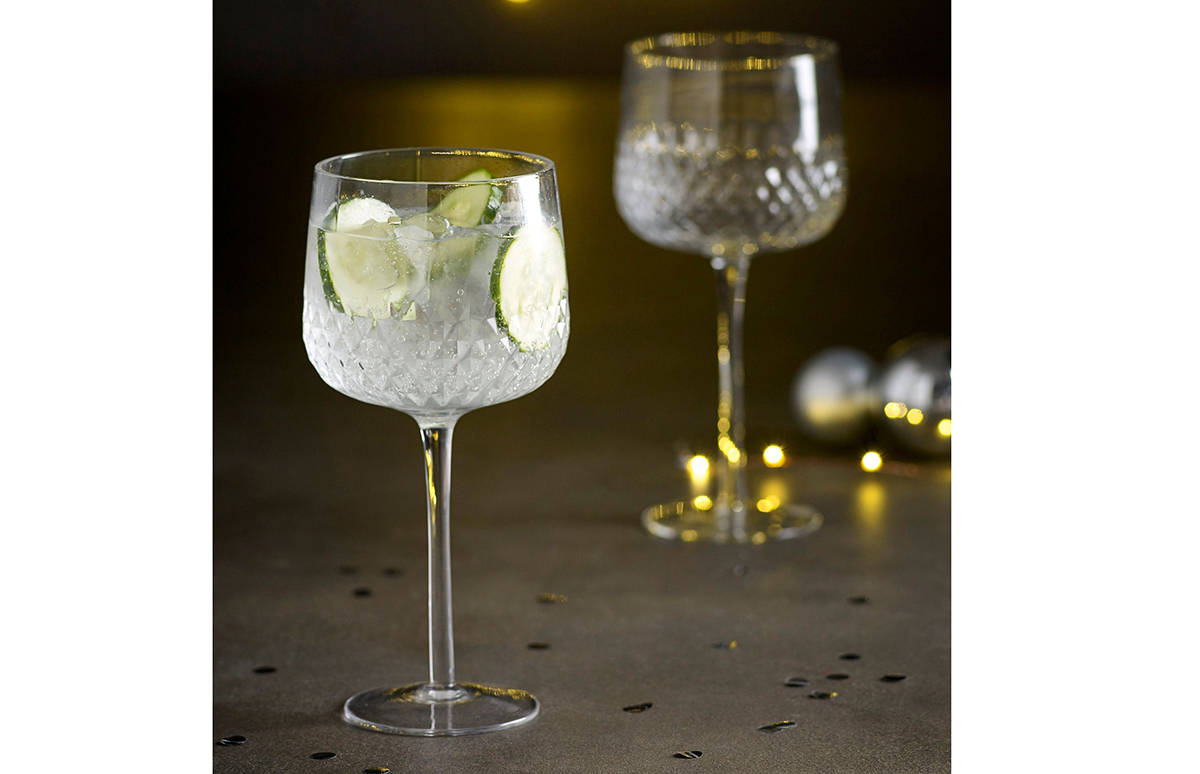 Set of 2 embossed gin glasses from Next.
Over £50
Wine tasting game, Funky Food (£59.95): Test your wine knowledge with this fun and exciting party game. It comes with four bottles of wine, recipe cards for a complementary four-course dinner, wine quiz and score sheets.
Coravin model one wine system, Coravin (£199): A must-have for any wine lover, the Coravin system lets you pour wine without removing the cork so you can enjoy the rest of it on a different day.
De'Longhi Scultura espresso machine, Amazon (£199.99): For anyone who loves a good cup of coffee in the morning, there's nothing like waking up to the aroma of a coffee cup. This De'Longhi espresso machine is perfect for making americano, latte and cappuccino and comes in an attractive design that'll look great on the kitchen counter.
Cookbook pick
Chasing the Dram: Finding the Spirit by Rachel McCormack (£8.99): A beautiful tribute to Scotland's national drink, Rachel McCormack explores its mythical past, its importance to the Scottish culture and why it's so rarely used in cooking. An engaging mix of anecdotes, history and helpful tips, it's a journey around Scotland to find the heart of whisky.
Best of Britain


From left to right: House of Dorchester pink prosecco truffles, Edinburgh Gin Christmas gin and regional Britain box from La Fromagerie.
Under £20
Potted blue stilton, Booths (£10): A traditional potted blue stilton from Cropwell Bishop Creamery in Nottingham, the cheese comes in a beautiful vintage jar that will look great on the kitchen counter afterwards.
Pink prosecco truffles tin, House of Dorchester (£11.99): Christmas is the time for indulgence and these pink shell chocolates, filled with prosecco caramel, come in a beautiful pink bottle-shaped tin.
Sparkling vintage cider, Fowey Valley (£16): An excellent alternative to champagne and prosecco, this Cornwall-made sparkling vintage cider is a taste of something special. The apples are pressed and then fermented twice for two years and the cider is made with a high proportion of dessert apples that contribute to its wonderful flavour.
£20-£50
Edinburgh Gin Christmas gin, John Lewis & Partners (£35): Flavoured with a blend of seasonal botanicals, including frankincense and myrrh, this Christmas gin encapsulates the spirit of the festive season. Warm and aromatic, with lingering spice, it's the perfect yuletide spirit.
Side of Loch Fyne smoked salmon, Virginia Hayward (£39.99): A superb Christmas treat for a family get-together, everybody will love this exquisite Loch Fyne smoked salmon. Just add a squeeze of lemon and a pinch of black pepper.
Heritage 4-piece nesting bowl set, Denby (£50): Denby pottery is a British classic that any home cook would love to have at home. This set of four nesting bowls is both beautiful and functional, and the bowls fit into each other for easy storage.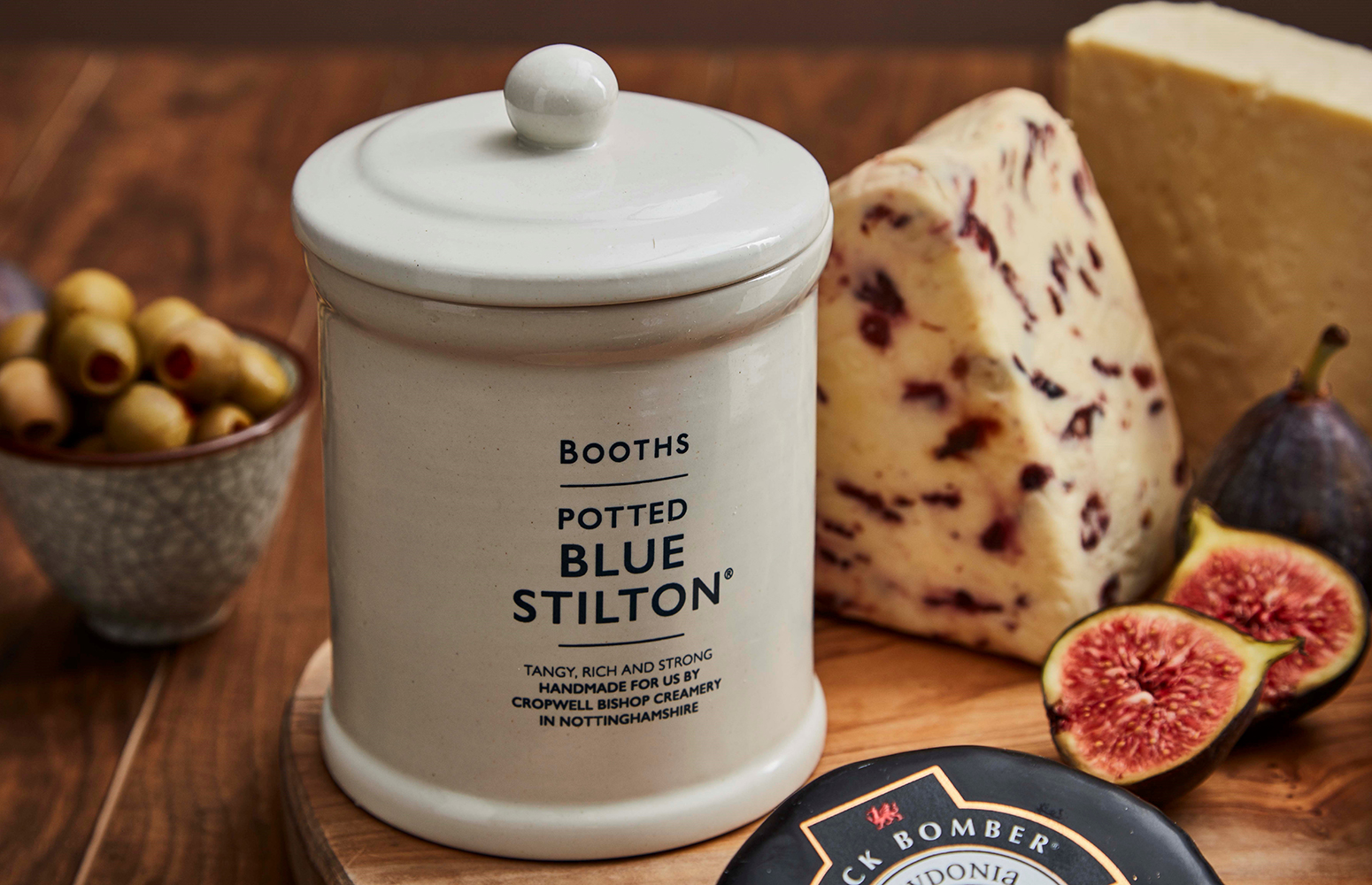 Booths potted blue stilton.
Over £50
Complete truffle hamper, The English Truffle Company (£59.50): A collection of some of the best products made from English truffles, the hamper includes several different truffle oils, truffle honey, ruffle sea salt, carpaccio and minced truffle.
Regional Britain box, La Fromagerie (£75): Celebrate the best of British cheeses with this stunning selection from La Fromagerie. Complete with winslade, Montgomery's cheddar, rollright and beauvale, the box also comes with a selection of British beers, cheese biscuits and seasonal chutney.
The Honey Hamper, Fortnum & Mason (£200): A wicker full of honey, this hamper brings together the best of British honey as well as silky tea bags, home-baked goodies and tempting chocolates. The selection includes Shropshire ling heather honey, Banburry lime blossom honey, Shewsbury woodland honey and British honeycomb half frame.
Cookbook pick
The Really Quite Good British Cookbook: The Food We Love from 100 of Our Finest Chefs, Cooks, Bakers, and Food Heroes by William Sitwell (£25): A compilation of recipes by Britain's most-loved chefs, food writers and cooks, the cookbook features dishes by Nigella Lawson, Rick Stein, Nigel Slater and many more. It's both a celebration of great British ingredients and recipes as well as the people who make them.
Secret Santa and stocking fillers


From left to right: shark vegetable peeler from Rex London, food & drink trivia card game from Oliver Bonas and Tabasco chocolate tin from Prezzybox.
£5 and under
Shark vegetable peeler, Rex London (£3.95): A fun stocking filler for someone who loves to cook, this quirky shark-shaped vegetable peeler takes the boring out of peeling potatoes.
Tabasco chocolate tin, Prezzybox (£4.99): Both sweet and spicy, it's a great Secret Santa gift for someone who loves to spice up their life.
Food & drink trivia card game, Oliver Bonas (£5): How well do you know your Malbec from your Merlot? Test your foodie friend's cookery knowledge with this fun party game.
Gimmiz chanpagne pong, Wilko (£5): Forget about beerpong, it's all about champagne pong. Give a fun evening a touch of style and sophistication with this party hit.
Rabbit biscuit mug, Asda (£5): With a cute little holder for biscuits, you'll never have to worry about crumbs on the sofa again.

From left to right: Whittard Christmas coffee bauble, sushi socks from Sous Chef and mini winter tin from Venchi.
£10 and under
Christmas coffee bauble, Whittard (£6): A stocking filler with a bit of a twist, this festive bauble hides the perfect Boxing Day pick-me-up.
Chocolate Christmas characters, Bettys (£6.95): A festive assortment of solid chocolate Christmas characters, this selection from Bettys will bring joy to any Christmas stocking.
Sushi Socks Futomaki, Sous Chef (£8.99): Are they sushi rolls or are they socks? Perfect for the sushi-obsessed colleague.
Professor Puzzle The big foodie quiz, Sainsbury's (£10): With a buffet of questions, from celebrity chefs to recipe know-how, this foodie quiz will seriously test even the most seasoned home cooks.
Mini winter tin chocomousse, Venchi (£10): A mini Christmas-themed case filled with the most delicious Italian chocolates? Yes please.
Cookbook pick
Gin Made Me Do It: 60 Beautifully Botanical Cocktails by Jassy Davis (£9.99): A brilliant book for gin fanatics, it takes the reader through everything they need to know about gin, from choosing the perfect blend and mixing the ultimate martini to making the most delicious cocktails.
Subscriptions and experiences
Subscriptions
Cure & Simple (from £4.95 a month): Know someone who just can't live without a proper breakfast fry-up? Give the gift of bacon with the Cure & Simple subscription boxes and the bacon lover in your life will receive boxes of hand-cured, air-dried bacon every week, bi-weekly or every month.
The Spicery (from £16.50 a month): These recipe kit boxes are great for helping someone try new recipes and dishes every month. Each box comes with recipe cards and both the ground and blended spices needed for the recipes from around the world. The dishes they'll be cooking change every month and all boxes come in a letterbox size.
Rave coffee (from £23.85 for 3 months): The coffee connoisseur will appreciate a Rave coffee subscription. Delivered to their door, they'll receive either a specially-selected coffee or their own coffee pick each month.
The Cheese Society (from £38 per box): A monthly cheese club for the fromage-obsessed, this subscription box comes with a selection of five 200g artisan cheeses from both the UK and Europe each month. Boxes usually include a mix of old favourites as well as new discoveries and each cheese comes with tasting notes card too.
Experiences
Dim Sum classes, School of Wok (from £15, London): Choose from a range of classes to learn everything you need to know about this Chinese classic. From dumpling folds and fillings to making the fluffiest baos and understanding the concept of dim sum, these classes are a fun cooking (and eating) experience.
Scottish whisky tours, Rabbie's (from £19): With whisky tours from Edinburgh, Glasgow, Inverness and Aberdeen, Rabbie's offer a great local experience with a knowledgable guide, ensuring a combination of the flavours of Scotland's most famous drink with a guided adventure through local legends, traditions and sights. From one- to 17-day tours, there's something for everyone and every budget.
The Burger Box, Time Out (£29.99, London): Who doesn't love a good burger? This Time Out Burger Box offers 50% off the food bill at some of London's finest burger restaurants, including the likes of Bleecker, Bad Egg and Moorgate Bar Boulud.
English vineyard tour, Red Letter Days (from £70, 12 locations): A great experience for those interested in wine, these tours offer a behind-the-scenes look at the art of English winemaking, from planting to harvesting, as well as a wine tasting and lunch.
Cookbook pick
Where Chefs Eat: A Guide to Chefs' Favourite Restaurants published by Phaidon (£19.95): This book features recommendations from 650 of the world's best chefs that suggest more than 4,500 places around the world worth having a meal at. It's the ultimate bucket list for someone who loves eating out.
Be the first to comment
Do you want to comment on this article? You need to be signed in for this feature