Eat pintxos like a local
Pintxos are the lifeblood of northern Spain's food scene. In cities like Bilbao and San Sebastián, you'll find chefs in hole-in-the-wall bars and upmarket restaurants showcasing their skills through these bite-sized creations.
What are pintxos?
Pintxos are very similar to tapas – they're small dishes that you can eat in a couple of bites. The main difference is that tapas tend to be complete dishes while pintxos are smaller and more like canapés. Traditionally, pintxos are a small piece of bread with different toppings skewered on.
Some classic toppings include tortilla, cod with peppers, olives with anchovies and chilli gilda, meatballs and grilled goats' cheese.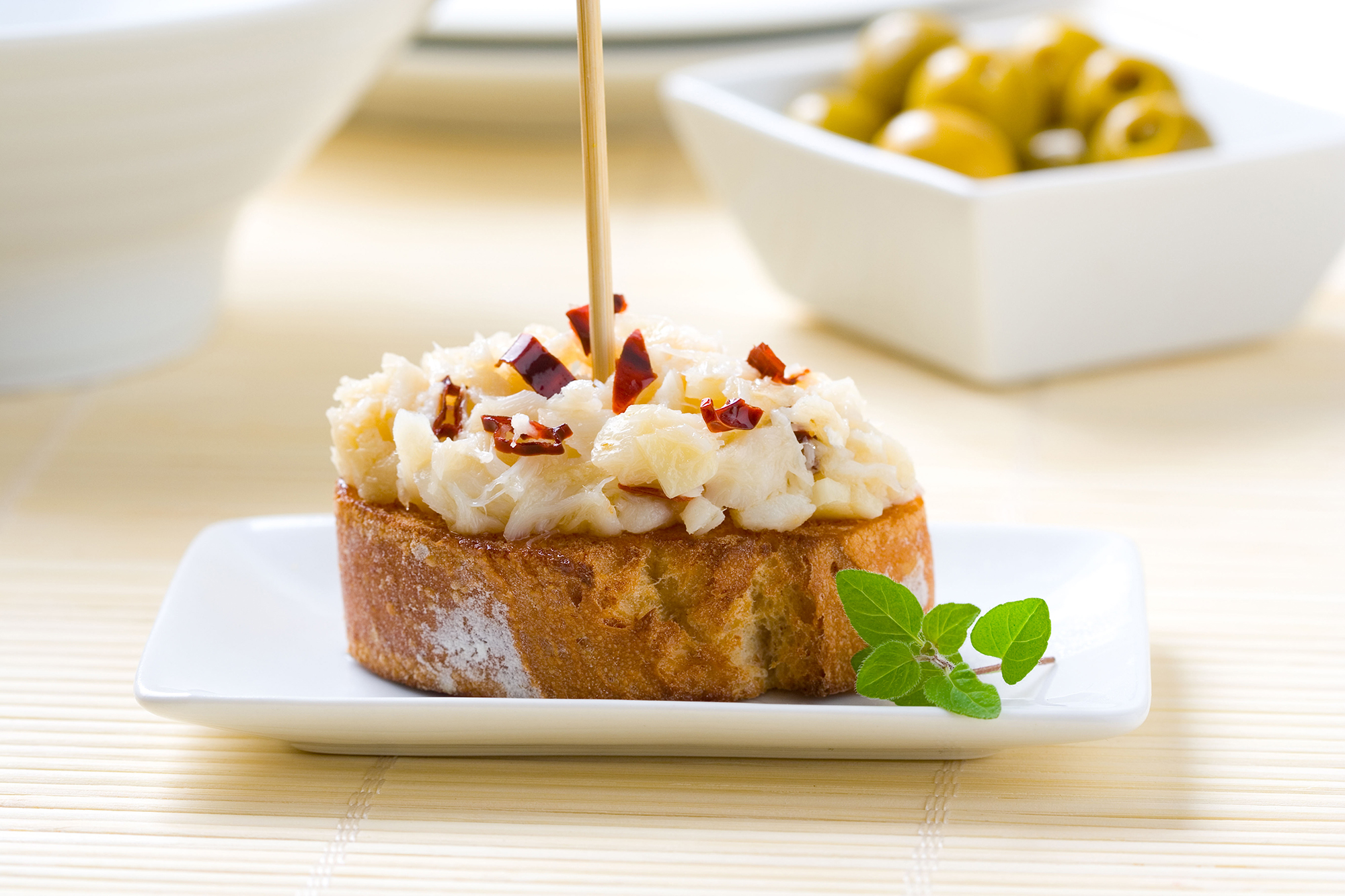 Hans Geel/Shutterstock
You'll see pintxos laid out across the counter of pretty much every bar you walk past. From breakfast until late into the night, people graze across this cornucopia of snacks. They usually cost between one and three Euros.
What's a ración?
A ración is a dish large enough to share with one or two other people. A media ración is half that size, but still bigger than a pintxo. If you're in a group, you might want to order one popular ración, a media ración of something only a few of you want to eat and then a pintxo or two each. Hot racións are usually written on a board behind the bar and tends to be that place's speciality.
How to order pintxos like a local
Watch and learn. If you go to the right pintxo bars, you'll be surrounded by locals so just do what they're doing. If in doubt, here are our top seven tips for ordering pintxos.
1. Find a spot to stand
Pintxos are traditionally eaten stood up at tables or at the bar. Find a place to stand where you can put down your glass in case you need both hands to eat your pintxo.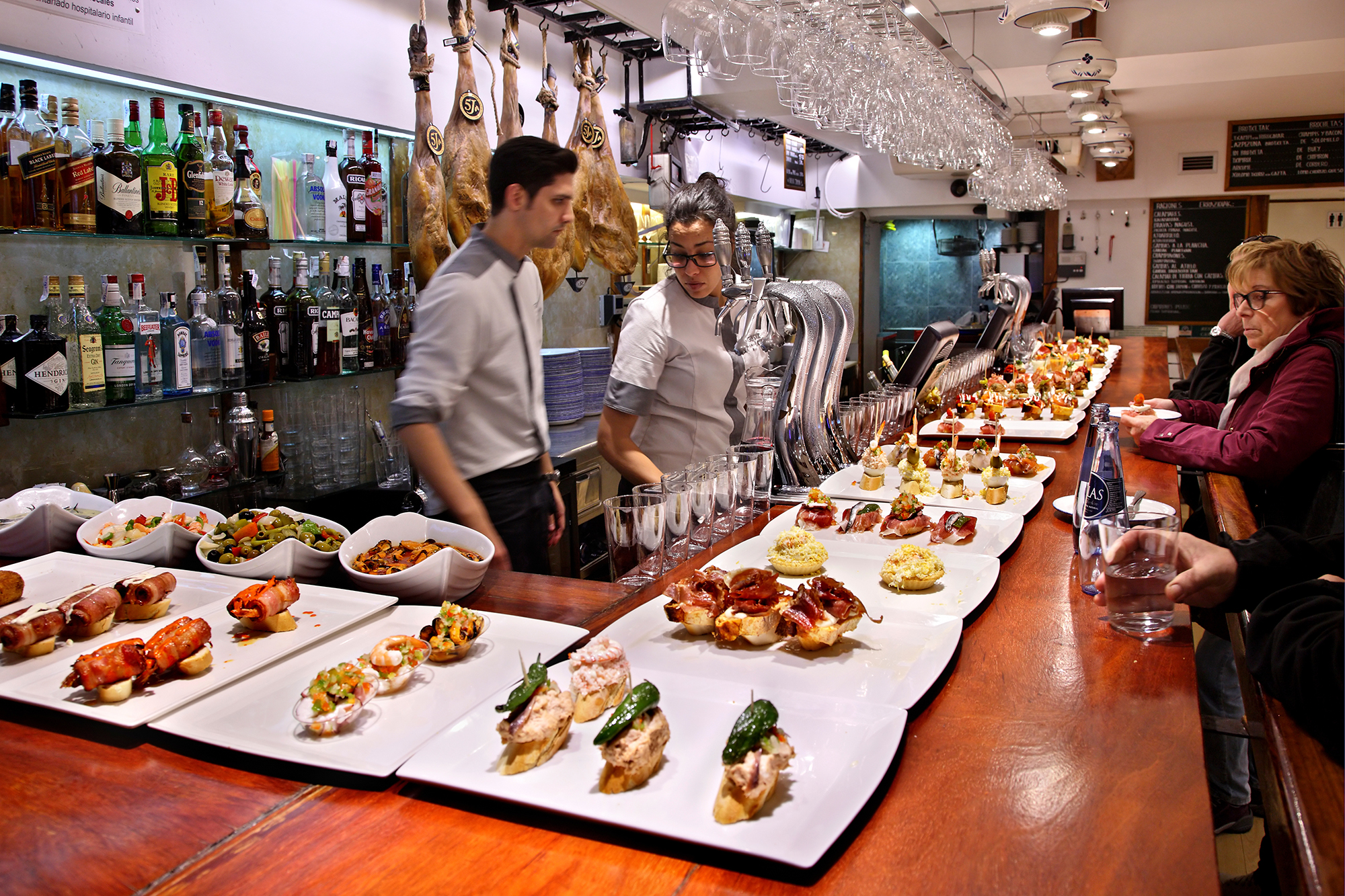 Heracles Kritikos/Shutterstock
2. Order one or two pintxos per person
Cold pintxos are laid out and hot pintxos are chalked up on a board behind the bar and made to order. Pick one or two pintxos with a glass of wine or small beer, and then move on to the next place.
3. Don't overthink it
Unless you've got a food allergy or have a restricted diet, take a gamble and order food by pointing at what looks delicious. Some pintxos will have little stickers attached to the skewers which describe the dish. But for a couple of Euros, it's worth just going with the flow.
4. Throw your napkin on the floor
But only if other customers are doing it. Pintxos may be served on a napkin and traditional, sawdust-floor bars will often have serviettes littering the floor – think of it as a sign of respect for the meal you've enjoyed. However, modern pintxos bars tend not to do this. Look around and take other peoples' lead. If in doubt, don't do it.
5. Help yourself
Generally, if pintxos are laid out, you can help yourself to a couple of snacks, but it's not ok in bars with a small plastic screen in front of the food. If you're not sure, ask the bar staff and take one or two pintxos on a napkin. They might offer you a plate but don't load it up like it's an all-you-can-eat buffet.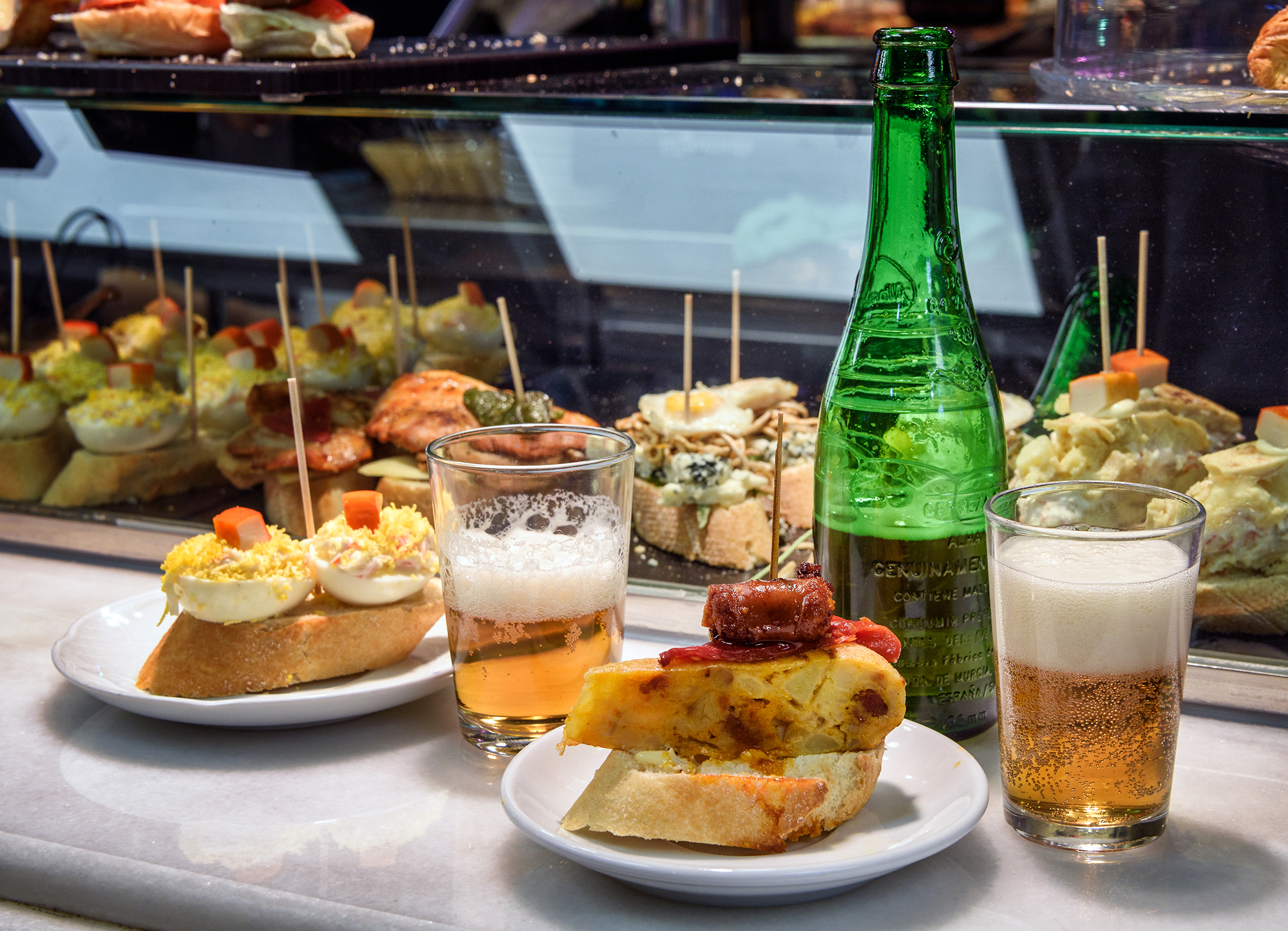 Lux Blue/Shutterstock
6. Pay when you leave
Spanish custom is to pay as you leave, not when you order. Bar staff tend to remember what you've ordered or count the number of skewers. In some places, they'll ask you how much you've eaten (no fibs).
7. Move around
Try as many different pintxos bars as possible. Have a couple of snacks in each place and move onto the next one to create your own mini pintxos crawl. You'll see a lot of the same classic pintxos in each place but each bar will also have their own speciality.
What should I drink?
Pintxos are as much about drinking as they are about eating. Txikiteo is when you go out eating pintxos and drinking in multiple bars, like a sophisticated pub crawl. The word comes from the word txikito, a small glass of wine.
Pintxos change throughout the day and are designed to go with most typical drinks. Pair a pintxo de tortilla with coffee for breakfast, then move onto light white wines like verdejo or the regional sparkling white txakoli for lunch. If you're ordering beer, ask for a zurrito, which is a small glass.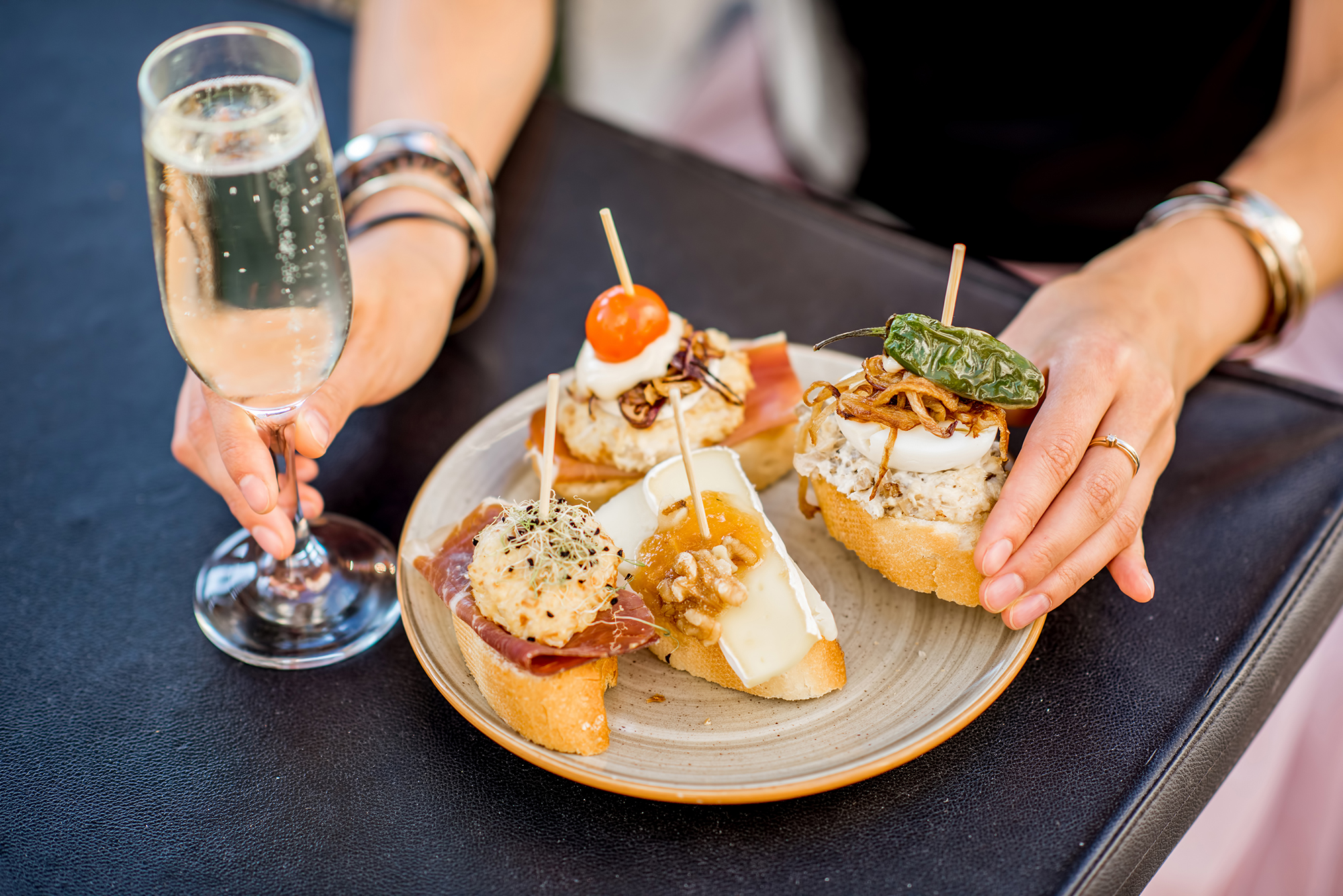 RossHelen/Shutterstock
Help! I don't speak Spanish
No te preocupes. Don't worry! No pasa nada. It's all good. Spain seems to embrace slight chaos like an old friend, so as long as you're friendly, enthusiastic and don't take yourself too seriously, you can fit right into Spanish bar culture. Here are a few key phrases you might hear:
Quiero… I would like…
¿Algo más? Would you like anything else?
¿Te lo caliento? Shall I heat it up? (Often asked, for the cold tapas that are better served warm. If in doubt, just say yes.)
Una copa de Txakoli, por favor. A glass of Txakoli, please.
Un txikito. A small glass of wine.
Un zurrito. A small glass of beer.
La cuenta, por favor. Please can I have the bill.
Agur. Basque for goodbye and a nice way to say thank you.
Be the first to comment
Do you want to comment on this article? You need to be signed in for this feature