Tried & tested: The best water bottle for your life
With growing concern over the impact single-use plastic is having on the environment and more clever, style-led water bottles on the market than ever, disposable bottles are officially out and reusables are in. Here at loveFOOD, we tested out just under 30 water bottles, all made from different materials and boasting different functions, including a silicone bottle that collapses down to the size of a fist, a glass and bamboo tea infusion bottle and a bottle that can filter everything from E. coli to giardia out of water. Here's our list of which features and which bottles we liked the best.
Stylish bottles for your desk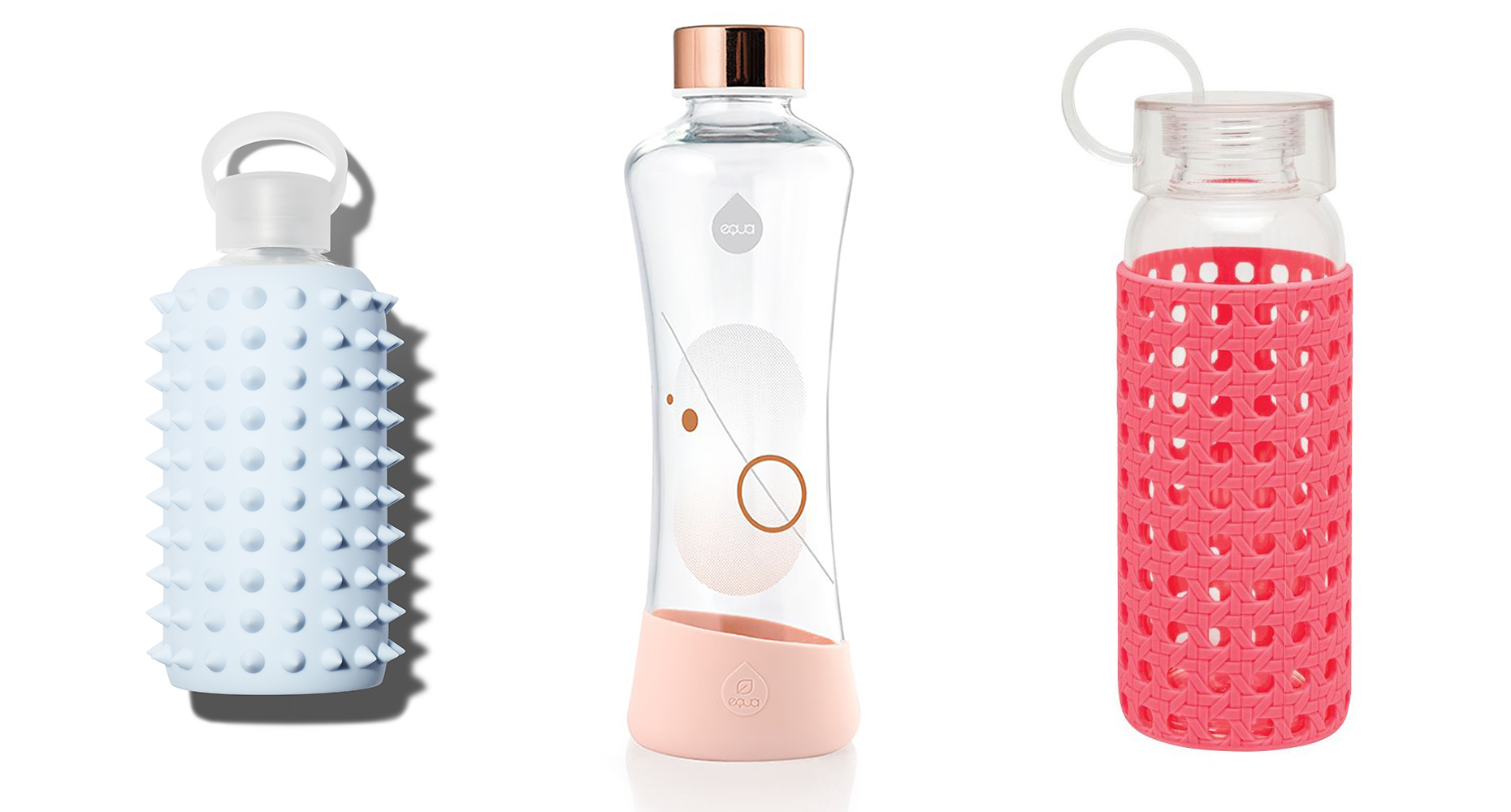 Owning a BKR bottle (pictured top left) is a statement. Fun and functional, a thick spiked silicone layer covers the glass bottle which can hold up to one litre of water. It is the perfect accessory for your nightstand or desk, warning others you're not one to mess with.
This EQUA bottle (pictured top middle) is also made of durable glass, tipped in silicone, curved in a shape that fits comfortably in the palm and looks beautiful on your work desk. The glass is resistant to thermal change, making it suitable for hot as well as cold beverages. For the super accident-prone, some EQUA bottles come with a felt sleeve or in BPA-free plastic, and for those that need more help reaching their hydration goals there is the EQUA smart bottle.
This 450ml Kate Spade bottle (pictured top right) fits perfectly into a handbag, however, being made of glass and encased in pink silicone means you would probably rather keep it on display and you should probably avoid it being dropped. We love the look though.
Bottles for travellers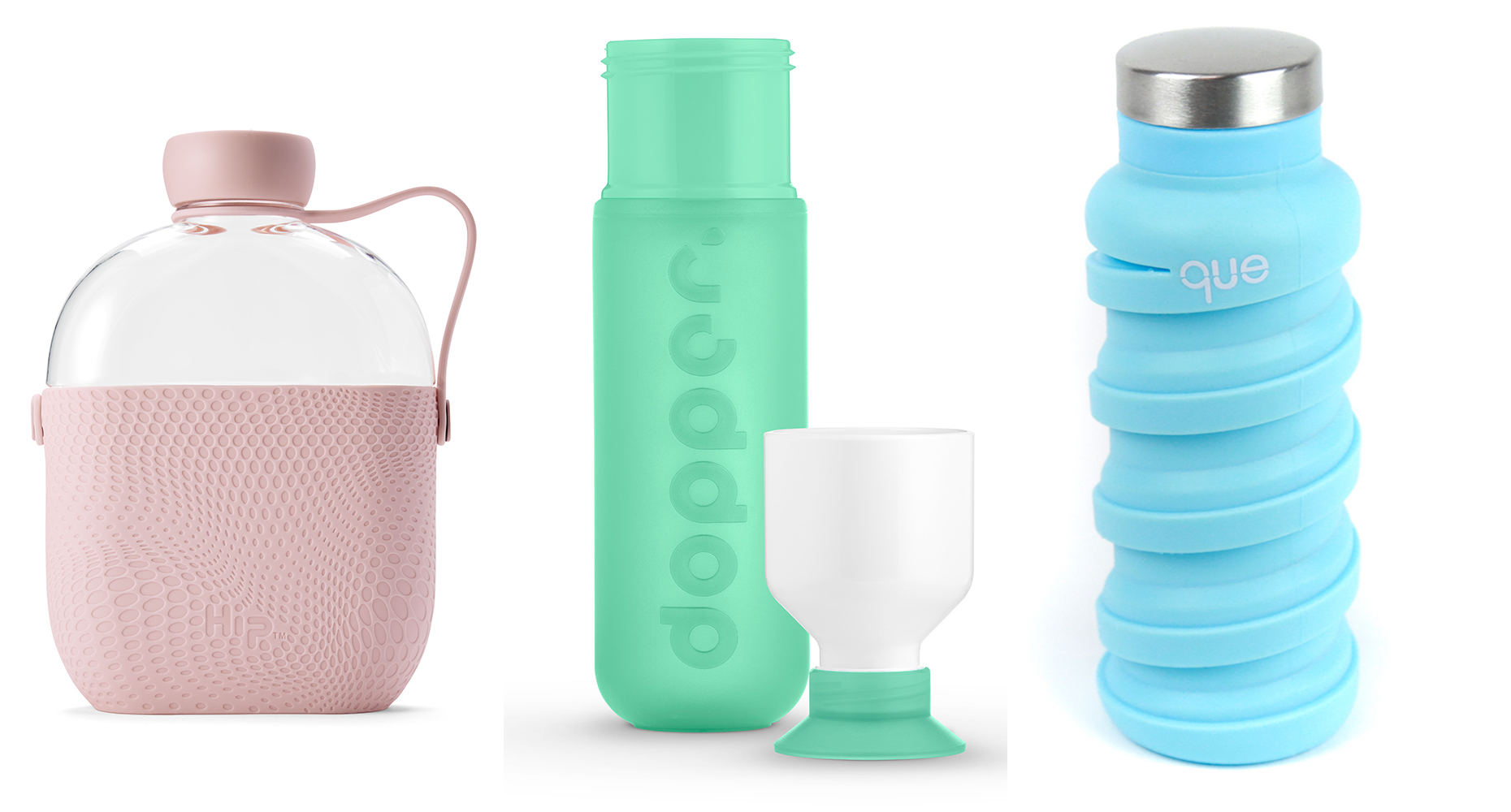 The Hip flask (pictured top left) is the water bottle for trendy city dwellers. It's clever design and slim fit means it sits easily in the average urbanite's handbag; it's made from BPA-free plastic; holds 650ml water; and is also lightweight. What's more, the easy grip silicone sleeve comes with a sturdy carry strap so that the attractive bottle can be paraded around like a clutch bag. loveFOOD.com editor, Jacqueline, is currently refusing to give it back.
A bottle with a cause, the Dopper (pictured top middle) is ideal for drinking on the go. It is made from BPA-free plastic, can hold 450ml of water, has a built in cup and supports safe drinking water projects worldwide.
The que collapsible bottle (pictured top right) is a game changer for transporting water. The 590ml bottle is lightweight and compact, and when empty can be collapsed to 50% of its size. Not only functional, the silicone bottle looks cool, coming in ten different fun and funky pastel colours. Georgia, the intern, says "My favourite thing about the que bottle is the aesthetic: the pastel colour and rubber looks so good".
Insulated bottles to keep drinks hot or cold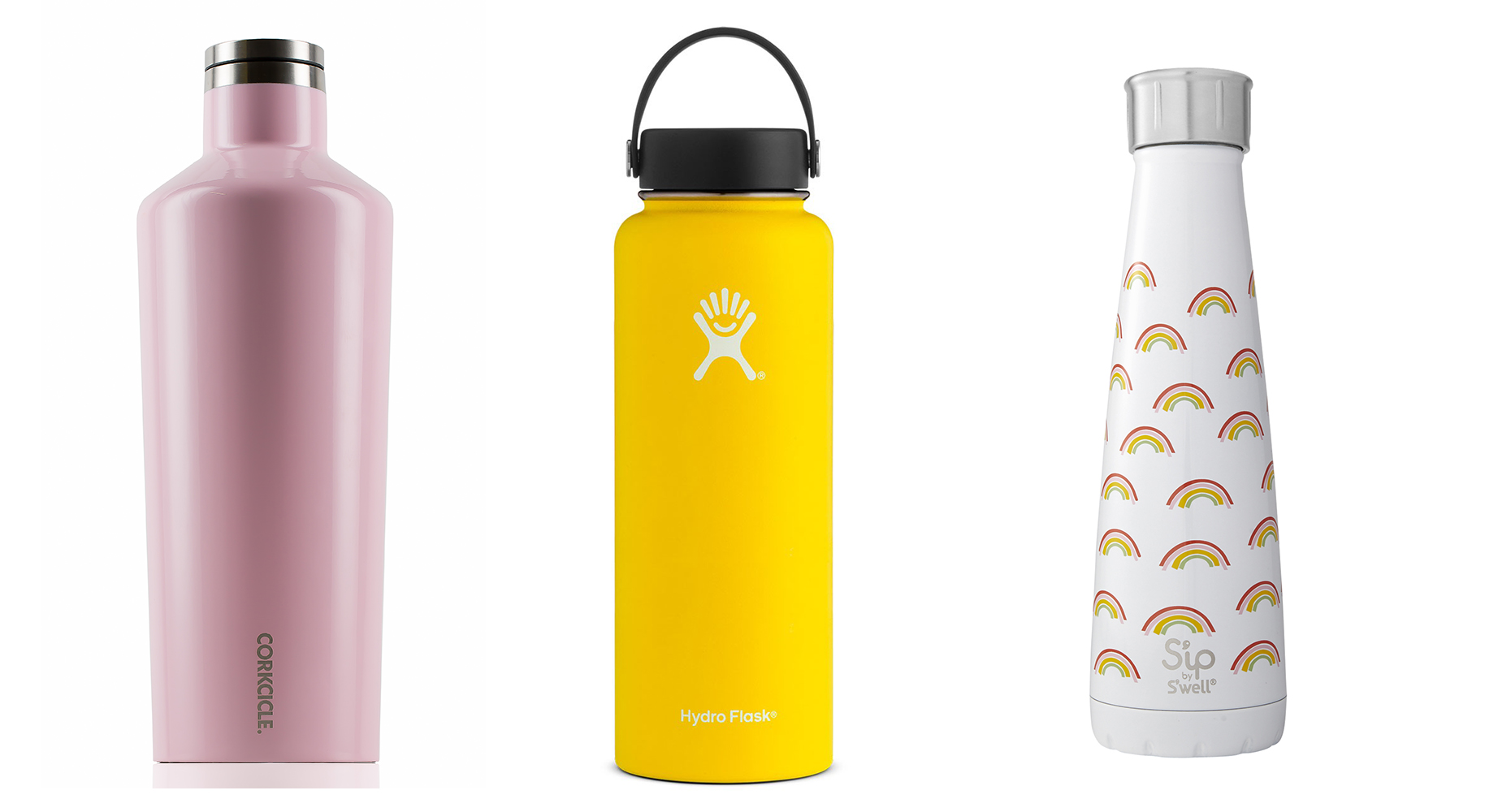 Using stainless steel, sweat-proof, vacuum insulation technology these incredible bottles achieve the once-impossible, keeping hot drinks hot throughout the whole day (12 hours) and cold drinks cold for a full 24 hours, and also don't sweat and make other items in your bag soggy.
The advantage of Miir is its wide mouth – allowing space for ice cubes, its handle-lid and the non-slip silicone bottom – perfect for the clumsy ones among us.
The shape and size of the Corkcicle bottles (235ml, 473ml and 710ml) (pictured top left) make them most ideal for taking on picnics or long train journeys – the 710ml is particularly conveniently sized for transporting a chilled bottle of wine and the stainless steel is resistant to taking on the drinks flavour.
The Hydro Flask (pictured top middle) has many lid options to fit your lifestyle needs – both the standard and wide mouth bottles are compatible with ice blocks and can be sealed with a carry, flip lid or straw.
Out of the thermal stainless steel bottles on the market, S'ip by S'well (pictured top right) has, by far, the most attractive design. Coming in more colours and patterns than you have clothes, S'ip bottles are available in sizes from 285ml to 650ml. Deputy editor, Daisy says "It doesn't quite fit in my clutch bag but to be honest, with its sleek shape and easy-to-carry design, I really don't mind carrying it by hand".
Smart bottles to track your water consumption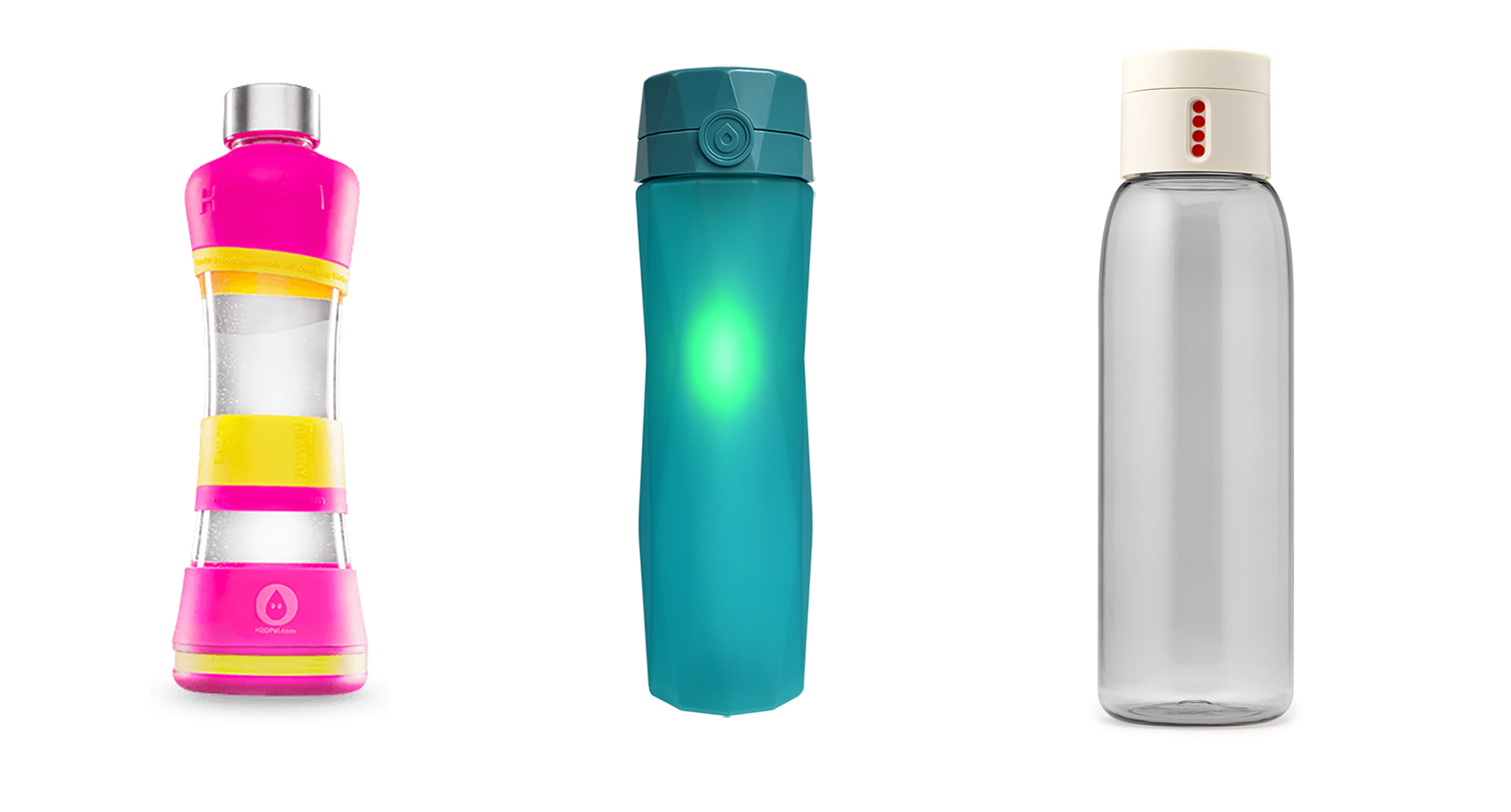 We all know how important it is to stay hydrated, our body literally depends on water to survive, but some days it can be a task to remember. Luckily, for times when you can't remember these smart bottles on the market can.
H20Pal (pictured top left) tracks your water intake, syncing data with your Fitbit, Apple Watch, or even Amazon Alexa. Plus, it has a beautiful design, a durable glass bottle, with stylish silicone bands for grip and a stainless steel lid.
The Hidrate Spark (pictured top middle) also tracks water consumption, syncs to Apple Health Kit or a Fitbit where you can set hydration goals or locate your bottle, and glows to remind you to swig.
The Joseph Joseph Dot Hydration Tracker (pictured top right) has a hydration counting lid that displays a new dot everytime you refill so that you keep track of how much water you have downed.
Infusion bottles for flavour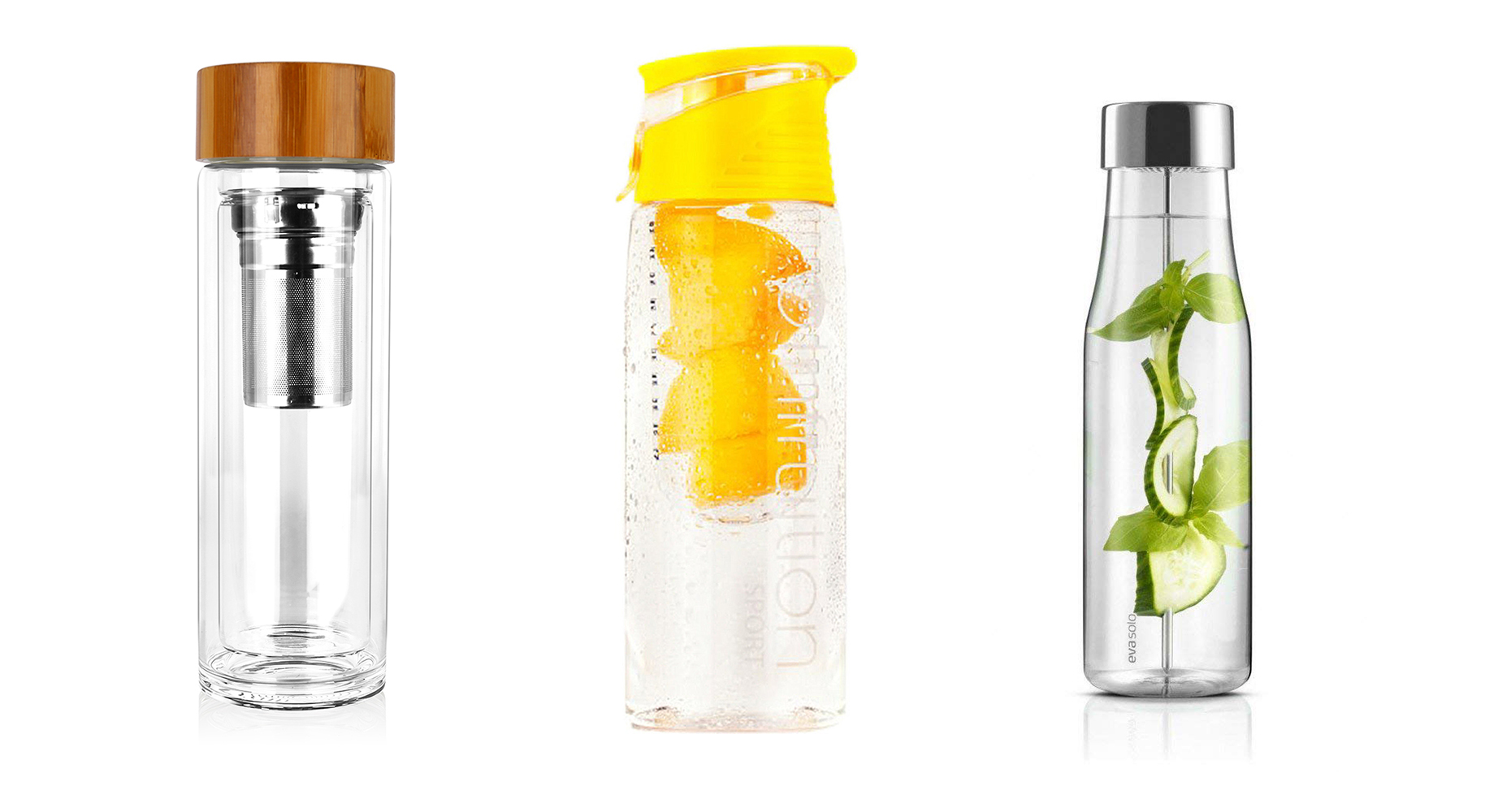 The thought of drinking more water can easily be made more appetizing by flavouring with tea or fruit using an infusion bottle.
The Monsuri (pictured top left), a durable glass infusion bottle with a beautiful bamboo lid, is a certified showpiece, guaranteed to make you the envy of colleagues and friends. The filter can either be used to infuse water with fruit or loose tea leaves and Monsuri sell a delicious strawberry and basil tea for the purpose.
The Infruition (pictured top middle), made from BPA-free plastic, utilises a chamber to infuse water with herbs and fruit. We like the idea of a lavender and lemon concoction.
The MyFlavour bottle by eva solo (pictured top right), has a sleek see-through design. It is also made from BPA-free plastic, comes in 500ml or 700ml and has a skewer running through to hold a sort of fruity kebab in the middle. Very pretty.
Bottles that filter your water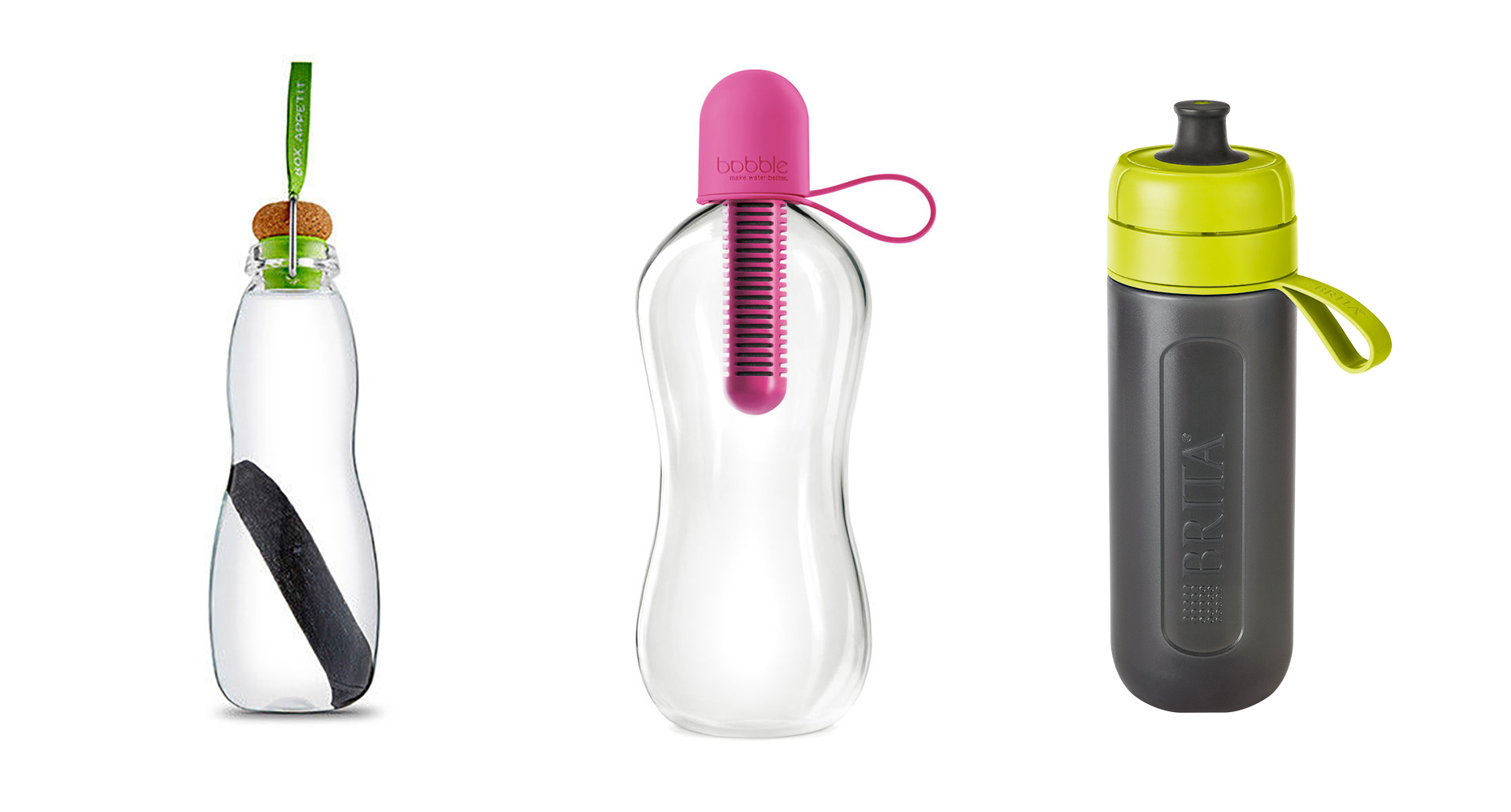 Black + Blum Eau Good Glass (pictured top left) uses traditional Japanese binchotan active charcoal to soften tap water, add beneficial minerals and absorb unwanted odors and chlorine. The little pear-shaped glass bottle is also very aesthetically pleasing and has a cork stopper lid.
The lightweight and attractive Bobble bottle (pictured top middle) uses a carbon filter to filter tap water, however the Bobble Plus comes with a multifunctional filter that can also be used to infuse water with fruit.
BRITA's eco-friendly bottles (pictured top left) have replaceable filters to remove impurities that influence water's taste but keep beneficial minerals such as magnesium and calcium. The BRITA Fill and go Active, with it's squeezable bottle and sports lid, is ideal for gym-goers.
Adventure bottles that filter really dirty water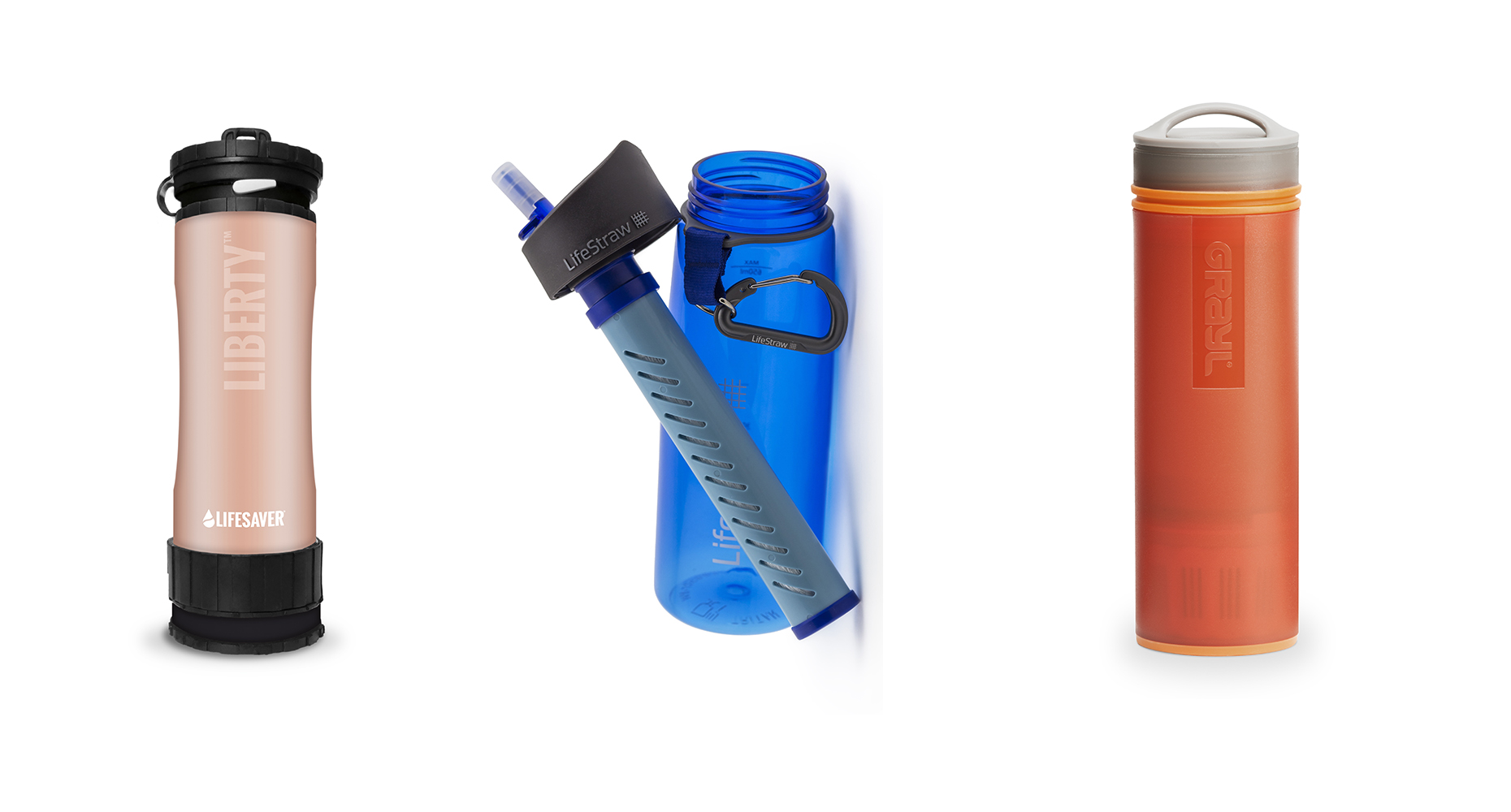 These amazing bottles, designed to filter out 99.9 recurring percent of bacteria, parasites, viruses, microplastics and dangerous substances are a blessing for the adventurous traveller.
Icon Lifesaver Liberty (pictured top left) is a light, portable 400ml bottle that comes with a scavenger hose for filtration of contaminated water direct from the source or filling up multiple bottles, and for added safety the bottle stops working when it's time for the filter to be changed.
As well as its filtration technology, the LifeStraw Go (pictured top middle) benefits from a carbon capsule that reduces chlorine, bad tastes and odors found in rivers or suspicious tap water. The company also offers a version for children: Lifestraw Play (which holds 285ml water).
Grayl Ultralight Purifier (pictured top right) comes with a replaceable cartridge, that captures and filters sediment, chemicals and heavy metals from water as well as the bacteria and viruses.
Bottles designed for sports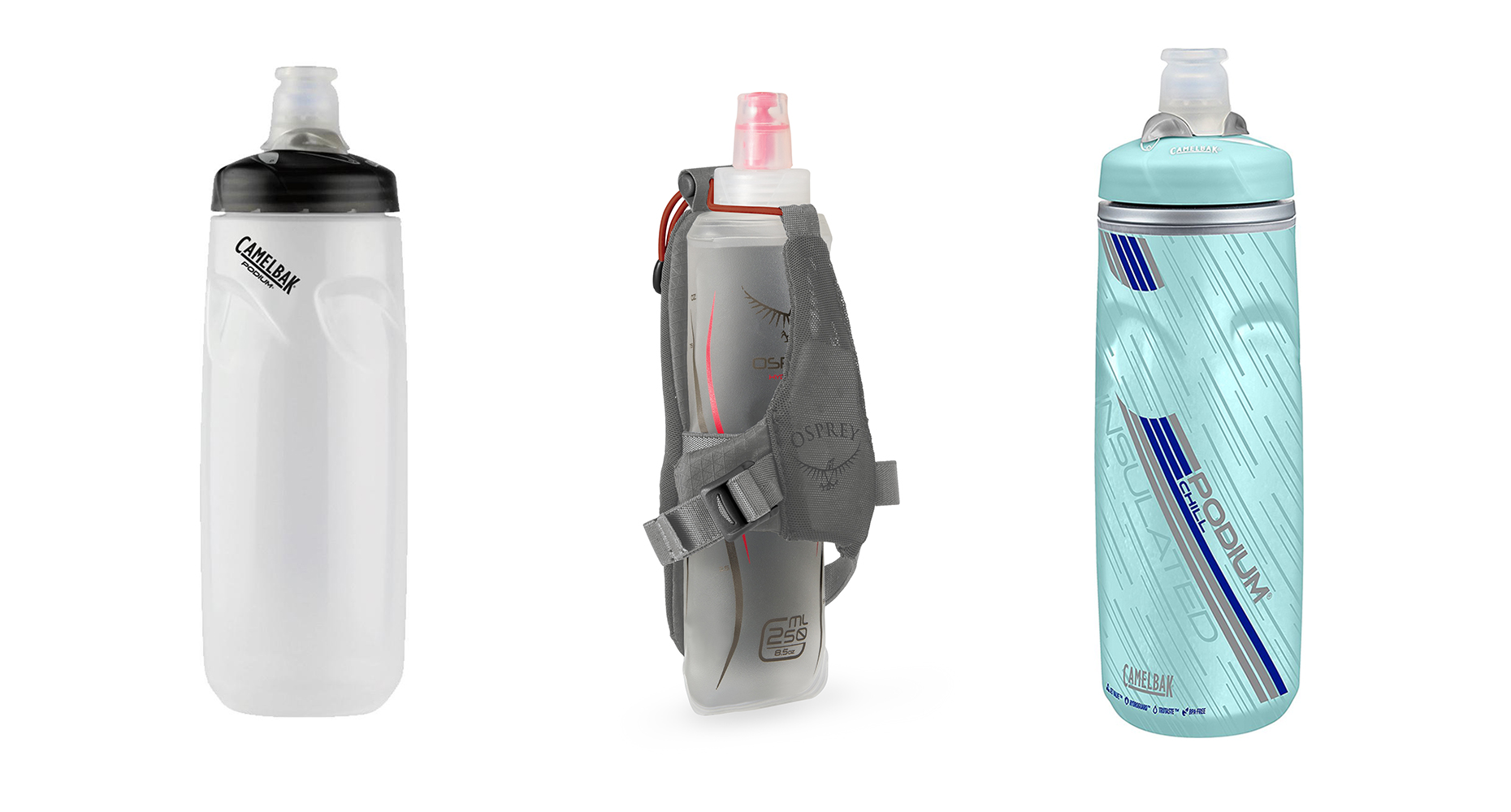 Camelbak Podium (pictured top left and right) is a BPA-free plastic bottle designed for mountain bikers. The bottle features a mud cap to keep dirt out, is squeezable, has a self-sealing valve to eliminate spills, and a neck that fits ice. The Podium Ice is our favourite as it offers insulation technology to keep water cold for longer.
The Osprey Duro Handheld (pictured top middle) is built for runners, allowing handheld hydration but at the same time lets the fingers be free to adjust a jacket or open an energy gel. The carrier holds an interchangeable 250ml soft flask with a sports cap and has a pocket, ideal for storing keys or a bank card, and a zip that doubles as an emergency whistle.
Fun water bottles to keep kids hydrated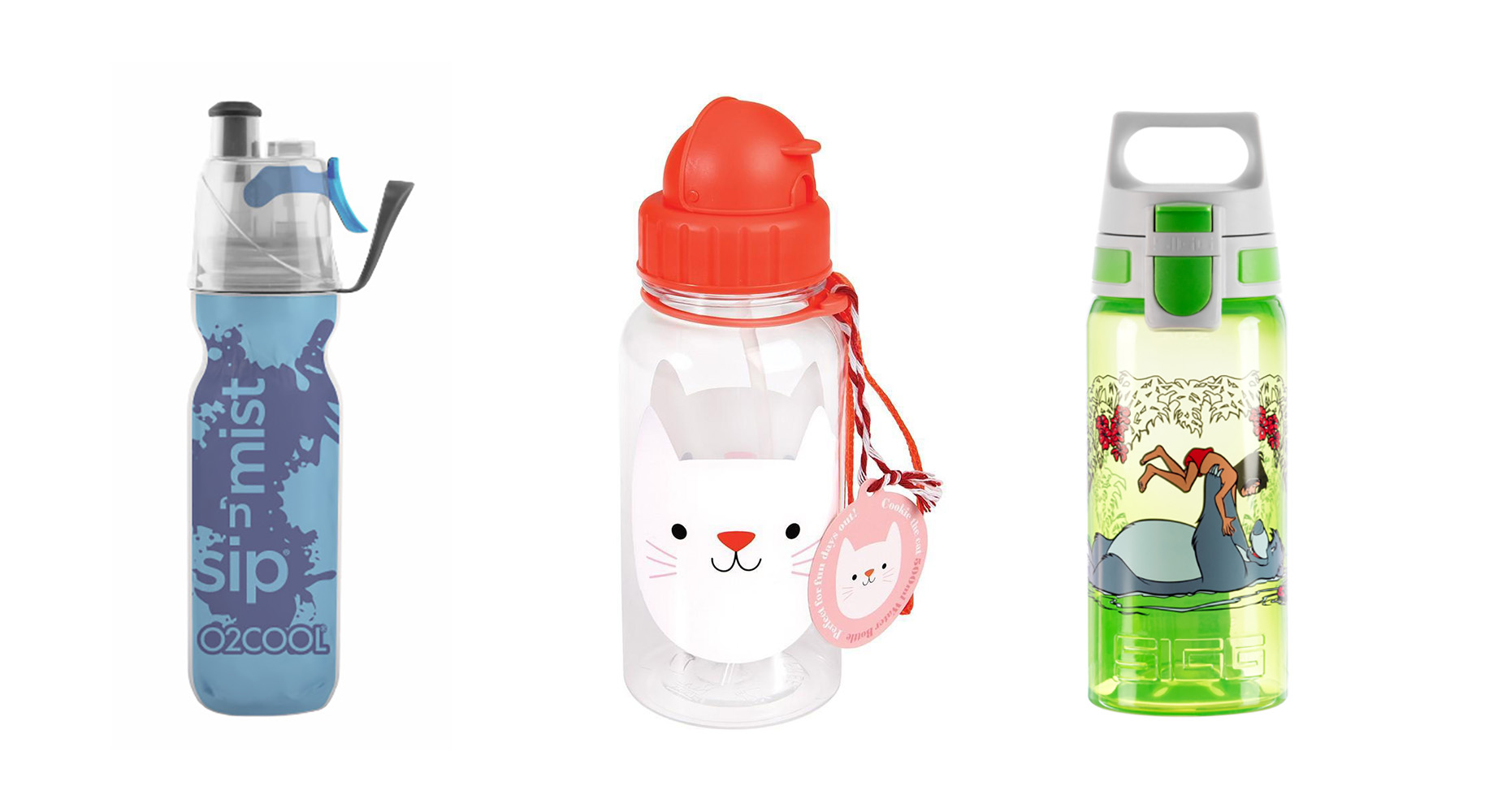 The O2cool Mist bottle (pictured top left) made from BPA-free plastic has a clever two in one design for tired and dehydrated kids – the bottle when filled with ice cold water – can be sipped and spritzed for a refreshing pick me up.
The Cookie the Cat BPA-free plastic bottle (pictured top middle), holding 500ml water, with a small fabric carry strap, is the ideal shape and size for short journeys. The lid is easy to open with one hand, spill-proof, and the soft straw lovely to sip from, although may require a pipe cleaner to clean. The most important feature, the gorgeous Cookie the Cat design, is quite irresistible for grownups and children alike, and sure to encourage whoever possesses it to drink more. Features writer Karlina, despite being a fully grown adult, chose it as her top pick, saying "The strap makes it easy to carry in one hand, it's great for the commute, and the soft straw is nice to drink from".
The Sigg Jungle Book bottle (pictured top left), holding 500ml water, details an adorable Disney scene featuring Baloo and Mowgli. Its innovative button lid means active little ones can click, flip open the lid and drink with one hand.
The 600ml silicone roll water bottle from Smiggle with it's carabiner and colourful child-friendly design, can be rolled up and stowed away when not in use – an ideal feature to prevent it going missing.
Be the first to comment
Do you want to comment on this article? You need to be signed in for this feature